Title: Magic Under Glass
Author: Jaclyn Dolamore
Genre: YA (Fantasy)
Publisher: Bloomsbury USA/Bloomsbury Publishing PLC
Publishing Date: Dec 22 2009/ Feb 1 2010
Hardcover (UK): 240 pages/ Paperback (US) : 240 pages
Stand Alone or series: It can be read as a stand alone but the book has potential to be a "first" in a series. As of yet, there are no news about a sequel.
Why did I read the book: I've had it under my radar since I saw the cover and blurb online. When I received an unsolicited ARC I might have done my Dance of Joy.
How did I get the book: I received an ARC from Bloomsbury PLC.
Summary: Nimira is a music-hall girl used to dancing for pennies. So when wealthy sorcerer Hollin Parry hires her to sing accompaniment to a mysterious piano-playing automaton, Nimira believes it will be the start of a better life. In Parry's world, long-buried secrets are about to stir. Unsettling rumors begin to swirl about ghosts, a madwoman roaming the halls, and Parry's involvement in a group of corrupt sorcerers for whom the rules of the living and dead are meant to be broken for greater power. When Nimira discovers the spirit of a dashing fairy gentleman is trapped within the automaton, she is determined to break the curse. But even as the two fall into a love that seems hopeless, breaking the curse becomes a perilous race against time. Because it's not just the future of these star-crossed lovers that's at stake, but the fate of the entire magical world.
Review: Oh my, Magic Under Glass was such a lovely read!
It is the reign of Lorinar, and Nimira is a performer, dancing and singing in search of fortune, after migrating from Tassim, in the far East when her family fell from grace. Whereas back home dancing and singing are hailed as fine arts, in Lorinar, she is nothing but a dark-skinned amusement, a novelty "trouser girl" who earns nothing but pennies and whose number comes after acrobats and trained dogs in the music hall she is employed at.
It is no surprise then that when a wealthy, dashing gentleman called Mr Parry offers to hire her as an accompaniment to his famous automaton , she jumps at the chance to have a better life. She even dreams of possibly becoming more to Mr Parry and that seems like a possibility too, when Mr. Parry seems to be taken with the girl. In her new life, with a large room all for herself in a grand estate, everything seems possible to Nimira.
But then, there is the automaton: a man-shaped machine that plays the piano when wound and who is said to be haunted. All the previous girls hired to sing along have quit the job as soon as they started, scared to death, claiming that the automaton mumbles to them. When Nim first sees the machine in the company of Mr Parry she is taken by how real it looks but doesn't think the stories are real. When she is left alone with it though, she learns the truth – the automaton is alive! Her first reaction is to run away in panic like the others. But Nim is a practical young lady who knows that this job is a way out, her chance to be someone and she decides to stay. More than that, she tries to communicate with the automaton and learns that he in fact a Fairy Prince called Erris, cursed to be trapped inside the machine.
Nim takes upon herself to learn how this came to be and why and if there is a way to bring him back to life (is he even alive? If so, where is his body?), falling in love with him in the process. They cannot trust anyone, not even Mr Parry who may have more dark secrets than anyone can guess; His involvement with politics and sorcerers and the discord between Lorinar and the fairy kingdom is the background against the story is set.
At the very core of the novel the tale of the cursed prince is lovely and original (with a few shout outs to Jane Eyre) , the politics and machinations of the court, the magic in the book and the mention of necromancy for example were ever so interesting. However, it is all so short! All happens so fast, in number of pages and within the story, the denouement is so sudden, I was left bereft when I closed the book. Everything I read, the story, the characters, the romance were all so captivating I couldn't help but to wish for more: more words, more pages, more time for the story to evolve, for the world to be fully realised so that I could understand it more. I knew little about Erris and how I wished I knew more, so that I could comprehend Nim's feelings for him; more about Mr Parry so that I could understand his actions; more about that someone trapped in the attic, more about the magic system; as it stands , the novel is good, but it could have been so much more.
Having said that, there is one thing that truly stands out, one character that is marvellous and so fleshed out, that I fell in love and would like to name one of my favourite YA female characters this year. After reading so many wish-washy protagonists who almost disappear when coupled with the male characters (Hush, Hush's Nora, I am looking at you!) , Nim was a breath of fresh air. For starters, she is dark-skinned and from a different culture; she is strong without being kick-ass: she cries when she has to cry, she fights when she has to fight, she adapts when she has to adapt. She is resilient, she is practical – she would consider marrying Mr Parry for the prospect of a stable life – and she is proud! Proud of her heritage and past, with a bit of vanity on the side since she knows she is passionate and graceful when dancing and singing. She is also very loyal and determined to help Erris even if that takes her to paths never before travelled.
If I have one wish, is that this book is granted a sequel – although it can be read as a standalone, the (somewhat darkish) resolution of the story is such that many things could still be explored and expanded. I certainly would love to see more of Nim and Erris and the world they live in – and the journey they are set to embark at the end of Magic Under Glass has much potential for further loveliness.
Notable Quotes/ Parts: A conversation between Mr Parry and Nim:
"Besides that, your voice has range and passion."
Passion. Mother had repeated to me, time and time again, that while dancing was the highest expression of a woman's physical beauty and grace, singing was the highest expression of her passion and depth of feeling. Sometimes I forgot I was an artist when my grace and passion went forever unapreciated, but Mr Parry has seen it. Perhaps my efforts had not been in vain.
"I hope you' ll acept" Mr Parry Said.
"I accept most humbly and gracefully, sir. I only hope I won't disappoint you."
"You won't" he said, and in those simple words, he gave me the one thing I wanted more than money: the aknowledgement that when he looked at me, he saw more than a trouser girl worth two cents' admission.
Additional Thoughts: I can't finish this review without mentioning the cover and title of the book. Even though both are lovely (and I like the UK cover as well), I am left wondering about them as I see no connection to the actual story inside! Why Magic Under Glass? I have no clue! There is no "glass" in the book, the impression I get from the cover is that something is "trapped" under glass but there is nothing of the sort. And another point: Nimira is supposed to be dark-skinned !!!! The book trailer captures that and is true to the book (check it out here) but the girl in the US covers is definitely white.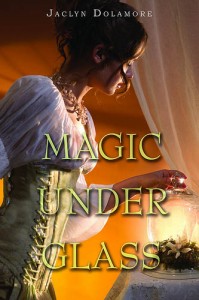 In short: Cover!Fail?
Verdict: A lovely, albeit way too short story, with a wonderful female protagonist. I could have done with more fleshed-out secondary characters and better executed plot but overall, I was simply captivated by Magic Under Glass.
Rating: 7 – Very Good
Reading Next:Calamity Jack by Shannon Hale