Smugglivus has arrived!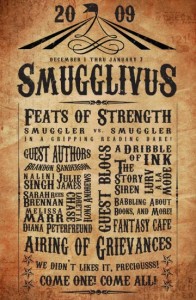 As you know, Smugglivus is our end of the year celebration leading up to our blog-o-versary on January 7th. And in true celebratory spirit we have invited authors, publishers and bloggers to look back at 2009 and talk about their favourite reads, to rant if needed, to say what they are looking forward to reading in 2010 and more: it IS all about the love for books and reading!
And we kick-off the event tomorrow, with a great line up:
We start with horror writer Joel Sutherland as he officially opens the event.  Joel Sutherland was the first author we interviewed for the blog and the person who opened last year's Smugglivus celebration, so it is now part of the Smugglivus tradition to have Joel kick-start the event. This year we'll hear more from Joel, including a very cool contest too!
On Wednesday, it is UF/YA author Jackie Kessler's turn to talk about her fave reads of 2009 and what we can expect from her in 2010. Her post is followed by Thea's review of Gateway by Sharon Shin
On Thursday, Melissa Marr , writer of the YA Wicked Lovely series lists her favourite reads of 2009, followed by Thea's review of Spellspam (with an autographed giveaway) by Alma Alexander.
On Friday, we have a chat with YA/Fantasy author Alma Alexander and Thea posts her final review of the WorldWeavers' trilogy with Cybermage (again, with a giveaway).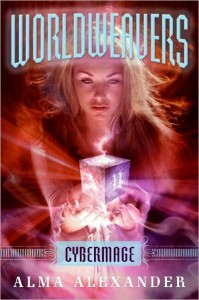 Finally on Saturday, Kathryn McKenna, Simon and Schuster UK's Children's Marketing & Publicity Assistant talks about what we can expect from the publisher next year. We follow her piece with our first Smugglivus Flash Giveaway.
So, folks, buckle up and let get this party started!!