Title: Blaze of Memory
Author: Nalini Singh
Genre: Paranormal Romance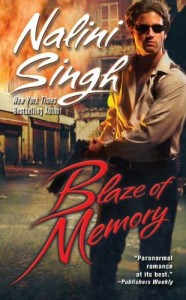 Publisher: Berkley
Publishing Date: November 3 , 2009
Paperback: 400 pages
Stand Alone or series: 7th novel in the Psy/Changeling series. Yes, they need to be read in order, as the worldbuilding is continously expanding and there is an overall story arc.
Why did I read the book: If you have been reading this blog for a while you know this: I am a nalinisingh-a-holic. Seriously: this series is AWESOME.
How did I get the book: ARC from Author
Summary: Dev Santos discovers her unconscious and battered, with no memory of who she is. All she knows is that she's dangerous. Charged with protecting his people's most vulnerable secrets, Dev is duty-bound to eliminate all threats. It's a task he's never hesitated to complete…until he finds himself drawn to a woman who might yet prove the enemy's most insidious weapon.
Stripped of her memories by a shadowy oppressor, and programmed to carry out cold-blooded murder, Katya Haas is fighting desperately for her sanity itself. Her only hope is Dev. But how can she expect to gain the trust of a man who could very well be her next target? For in this game, one must die…
Review:
Death is a curse to those who dare. The Forgotten are the descendants of those Psy who dared to say no to the Silence protocol and broke away from the PsyNet. Pursued and punished, over and over again, those Psy went into hiding and became….Invisible. Forgotten. Until their ranks started to soar again and new, different psychic gifts appeared in the new generation putting them under the Council's radar. Now, it is a matter of life and death and the Forgotten need to be part of the struggle against the rising threat or face total annihilation. Again.
___________
Dev Santos is one of the Forgotten. As the director of the Shine Foundation, the organization that finds and helps the children that are developing new psychic powers, he is devoted to the mission and will do anything to protect those under its wings. Anything. When an amnesiac Psy woman is left at his door, he knows of the danger she presents and prepares himself to kill her if necessary. The woman is the survivor of the worst form of torture – one that destroyed her mind and cut her out of the Silence conditioning; her torturer rebuilt her with a new conditioning and with a mission – and she is a weapon against the Forgotten that can go out at any time.
Soon enough she is identified as Ekaterina Haas, a friend of Ashaya, the heroine of Hostage to Pleasure and one who everybody thought dead. Even though she doesn't remember at first who she is, she knows that she is dangerous, and she urges Dev to kill her if the need arises.
They both know what their duty is and they are prepared to face it. But as they spend time together, Katya (as she renames herself) starts to remember and they come to know and fall for each other. But as duty comes first to Dev and the need to survive and to renew grows with each day inside Katya, soon they are at odds with each other; and their budding relationship faces many obstacles.
Nalini Singh took a huge risk with this book by choosing not to have a changeling in the romantic pairing. The changeling characters are definitively the heart of this series and their passion for life and their mates what makes the books so compulsively readable. It is also true that focusing the romantic pairings in the same group of characters, as much as we all love them, may turn a series infused with life into something that is repetitive and stale. It might prove easy for writers of long-term series to fall behind the used and tried formula (Christine Feehan, I am looking at you) but Nalini Singh is always trying to do something new. In Caressed by Ice for example, her hero is a pure Psy, who lived in Silence and whose conditioning had to be broken as he struggled to learn the way of his heroine, a changeling. That struggle was so incredibly well-written and vivid that it should come as no surprise that Caressed by Ice is my favourite book in the series to date. I can only admire Nalini Singh for her attempt to invigorate her series with each book. However.
I don't think it worked as I hoped it would. Not because the hero or heroine are not changelings but because they are not distinctive enough. Here was a chance to create a new and shinny type of character in Dev – a Forgotten who is neither full-blown Psy nor changeling but his inner thoughts and arc were so similar to that of the changelings that I hardly ever saw the difference. He went through all of the stages a changeling hero goes: which includes protectiveness and possessiveness. Don't get me wrong: I love that. LOVE that, it is as I said, what gives this series its heart and the relationship between Dev and Katya was well done and did not lack heart, soul or heat. It did not lack believable, internal or external conflict either and I was wholly captivated and invested in their path to the HEA to the point where I cried when it finally came. But I also cannot help but to think that I read it all before in this series.
Having said that, if the romance was not necessarily fresh, the backdrop in which it took place certainly was. I have said this before: if the changelings are the heart of the series, the careful world building and the Psy are what makes it unique. This time around, the story focuses on the Psy and their struggle to fight their own demons. The book is intercalated with glimpses (via letters) into the life of one of the first Psy families to break out of the PsyNet as the Silence protocol was being implemented. Even though we know by now that creating the Silence Protocol was a decision that came with no small amount of sacrifice , to see it thought the eyes of someone so close to it was very interesting. It is a hard choice between the survival or one's race and the survival of the individual need for love and affection. There are shades of gray in this race as well as in the others and even though there are villains amongst them, there are also heroes.
Furthermore, the ongoing arc of the Psy Council against the different races is going strong and now there is a new piece of information that they all must face at some point: the dark, dead points appearing in the PsyNet. What will this mean for the future of the series I can only guess. Now, what I really, really loved about this book? The awesome appearances of characters from previous books and their interaction with each other with real, necessary roles to play. And I just loved how both Sascha and Judd are stepping up to help the new generation.
In the end, I think that when people get to look back at this series, Blaze of Memory may not be their favourite when it comes to the romance but it is certainly a seminal one in the overall arc. It gives an insight into the Psy and the Forgotten and what is like to always be fighting the darkness within. This is something that my favourite hero, Judd Lauren, is still battling with even fours books after his own and that sense of continuity is what ultimately set this series apart and above in the genre.
Notable Quotes/ Parts: I might sound like a broken record, but gosh, I love Judd. LOVE Judd and I thought his appearances in this book were so cool. Also, the ending: Dev's pain had me in tears.
Additional Thoughts: You can find an extensive behind-the-scenes page at the author's webpage which includes, characters' list, FAQ, excerpts, free stories and more. If you like Paranormal Romance and are not reading this series, you do not know what you are missing (ie a LOT). Along with Meljean Brook's Guardian series, the Psy/Changeling series is the best that the genre can offer: good writing, superb world building and awesome romance.
Verdict: Blaze of Memory may not be the best book in the series but it is definitely an important one in advancing the overall arc. Plus, it maintains this author's track record in writing hot, interesting and engaging romance with excellent worldbuilding .
Rating: 8 – Excellent
Reading Next: The Dragon Book anthology.
______________
GIVEAWAY DETAILS: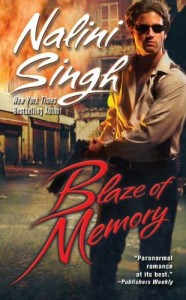 Courtesy of Berkley, we have one copy of Blaze of Memory to give away. To enter, leave a comment answering the question: if you could be a part of the Psy/Changeling world, would you be a changeling (if a changeling: a wolf or a leopard) or a psy?
The contest is open to residents of the US and Canada, and will run until Saturday November 7th at 11:59pm (Pacific). Good luck!