As promised, we have a SuperFantasticGiveaway of Catching Fire. Thea liked The Hunger Games (book 1) and absolutely loved Catching Fire, so we highly recommend you get in on this fabulous trilogy by Suzanne Collins. Read on for more on Catching Fire, prizes, and how to enter your name for the giveaway! First, some background information on the book.
CATCHING FIRE
Sparks Will Fly 09.01.09
(The second book in The Hunger Games series)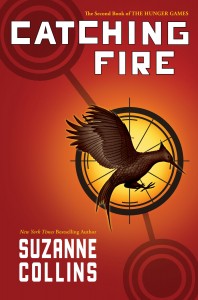 The Summary:
Against all odds, Katniss Everdeen has won the annual Hunger Games. She and fellow district tribute Peeta Mellark are miraculously still alive. Katniss should be relieved, happy even. After all, she has returned to her family and her longtime friend, Gale. Yet nothing is the way Katniss wishes it to be. Gale holds her at an icy distance. Peeta has turned his back on her completely. And there are whispers of a rebellion against the Capitol — a rebellion that Katniss and Peeta may have helped create.

Much to her shock, Katniss has fueled an unrest she's afraid she cannot stop. And what scares her more is that she's not entirely convinced she should try. As time draws near for Katniss and Peeta to visit the districts on the Capitol's cruel Victory Tour, the stakes are higher than ever. If they can't prove, without a shadow of a doubt, that they are lost in their love for each other, the consequences will be horrifying.
The Book Trailer:
The Excerpt: Scholastic has provided a wonderful audio file where you can hear an excerpt from the second chapter of Catching Fire read by author Suzanne Collins:
You can also read chapter one via the book website HERE, and chapter two online (via NPR) HERE.
The Website: For more on the series, including downloadable posters, buddy icons, and bookmarks, check out the official Scholastic website HERE.
THE GIVEAWAY:
We are offering THREE PRIZE PACKS to three lucky winners, containing the following goodies:
Limited Edition Promotional T-shirt
Collectible Mockingjay Pin
Copy of Catching Fire
*Mockingjay image is not of the actual pin
TO ENTER you must leave a comment here (one entry per person only). The giveaway is open to residents of the UNITED STATES and CANADA ONLY. The contest will run for two weeks until September 15 at 12:01 am (PST), at which point we will randomly select the three winners. Make sure to get your name in! And, for the heck of it, let us know if you are Team Peeta (yay!) or Team Gale.
Best of luck to you all!