Title: Tempt Me At Twilight
Author: Lisa Kleypas
Genre: Historical Romance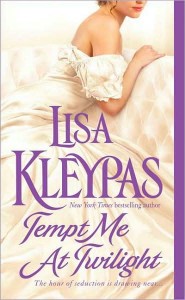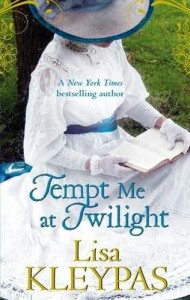 Publisher: St Martin's/Piatkus Books
Publishing Date: September 22 (US) / October 1 (Uk)
Paperback: 384 pages
Stand alone or series: Book 3 in the Hathaway series, but can be read as stand alone
Summary:Engaged to the very sensible Michael Bayning, Poppy Hathaway is content with her lot – having longed for a life of normality. That is, until she meets a mysterious hotel owner, Harry Rutledge – the most complicated and dangerous man she has ever met. Harry is wealthy and powerful, a collector of secrets, with hobbies more dangerous than Poppy could imagine. What Harry wants, Harry gets – and Harry wants Poppy, like he has never wanted a woman in his life. So when Michael breaks off their engagement and Harry makes his move, Poppy quickly learns that her life is destined to be anything but normal – filled with wild, passionate days and steamy nights …
Why did I read the book: I love Lisa Kleypas' books and I love this series in particular. All the books have been keepers.
Review:
I am MOST relieved to report that Tempt me at Twilight is a good Kleypas. She is one of my favourite romance novelists and after her previous effort (Smooth Talking Stranger) disappointed me, I was a tad worried. But if there is one thing that this woman can write is Historical Romance and I am oh, so glad that we are back on track with another great instalment in the Hathaway's series.
Ok, so the basic plot is one that we all have read a thousand times over. The hero, Harry Rutledge, is a ruthless, manipulative entrepreneur who as soon as the heroine crosses his path, decides he wants her, at any cost. The heroine, Poppy Hathaway is in love with someone else – someone she thinks will be the perfect husband in her pursuit for normalcy after growing up in a family of eccentrics. He manages to manipulate events so that the guy is eliminated from the race, proceeds to compromise the heroine and they need to get married. Trust issues ensue, until they both realise they have fallen in love. The end.
But the gist of it is this: Lisa Kleypas can write characters. It doesn't matter that the plot is not the most original, it does not matter that things evolved way too fast. The fact is that the characters are lovable, both of them. This is a different Lisa Kleypas as there is less sensual tension, less foreplay than usual and I think that this is a good thing. I actually thought this book was a very mature story which dealt more with Harry and Poppy's insecurities and need to be loved and cherished than anything else. Poppy hails from a family that is so different, all eccentrics, from two older sisters who are married to gypsies to a younger sister who adopts every single lost animal in the vicinity. Poppy is intelligent and can talk about anything and that is one of the things that have put her in the shelf after three London seasons. Plus, Poppy needs and wants some degree of independence from her family in order to create her own family unit. She thinks she found that with Michael, her secret fiancée but soon enough she discovers that he does not love her enough to go against his father who thinks the Hathaways are two low in the social scale.
Harry, on the other hand is someone who does not know the meaning of family: his mother left him with a father who left his well-being at the hands of the employees of the hotel he owned. Harry grew up to be a most lonely man who never thought he would or could be loved. He thrives in his work, in keeping his hotel and being apart and above people, is just who he is. As soon as he sees Poppy he realises that this is a woman worth having and if Michael doesn't have the balls to fight for her, it's his loss.
Although, even though we are told that Harry is ruthless, bold etc…really, whenever he is around Poppy, from the first time they met, he is nothing but a giant teddy bear who needs affection. Harry's inner monologue was a delight to read and I just about melted oh, say, a thousand times.
Poppy got major heroine's brownie points in my book for being able to recognise Harry's shortcomings pretty soon, for dealing with the fact that he did something Really Bad in a very adult way and for being able to let go: if she is married to the guy, she needs to be able to make the most out of it. Yes, there is some drama of the "I shall never love you" kind but it is soon forgotten when Poppy, very reasonably, decides to be happy.
I also find that usually in Lisa Kleypas' books there is ONE seminal scene that makes the hero stand out, that firmly moves him from being either stupid or unlovable, or a villain or a dumbass to the role of Hero That We Must Love. In Dreaming of You is the scene where we find out that Derek Craven has been carrying Sarah's glasses in his pocket. In Devil in Winter is when Sebastian throws himself in front of a bullet and then we learn that he carries Evie's wedding ring around his neck. In A Wallflower Christmas is that most poignant scene with the tin soldier (one, two, three, awwww). In Tempt Me At Twilight is the scene where Harry talks about Watch Mechanisms. I shall not spoil but trust me: it is a gooder.
On the low side, there is some info dump about previous books in the series, one Contrived Surprise (meh) and a very Unnecessary Suspense Subplot towards the end where someone gets kidnapped. This boggles and bothers me to no end. It is not the first time I find this towards the end of a book. I can almost picture the book's editor going …'hummm…we need a random kidnapping just about "here" ' pointing to the final chapter. The one in this book is truly, totally random. The couple had ALREADY exchanged their "I love yous", they had NOTHING to find out about each other, it had already being established that they could not live without the other. So why then? Why? This scene was completely unnecessary.
But never mind that: Harry and Poppy's relationship resonated well with me. And let's not forget that this is a Hathaway book and all of them have important roles to play. To see them is like visiting old friends and I love all the meddling that Amelia, Bea, Merripen and Cam did. AND, if you have been reading this series, chances are you are looking forward to Leo's book, right? Well, let me tell you this: there are some VERY interesting developments in his relationship with his heroine and the last line of the novel is a total shocker. I need his book presto. Please Ms Kleypas!
The bottom line is that Poppy needs to work with (warranted ) trust issues, Harry needs to open up. They do and, that's the beauty of the romance novels, I am there to see it happen and enjoy and sigh when their HEA is cemented. If you are not a Romance reader this book will not change your mind. If you are, and if you are a fan of Lisa Kleypas, you want this book, pronto.
Notable Quotes/ Parts: There is this one sequence when Poppy slips in the bathroom and Harry nearly goes insane with worry sending the entire hotel in errands to get her stuff he thought she would need, sends for not only one but two doctors and is unable to leave her side. Because of a sprained ankle.
Verdict: a good Lisa Kleypas, and a great addition to the Hathaway series.
Rating: 7 – very good
Reading Next: Demon Forged by Meljean Brook (yay!)