Title: Hunting Ground
Author: Patricia Briggs
Genre: Urban Fantasy
Publisher: Ace (US)/Orbit (UK)
Publication Date: August 2009 (US)/October 2009 (UK)
Paperback: 304 pages
Stand alone or series: The second full length novel in the Alpha & Omega series, following last year's release of Cry Wolf, though it's really the third entry in the series proper (the first story is a novella titled "Alpha and Omega" in the On the Prowl anthology).
Why did I read this book: It's no surprise I adore Patricia Briggs. I'm a huge fan girl and have been since discovering her fantasy novels in middle school. Then, I discovered her new Urban Fantasy series about a coyote shapeshifter VW mechanic named Mercy, and I was hooked. And last year, I read and loved Cry Wolf, got to interview the lovely Patty Briggs in person, and…well, do you really need any more? Long story short, I was chomping at the bit to get my paws on Hunting Ground.
Summary: (from amazon.com)
Mated to werewolf Charles Cornick, the son – and enforcer – of the leader of the North American werewolves, Anna Latham now knows how dangerous being a werewolf is, especially when a werewolf opposes Charles and his father is struck down. Charles's reputation makes him the prime suspect, and the penalty for the crime is execution. Now Anna and Charles must combine their talents to hunt down the real killer – or Charles will take the fall.
Review:
The stage is set, and the werewolves of North America are ready to come out of the supernatural closet. Bran, the Marrok, has decided that it is time to formally reveal their existence to the world just as the fae have done before them, but he wants to maintain more control over the situation than the Gray Lords managed. Thus, Bran calls a preliminary conference of the most powerful, important werewolves in the world to meet in Seattle, so that he can allay their concerns and fears, for revealing the existence of werewolves in North America means they will be "outed" everywhere. But, put a bunch of dominant Alpha wolves in a room together, and it's a recipe for disaster. At least, that's what Charles, Bran's son and second in command, tells his father. Fully healed from his trying silver injuries in "Alpha and Omega" and Cry Wolf, Charles is sent to Seattle on his father's behalf, bringing his new wife and mate, Anna – who also happens to be an extremely rare Omega wolf. With a terrifyingly powerful Gray Lord named Dana Shea (from the Daoine Sidhe) to referee the negotiations, and powerful wolves like Jean Chastel (the maneating Beast of Gevaudan) anxious to cause as much trouble and bloodshed as possible, Charles and Anna have their work cut out for them. And when kidnapping attempts and deaths occur, the stakes are dramatically raised.
While I thoroughly enjoyed "Alpha and Omega" and Cry Wolf, this spinoff series still was clearly second-bill to the Mercy Thompson books in my mind. Much more relationship-driven than Mercy's series, the Alpha and Omega books were nice and good, but decidedly auxiliary…
Hunting Ground managed to change all that. I still love Mercy first, but with this second novel Alpha and Omega has proven its mettle as a strong standalone series in its own right.
Cry Wolf felt a lot more like a paranormal romance type novel when I first read it – decidedly less-plot heavy and more concentrated on the mate bond between the terrifyingly powerful Charles and the almost-broken Anna. Both characters had a lot of baggage, and struggled to get to know each other after their wolves had selected them as mates. In Hunting Ground, the feeling-out period is over and these two characters have grown much more comfortable and trusting of each other. I have to applaud Ms. Briggs for her ability to move the relationship forward, but still keep it in the realm of the realistic – even though Charles and Anna are mated and married, they are still strangers to each other, learning what the other's signals are, what their fears and needs are, etc. Charles is constantly thinking about how he must be careful not to stifle Anna's freedom, nor can he be too gruff with her lest he scares her off; Anna simultaneously tries to show Charles that she is not made of glass, that she can stand up for herself, and that she can bear some of his own emotional burden. Both characters are a lot tougher than they were in Cry Wolf, but are still fragile in the way that new relationships are. It's a very realistic, touching thing to read – Ms. Briggs is unparalleled when it comes to writing these complicated, tentative and yet passionate relationships. The bond between a wolf and its mate is a very complicated thing that we see in the Mercy books, but it's examined much more in depth in the Alpha and Omega books with these two protagonists. I was also thrilled to see two characters from "Seeing Eye," the novella by Ms. Briggs in this year's Strange Brew anthology, make an appearance as secondary characters in this novel. Moira, a scarred, blind white witch who is powerful beyond belief, and Tom, an Emerald City wolf, have been mated after their adventure together in the novella and befriend Anna and Charles here.
But even more than just the characters, Hunting Ground bests its predecessors by virtue of its storytelling. In this second novel in the series, Ms. Briggs is back to her trademark style with a tight, fast paced, impeccably written plot. Charles and Anna as growing characters and their relationship is the heart of these books, but Hunting Ground has so much more, such as the mystery of who is behind the murders and for what reason and the intoxicating power politics of dominance in the world of the wolves. The latter, especially, is fascinating to me – and it's something that the Mercy books could never really delve into because narrator Mercy is inherently an outsider, as a walker and coyote. In Hunting Ground we learn even more about what it means to be an Alpha wolf and especially what it means to be an Omega. Anna totally, completely rocks. She may be timid because of her time in Chicago with her brutal first pack, but she is anything but weak. As she tells a new wolf she meets in Seattle, Omegas are Alphas – but they're incredibly zen.
As for the overall mystery, well, for fear of spoilers I won't say much other than it is fabulously written. There's an excellent mythological twist that underlies the novel that Ms. Briggs carries out flawlessly. One thing I love about her writing is her ability to tell a story simply, without expanding into unnecessary melodrama or tedious extra pages to protract the novel, and Hunting Ground is no exception.
I loved this book. Though Mercy still holds first place in my heart, Anna and Charles have carved out a niche of their own. Highly recommended.
Notable Quotes/Parts: It's the little things that I love about Ms. Briggs' writing; her ability to make simplicity beautiful. For example:
His voice, when he spoke, was a lot more powerful than his frail body.

"I'm gonna sing something for you," he told their audience — and everyone in the room looked up from their meals. It was that kind of a voice. He paused, milking it. "You'll have to forgive me if I don't dance anymore." She waited until the laughter he'd invited died away before she began.

Usually, when she first played a piece with someone she didn't know, especially if the piece was one she knew well, it was a mad scramble to make her version fit with the person's perception of how the song should feel. But except for the very beginning, it was magic.[…]The old man's voice was just right. It, the beaten-up piano, and Anna's sweet self all combined in one of those rare moments when performance and music blended to make something more.[…]The old man took Anna's hand and made her take another bow as well. he kissed her hand, then let his grandson escort him back to his table in triumph. His family rose around him, fussing and loving as they ought, while he sat as a king and took his due.

Anna pulled the protective cover over the keys and looked up and saw Charles. She hesitated, and it made his heart hurt that he'd made her afraid of him. But she lifted her chin, her eyes still full of the music, and strolled up to him.

"Thank you," he told her, before she could say anything. He wasn't sure if he was thanking her for leaving the room when he'd asked, for staying in the restaurant instead of leaving him, or for the music — which had reminded him that this whole thing wasn't just about the werewolves.

It was about the humans they shared the country with, too.
You can read a full excerpt of chapters 1 & 2 online at the author's website HERE.
Additional Thoughts: Based on the positive reaction to Mercy Thompson: Homecoming, Alpha and Omega: Cry Wolf is also being made into a comic adaptation from the Dabel Brothers (who've also done the comic adaptations of Jim Butcher's Harry Dresden series) this summer.
I'm not crazy about the art – Anna looks just like the crappy comic version of Anita Blake: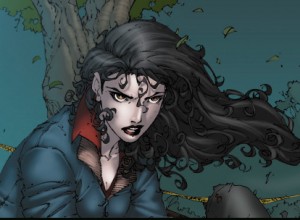 No? I'll still check out an issue though.
Verdict: Much stronger than Cry Wolf, Hunting Ground is Patricia Briggs at her best. Charles and Anna's touching story keeps getting better and better, and I cannot wait for their next book. Essential for any Briggs fan.
Rating: 8 Excellent
Reading Next: Forest Born by Shannon Hale