Other Titles for the Post-Apocalyptic Dystopian Fan to Try:
I wanted to review many, many more books for YA Appreciation Month, but there simply aren't enough hours in the day to do so. Instead, I decided to compile a list of some of my favorites and some new titles to try, should you look for any new titles in this subset of Young Adult fiction! And, prompted by a discussion in the comments of the last Apocalypse/Dystopia Day post, I'm separating the suggestions by disaster/category. **Please note many of these fit under multiple categories, but for time and organization's sake, I'm only listing each book once under what my opinion is the dominant heading**
APOCALYPSE BY CLIMATE CHANGE (or Natural Disaster)
1. The Moon Crush Books by Susan Beth Pfeffer
You're probably exhausted from hearing my talk about these books all the time, but both Life As We Knew It and the dead and the gone are brilliant, harrowing books about the end of the world after an asteroid crashes into the moon and pushes its orbit closer to earth, causing a chain reaction of natural disasters.
2. Exodus and Zenith by Julie Bertagna
Apocalypse by global warming, the complete meltdown of the ice caps and glacial deposits on Earth. Exodus looks at the gradual disappearance of the island Wing and a dystopian city in the sky, while Zenith follows some survivors as they sail out for fabled land.
3. The Other Side of the Island by Allegra Goodman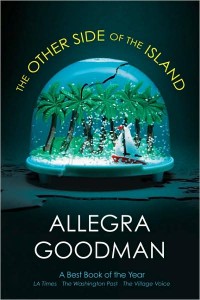 An evil corporation carefully constructs a dystopia complete with pleasant, false weather, mind altering drugs and strict rules to protect a small society on Island 365, in the aftermath of a great Flood that obliterated the planet.
4. Floodland by Marcus Sedgwick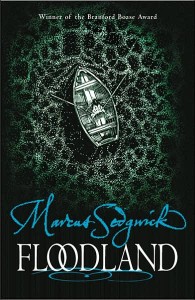 Global warming strikes again, flooding the world's cities. Zoe strikes out to find her parents but comes across some nasty Lord of the Flies societies in the process.
5. The Island at the End of the World by Sam Taylor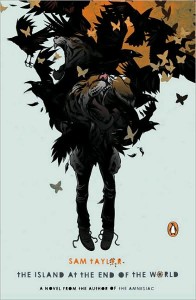 It's not out yet, but here's the synopsis:
In a world nearly destroyed by catastrophic floods, one family has been spared. Many years ago, as the waters rose, a father and his three children took to their ark and drifted to the safety of a small island. Life there is a quiet idyll of music and farming—and young Alice, Finn, and Daisy are grateful for their salvation—until the day a stranger swims ashore. A terrifyingly plausible adventure story, The Island at the End of the World is a mesmerizing novel from an exciting new writer.
APOCALYPSE BY NUCLEAR WAR
1. The Obernewtyn Chronicles by Isobelle Carmody
Following the Great White, humans with special abilities (a mutation due to the radiation) are segregated and killed, until those of Obernewtyn fight back.
2. Z for Zachariahby Robert C. O'brien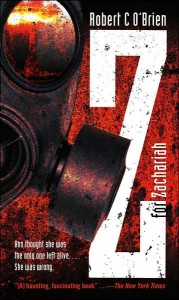 Alice thinks she's the last person on earth, having survived the world-ending Nuclear War. But when she sees someone approaching her valley, she fears the worst…
3. On the Beach by Nevil Shute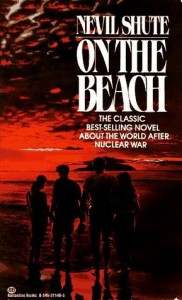 Another Aussie apocalypse novel – a looming radioactive cloud (fallout from Nuclear War) is sweeping south and killing everything in its path. An American submarine is stationed off the Australian coast, preparing the people there for their inevitable, ever closer end.. (Technically this falls under Adult fiction, but I read it in middle school, so it goes on the list!)
4. The City of Ember by Jeanne DuPrau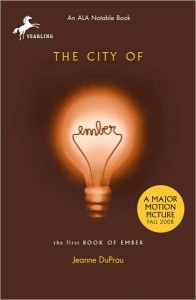 For 250 years, the residents of Ember have lived happy lives in their near constant darkness, the only light coming from dim electrical lights above that shine for twelve hours of day. But the lights start to fail, and food is almost completely out – what are the people of Ember to do? Young adults Lina and Doon know that there has to be something beyond Ember, and they make a desperate attempt to find the outside, even though they don't know what waits for them. The rest of the series details what Lina and Doon find on the surface of an Earth after hundreds of years following – you guessed it – nuclear war. (Check out a review by my very own little sister HERE)
5. Daybreak 2250 AD by Andre Norton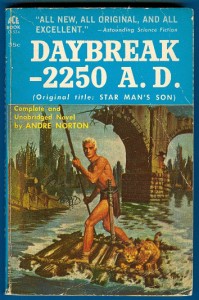 Post-nuclear apocalypse waaaaay in the future, about a young man who leaves his village to discover the ruins of the world.
APOCALYPSE BY ZOMBIE (or alien or other monster) & MISCELLANEOUS
1. The Forest of Hands and Teeth and The Dead-Tossed Waves by Carrie Ryan
The unconsecrated surround a small gated village in the woods, and it's only a matter of time before the fences are breached. The Forest of Hands and Teeth is unquestionably one of my top 10 reads of 2009, and I cannot wait for The Dead-Tossed Waves next year.
2. Bones of Faerie by Janni Lee Simner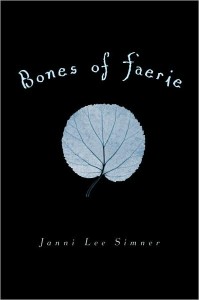 An apocalyptic war has broken out between human and faerie, and faerie has won – but the planet is ravaged by strange magic in a post-apocalyptic wasteland. Liza, however, discovers she has her own magic and seeks out answers.
3. I Am Legend by Richard Matheson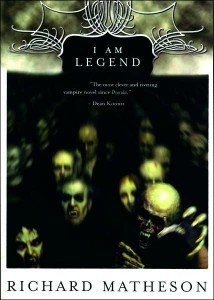 Again, technically Adult, but a classic to be appreciated by all ages. Don't be fooled, the Will Smith movie has nothing on this novella about the last human on earth after the vampire plague turns everyone into, well, vampires (full comparison review HERE).
4. Tomorrow series by John Marsden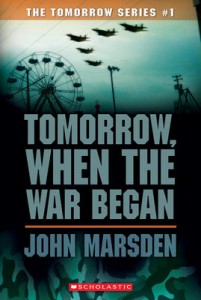 Beginning with Tomorrow, When the War Began this is a series about a group of teens in a small Australian town, who choose to fight back following the foreign invasion of their country and imprisonment of their families.
4. How I Live Now by Meg Rosoff
England is invaded and occupied by a foreign force and the world is on the brink of war, meanwhile a group of young adults struggle to overcome and survive.
DYSTOPIA: Hi-TECHNOLOGY
1. Feed by M.T. Anderson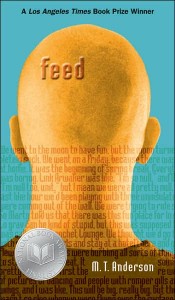 Feed takes a ravaged planet and consumerism to the extreme, as teens happy with their wifi'd brains live horrifyingly absurd lifestyles.
2. Brave New World by Aldous Huxley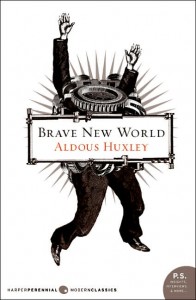 Again, Adult labeled, but a classic for all ages. In this dystopian future, humans are mass-bread and separated into different classes, and live happy, Soma-fueled lives where everything they could ever want provided for them. Until, one man begins to question his feelings that something is missing. And then, there's the savage John from the outside…
3. 1984 by George Orwell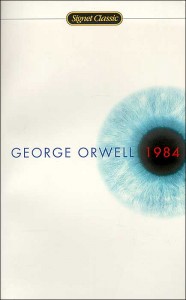 Same story. Adult fiction, but a classic. You know the story – a totalitarian regime where truth is what Big Brother tells you it is, and the Thoughtpolice monitor your every move. I think every high schooler is required to read this book, and for good reason.
4. The Uglies series by Scott Westerfeld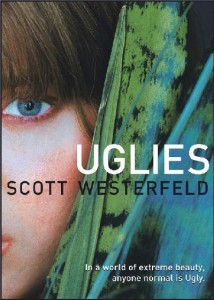 In a future where everyone at 16 becomes a Pretty, Tally Youngblood and a few others stand apart and try to resist. This dystopian quartet is truly addictive stuff (trilogy review HERE).
5. Battle Royale Koshun Takami (and manga series too)
Battle Royale is a gory, blood drenched novel of a future where rebellious youth are quelled by immersion in a to the death battle royale on an isolated island. There are exploding collars that will activate in danger zones, a number of weapons, and action galore. I fell in love with this Japanese book and movie at first sight. Fans of the next book on this list might consider giving Battle Royale, the original, a spin.
6. The Hunger Games and Catching Fire by Susan Collins
A decidedly less-violent version of Battle Royale, The Hunger Games is the tale of young children selected to participate in a to the death battle – completely televised, in the style of The Running Man. Though it borrows heavily from Stephen King/Robert Bachman and Koshun Takami's work, it's a strong novel in its own right, and I cannot wait for the sequel, Catching Fire next month!
7. The Adoration of Jenna Fox by Mary E. Pearson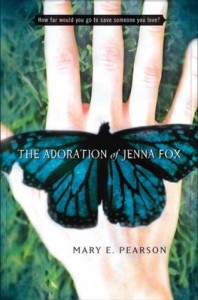 In a not too distant future, Jenna Fox awakens from a year-long coma after a horrible car accident. Thanks to future technology, her body was salvaged by BioGel. But Jenna has a hard time remembering things, and gradually must confront some tough questions about her past. The Adoration of Jenna Fox is another one of my favorite reads for the year and one that I highly recommend.
8. Skinned by Robin Wassweman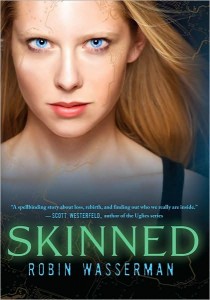 In the same premise of Jenna Fox above, Skinned tells of a future where a popular girl is nearly killed in an accident and is downloaded into a mechanical body. Thought provoking questions about humanity ensue.
9. Little Brother by Corey Doctorow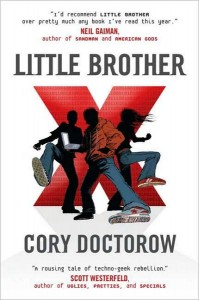 A 1984 for the x-box generation, Little Brother examines what happens after a terrorist attack occurs in San Francisco, and what some intrepid young adults do to stick it to the man. Though it's not exactly well written and pretty ham-handed with Doctorow's personal views, it's still a very interesting read (and if you happen to agree with Doctorow's politics, it's a forgivable lapse).
10. The Declaration by Gemma Malley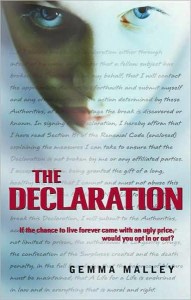 In a world where anyone can live forever, there are only a few rules. Because of the resulting boom in population and subsequent overcrowding and decline of society, those who have become immortal must agree never to have children. But Anna is born, and she and other "surplus" children have to make their own way in a world of immortal adults. (Ana and I both have this book and cannot wait to read and review it!)
11. Unwind by Neal Shusterman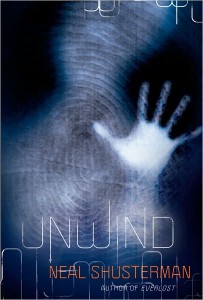 In the near future, retroactive abortion is a reality – any parents that might not be so thrilled with their troubled teens have the option to "unwind" them until their sixteenth birthday. For nothing is wasted in this future – young body parts are donated to those who need them. Another favorite novel of mine, and a particularly chilling one at that.
12. The Sky Inside by Clare B. Dunkle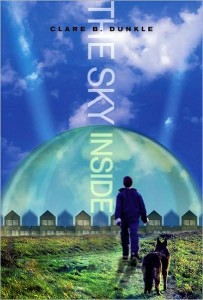 Her first foray into science fiction, Ms. Dunkle takes a domed community in which everything they could want is provided to them by carts. But when an outspoken dissenter is taken out on a train, and Martin's sister is taken out as part of a "product recall," Martin decides has to find out what really lies outside his sheltered community.
13. Genesis by Bernard Beckett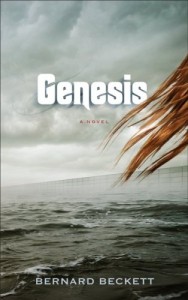 Genesis looks at the world of the future, after plague and war has decimated the planet and a small island nation survives. As Anax undergoes a grueling entrance exam to the prestigious and highly exclusive Academy, she finds herself questioning her peoples' unique history, and what it means to have free will, and to be human. Another of my favorite books of 2009.
DYSTOPIA: Low-TECHNOLOGY
1. Libyrinth by Pearl North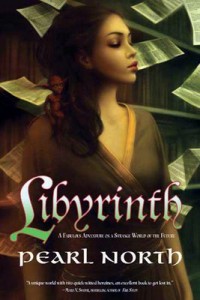 Libyrinth takes place on a far future world, a forgotten colony of earth where technology is seen as magic, and books are burned to liberate the written word.
2. The Time Machine by H.G. Wells
Another all-ages classic, The Time Machine explores a world where the Eloi, remnants of the rich and lazed upper class have become brainless giggling blobs, while the Morlocks below ground resort to a primitive, savage society.
3. The Inferior by Paedar O'Guilin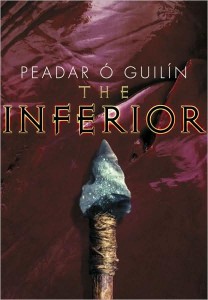 The Inferior is a terrifying look at life on a different, future world, where the only law is eat or be eaten. Humans living in abandoned buildings hunt the other savage creatures in the arena for survival – nothing ever goes to waste. Until one day, a strange woman falls from the sky, and Stopmouth's world changes completely. Another memorable read of 2009, and highly recommended.
4. The Giver trilogy by Lois Lowry
Finally, there's the Giver trilogy by Lois Lowry, in which three very different societies are examined in a future dystopia. The Giver is a classic (and technically hi-tech, though the other two books are low-tech), and Gathering Blue ain't too shabby either. We still have yet to read Messenger, but we are looking forward to it.
5. Chaos Walking: The Knife of Never Letting Go by Patrick Ness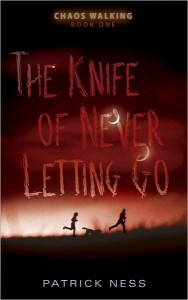 The Knife of Never Letting Go looks at a human colony on a distant world, where all the women have disappeared and the thoughts of men and animals are heard by all. Another awesome, highly recommended read.
Phew! So there you have it. There are some that I know I've forgotten, so please make suggestions as you see fit!