I happen to love horror. I love the thrill of mortal fear, the rush of terror that washes over you and drowns your logical mind, the giddy and jittery sense of having experienced something truly terrifying. Ever since I was a little kid and my dad let me watch my very first Tales from the Crypt episode with him, I have been hooked on the genre, so much so that I will go to the theater by myself to make sure I have seen the latest crap horror movie in desperate hope that despite all appearances to the contrary, it could be good (more often than not this leads to incredible disappointment. I'm looking at you Orphan). But no matter how much I might whine about the quality of big budget horror films today, I usually have much better luck in the literature department. With less money-making restraints than million dollar budget studio pics, horror lit always feels like coming home.
And why should adults have all the good thrills? There are a number of fabulous YA horror novels that I cherished as a kid (see how I bullied gently persuaded Ana to read one of my favorite authors, Christopher Pike, this month with her review of Monster), and I've been sadly out of touch with some newer YA horror authors.
So, when I caught wind of a new YA horror series featuring some nasty fear-eating monsters I had to check out the series for myself…
**********
The DEVOURING SERIES by Simon Holt
Genre: Horror, Young Adult
Stand alone or series: Currently a two book series, with a planned third novel in the works.
The Devouring (Book 1)
Publisher: Little, Brown Young Readers (US) / Puffin (UK)
Publication Date: September 2008 (US) / October 2008 (UK)
Paperback: 256 pages
Summary: (from Amazon.com)
THE VOURS: Evil, demonic beings that inhabit human bodies on Sorry Night, the darkest hours of the winter solstice.
When Reggie reads about the Vours in a mysterious old journal, she assumes they are just the musings of an anonymous lunatic. But when her little brother, Henry, begins to act strangely, it's clear that these creatures exist beyond a madwoman's imagination, and Reggie finds out what happens when fears come to life.
To save the people she loves, Reggie must learn to survive in a world of nightmares. Can she devour her own fears before they devour her?
The Devouring is an engrossing tale of terror that will have you wondering: what if your worst fears became your living nightmare?
Review:
When dark creeps in and eats the light,
Bury your fears on Sorry Night.
For in the winter's blackest hours,
Comes the feasting of the Vours,
No one can see it, the life they stole,
Your body's here but not your soul…
On the eve of Sorry Night, the longest night of the year, fifteen-year old Reggie finds a strange journal at the horror specialty book store where she works. The journal, paranoid babblings of a madwoman about creatures called "Vours" is creepy and right up Reggie's alley – so she borrows the book for closer perusal. That night, she and her best friend, the geeky, uber-smart and fellow horror nut Aaron fool around with some of the ideas in the journal while babysitting Reggie's ten-year old brother Henry. Nothing happens to either Reggie or Aaron, but Henry starts to display some very odd behavior the next morning (of the usual demonic possession variety – animal torture, favorite toy destroying, familial manipulation, the works). Reggie must hurry and unravel the mystery of the Vours if she is to save her little brother from the monsters lurking just beneath the surface.
The Devouring is a hybrid of some classic ideas – there's a little bit of the fear-feasting monster and strength of children to fight the ancient evil from Stephen King's It, there's a bit of the terror that comes from demonic possession a la Blatty's Exorcist, and there's a bit of the terror that comes with an angelic child committing atrocious acts (see The Omen, Pet Sematary, The Bad Seed, etc). But on the whole, Simon Holt manages to blend these ideas into a smart, delightfully scary little novel – one that I devoured (hardy har!) in a single sitting. The plot moves quickly, beginning with a mysterious, tattered journal but rapidly culminates in a monstrous invasion of the direst order. Reggie discovers the horrifying truth about the vours, just how far they have expanded into her world, and how desperately she must fight to save her beloved younger brother from his own personal hell.
As a heroine, Reggie doesn't seem to stand out too much from the average. She's smart, but not an outstanding scholar; she's pretty, but not popular gal material; she has a crush on the local big man, but that's to be expected. But Reggie is a good friend, a doting older sister, and has a wicked sensibility for dorky horror films and books. With her best friend Aaron, Reggie is pretty comfortable with her status in the social pecking order – which is pretty cool. By far, Reggie's most endearing trait is to me as a reader was her care for her younger brother. As their mother left their father, she also left Reggie and Henry – and Reggie deals with this hurt in her own way, but also manages to comfort the feelings of pain and guilt this has caused her impressionable brother. Then, there's poor Henry – one of the tough things about demonic possession-type storylines is the troubling feelings of fear and love for the possessed. In this case, it's Henry who has been taken over by a Vour, and it's hard to remember that underneath the cruelty of the monster, a young boy is trapped in his own mind, paralyzed by fear. Vour!Henry is truly the stuff of nightmares – there's something inherently terrifying about little kids who do evil things, and this version of young Henry is a solid invocation. Then, there's Aaron, the brilliant, supergeeky, loyal best friend to Reggie. The standard sidekick character, Aaron devotedly stands by Reggie and helps her uncover the truth about the Vours even though he's not really much in the fighter or fearless department – still, his dedication to Reggie and his ability to try to face his fears is admirable, though he's not exactly a truly fleshed out character. Rounding out the cast of characters, there's (of course) the obligatory Van Helsing – Mr. Eben Bloch, Reggie's employer, who has a secret of his own…
Characters aside, the thing that I think impressed me most with this novel was the air of ancient menace that Mr. Holt manages to create with the parallel story of the journal owner. When Reggie's investigation takes her to an abandoned old farmhouse and she discovers the truth of the Vours – and what happens to the humans that are in contact with them – well, it's some creepy stuff.
Combine that with Reggie's ability to ACT, to fight back, and her desire to save her brother no matter what the cost is to her, and you have one pretty darn good story. I really enjoyed this first novel, and definitely recommend it for young adult readers looking for a paranormal scare outside the realm of the usual.
Rating: 7 – Very Good
Publisher: Little, Brown Young Readers
Publication Date: September 2009
Hardcover: 272 pages
Summary: (from TheDevouring.com)
Six months…
Since Reggie first discovered the existence of the Vours in a tattered journal. Since her little brother Henry began to mutilate animals and turn against her. Since she learned to overcome her fear and destroyed a Vour to save Henry.
Months later, the Vours still haunt Reggie, but only in her dreams—until one night, when an unexpected visitor turns her nightmares into reality.
Terrifying, nail-biting, and grossly intriguing, readers will devour this thrilling sequel.
Review:
Soulstice picks up exactly six months following the events of The Devouring – with the approach of the Summer Solstice (the longest day of the year). Henry has been returned to his normal self and thankfully cannot remember much of his time in the fearscape under the cruel prison of the vour that possessed him. And yet, though their lives have settled down, things are far from normal – the loss of golden boy Quinn has disturbed their small town and even six months later, detectives are poking around for answers…and they zero in on Aaron when they find Quinn's car at the bottom of the local lake. Vours threaten from every angle, as possessed police officers and high school students provoke Aaron, Henry and the girl that has inexplicably bested them, Reggie. And then she discovers that there's something brewing among the vours – and with the coming summer solstice, her world may be in even more danger than ever before. Once again, Reggie must fight the evil that lurks around the edges of darkness, to protect not only those she loves, but the world.
I enjoyed Soulstice, reading it again in pretty much a single go – but I have to admit I was a disappointed with this sequel. While The Devouring was much more focused on the bond between Reggie and Henry, balancing the horror of the Vours with the psychological issues of being left by their mother and the engaging sideplot of the mysterious journal, Soulstice relied much more on grotesque descriptions and action. While The Devouring could be read as a stand alone novel, Soulstice seems to have fallen directly into the "market this book for the next in the series!" trap. Not that Soulstice was bad – it just wasn't nearly as good as its predecessor. The difference is apparent even from the opening chapter; in The Devouring, a haunting prologue from the handwritten journal unfolds in a terrifying recount of the past, whereas Soulstice opens with a dream sequence complete with a lake of severed ears and a dead boy. The scares in Soulstice are very much of the gross-out variety (and in truth, they aren't even that gross or original). Not that this is a bad thing, but it simply wasn't very scary. The atmospheric fear that made The Devouring was all but missing in this second novel.
In terms of scope, Soulstice broadens the realm of the Vours. At the end of the prior novel, Reggie learns that there is an ongoing war between the monsters and some humans who have banded together to eradicate them (of which Mr. Bloch is a member), and so the stakes are necessarily raised in this installment. Having discovered a way into others' fearscapes, Reggie decides to stand against the human fighters who simply kill the possessed without trying to save the trapped souls within, and she takes it upon herself to liberate two such trapped souls. I like that Reggie is questioning the status quo (even though she makes a few TSTL decisions in this book), and the sequences in the fearscapes are nail-biters. Though, I did find myself wishing Reggie would spend a little less time in fearscapes, a little less time running from disaster to disaster, and a little more time taking a moment to think through the consequences of her actions. There was a lot of flash and action in this book, but hardly any character development or reflection…which sucks, since Reggie's inflection in the first book was one of the main things that drew me to the series.
Overall, Soulstice is a good read, but an unfulfilling one. I liked it, but I'm hoping that the next novel has more to offer for Reggie and her friends.
Rating: 6 Good
Notable Quotes/Additional Thoughts: For more on the Vours, make sure to check out the official website HERE.
Also you can read a sample chapter from The Devouring, HERE.
Giveaway Details: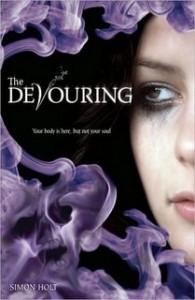 And now, for the giveaway! We are giving away ONE copy of The Devouring to a lucky reader! The contest is open to EVERYONE, and will run until Saturday August 15th at 11:59 PM. We'll announce the winner on Sunday during our weekly stash. In order to enter, simply leave a comment here – and for fun, let us know what your greatest fear is…
Good Luck!