Title: The Awakening
Author: Kelley Armstrong
Genre: Young Adult, Urban Fantasy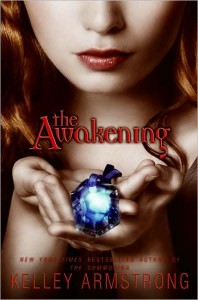 Publisher: Harper Teen
Publication Date: April 2009
Hardcover: 368 pages
Stand alone or series: Book 2 in the Darkest Powers trilogy.
Why did I read this book: I loved The Summoning, book 1 in the series, so naturally I had to have book 2.
Summary: (from amazon.com)
If you had met me a few weeks ago, you probably would have described me as an average teenage girl—someone normal. Now my life has changed forever and I'm as far away from normal as it gets. A living science experiment—not only can I see ghosts, but I was genetically altered by a sinister organization called the Edison Group. What does that mean? For starters, I'm a teenage necromancer whose powers are out of control; I raise the dead without even trying. Trust me, that is not a power you want to have. Ever.
Now I'm running for my life with three of my supernatural friends—a charming sorcerer, a cynical werewolf, and a disgruntled witch—and we have to find someone who can help us before the Edison Group finds us first. Or die trying.
The Awakening is the first title in our SUPERNATURAL SUMMER book feature from Harper Teen. This week we will bring you five different books by five different authors, including interviews, articles and giveaways.
Review:
Chloe Saunders awakens after her foiled escape attempt to find herself once again in the clutches of the Edison Group – betrayed by her supposedly loving Aunt, Chloe, Rae and Tori are subject to the whims of their mysterious doctor captives. Derek and Simon are still at large, however, and Chloe takes solace in the fact that at least two of her friends are beyond the reach of the nefarious group. In a new facility, Dr. Davidoff attempts to rehabilitate the remaining adolescents, telling Chloe that her fears and mistrust of himself and the other doctors is misplaced – that they are only there to help Chloe and the others get better. However, Chloe isn't buying, and with the ghostly help of Liz (a former Edison Group "graduate" who was terminated under their treatments) she makes a horrifying discovery about the group, their experiments, and what exactly it is that they want from Chloe and her friends. When Dr. Davidoff appeals to Chloe for help finding Derek and Simon (under the guise that Simon is a diabetic who forgot his daily insulin and could be in dire straits), she seizes the opportunity to run…with only a small complication. Rae, pyromancer and supposedly Chloe's friend, decides that she likes the Edison Group and eats up the stories they tell her. What's worse, the jealous and bitchy cheerleader type Tori tags along with Chloe for their daring runaway. On the road, Chloe and Tori finally are reunited with Derek and Simon, but it is a constant struggle to stay a step ahead of the Edison goons and to stay alive. Together they make a stab for help from Derek and Simon's family friend, but face a multitude of obstacles on the way to safety. And, all the while, each of their powers – especially Chloe's necromancy skills – are growing in strength.
The Awakening is one heckuva ride – from beginning to end, there is not a dull moment or even an opportunity to catch a breath and relax. While The Summoning was a tantalizing introduction, an amuse bouche of what the Darkest Powers series had to offer, The Awakening is a full-fledged, action-packed freight train of a novel (Put it this way: If movie-buff Chloe had to describe this book, she'd probably say it is a cross between The Fugitive, with a Harry Potter twist). The physical descriptions of their harrowing escape, dodging bodily harm from the scientists at the facility, and then the realization that life on the streets without food, money, shelter or clothing (or bathroom, for that matter) is no picnic is expertly drawn and makes for a thrilling read. While I loved the bountiful revelations in this second installment, especially concerning the background of the Edison Group and why they are so interested in Chloe and the other teens, it is the tension and revelations in terms of characters that truly shine. Ms. Armstrong excels at creating a depth of motivations and storylines in which things are not always as they appear at surface level, and The Awakening has a number of these layers; friends become enemies, enemies become friends, and so and so forth.
In The Summoning, narrator Chloe is unsure of herself and timid; she goes along with the suggestions and demands of her elders, eager to "get better" and to return to a semblance of a normal life. While Chloe does grow the beginnings of a backbone in the first novel, in The Awakening she completely sheds her shy, diminutive skin and becomes a strong heroine, bravely meeting confrontation head-on, refusing to meekly accept others' orders without question. Not only is Chloe a powerful necromancer on the run from a depraved organization, but she's also a teenage girl becoming comfortable and at home in her own skin – something that can be said of each of the teens on the run. As in the first novel, Chloe continues her glib movie comparisons which had my inner movie geek grinning from ear to ear (especially in her horror and action movie comparisons – there was even a Deep Blue Sea Sam Jackson kill reference, which had me in giggles), and also building off the first novel, Chloe's relationships with Tori, Simon and Derek also are continued here in The Awakening.
Tori, apparently mean-spirited and jealous of what she perceives as a romantic relationship between Chloe and Derek, has more layers than just bitchy shopaholic girl – in her morphing relationship with Chloe, beneath her abrasive exterior, Tori's hurt and fear are revealed. Even more compelling is the budding relationship between Chloe and Derek. Derek struggles with his raging wolf and human hormones, unable to transform fully into a werewolf but dealing with the physical pain and discomfort at every instant. Chloe and Derek are constantly butting heads, but in the end, she's the one who understands and sympathizes with his struggle…and the romantic tension is phenomenal. (Team Chloe and Derek for the win!)
Another thread I was impressed with was how each of the runaways try to come to grips with their incredible powers – Tori with her own gift, Derek as a wolf, and Chloe's abilities to raise and commune with the dead. There's a particular scene involving a zombie bat (yes, a honest to goodness reanimated zombie bat!) that is priceless. Coupled with the early revelations about the Edison Group, Chloe's growing power is a frightening thing, and I cannot wait to see where Ms. Armstrong takes us in the next book.
Notable Quotes/Parts: My favorite part is easily the bathroom scene between Chloe and Derek (in fact, the whole time they are in the woods together is brilliant). I have high hopes for this pair in the next novel!
Also, Harper Teen has a fantastic "LOOK INSIDE" feature on their website for all of their titles, allowing a lengthy sample of the book (approximately the first 1/3 of the book is available for free)! You can check out the first 70 pages HERE:
Additional Thoughts: Stick around, as later today we will be interviewing Kelley Armstrong and offering a giveaway of Book 1 in the series, The Summoning to one lucky reader!
Verdict: The Awakening is one exhilarating read, cramming shocking revelations, non-stop action and powerful (literally!) characters into an irresistible book. I cannot wait to find out what lies in store for Chloe and her friends in the next installment. Absolutely recommended!
Rating: 8 – Excellent
Reading Next: Wings by Aprilynne Pike