Title: Diamond Star
Author: Catherine Asaro
Genre: Science Fiction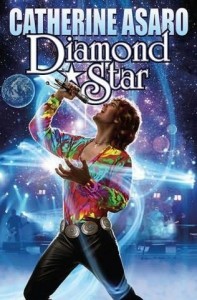 Publisher: Baen Books
Publication Date: May 2009
Hardcover: 512 pages
Stand alone or series: The most recent (13th!) book in the Skolian Saga, but arguably can be read as a stand alone novel.
Why did I read this book: I've had Catherine Asaro's Skolian Empire books on my radar for a very long time, but have never taken the plunge. When I received an advance copy of Diamond Star, I decided to rectify this gap in my science fiction reading and plunge into this exciting series.
Summary: (from Amazon.com)
Del was a rock singer. He was also the renegade son of the Ruby Dynasty, which made his career choice less than respectable, and gave him more to worry about than getting gigs and not getting cheated by recording companies, club owners, or his agent. For one thing, the Ruby Dynasty ruled the Skolian Imperialate, an interstellar Empire, which had recently had a war with another empire, the Eubian Concord. For another, Del was singing on Earth, which was part of a third interstellar civilization, and one which had an uneasy relationship with the Imperialate. Del undeniably had talent, and was rapidly rising from an unknown fringe artist to stardom. But, with his life entangled in the politics of three interstellar civilizations, whether he wanted that or not, talent might not be enough. And that factor might have much more effect than his music on the lives of trillions of people on the thousands of inhabited worlds across the galaxy.
Review:
Frustrated and bored, Skolian Ruby Prince Del Arden sits out his diplomatic detainment on Earth. Del's passion, keeping him sane is his music, for which he has an unparalleled talent – much to his family's discomfort. Military appointed bodyguard Mac befriends Del, bonding over their shared love and ear for music, and soon Mac takes the young Ruby Prince under his wing. Mac happens to also be a talent agent, and when he asks Del to accompany him on a client audition – merely to see how the process works – Del hastily accepts. Through a series of comedic events, Del ends up alone in the audition room and is mistaken by the man-eating, gorgeous record executive Ricki for the prospective talent…and he blows her away by virtue of his haunting voice, devastating good looks, and poignant lyrics. Soon Del finds himself an intergalactic rock star – who also secretly happens to be a Ruby Prince. But when a powerful Aristo, one of the murderous enemies of the Skolians, shows keen interest in Del, the galaxy is poised on the edge of devastating war.
Catherine Asaro's latest in the Skolian Saga is a soulful tale about fame, relationships, and the power of music. Diamond Star is a rock and roll saga in a futuristic setting to the usual tune – small town boy, ignorant of his own beauty and talent, makes the big time and falls prey to temptations. The story on its own isn't terribly compelling, but there's no denying that Ms. Asaro has a distinct, eminently readable writing style. Even though Diamond Star is a by the numbers rise to superstardom tale that has been told countless times before across numerous media, not to mention I'm not particularly fond of this sort of story, it is testament to the quality of Ms. Asaro's writing that I never found myself bored. Furthermore, this is the first book I have had the pleasure of reading in the Skolian Saga and I never found myself lost. There's sufficient background information given into the workings of the Skolian Empire, the threat of the sadistic Aristos, and the willful blind eye that Earth would turn towards the distant conflicts. Though the world-building elements weren't as prominent or necessary to the story until the last third of the novel, I was intrigued by the tension between the Aristos and the Skolians, and am very excited to dive into earlier installments to the series to get down to the meat of the conflict.
Where Ms. Asaro truly shines in Diamond Star, however, is in her likable characters and the genuine emotion imbued in her writing. Del at first seems something of a Mary Sue character – unbelievably gorgeous, vocally talented, unconscious of his many charms, incredible in bed, etc and so forth. As the story unfolds, however, Del becomes less of a blandly perfect character and reveals many endearing traits: his endless desire to please his family and his heartbreaking past in particular. Almost against my will I found myself liking this character (a negative first impression fueled by the frankly horrid cover). I was similarly enchanted by the secondary characters, in particular Ricki (Del's love interest) as the ball-busting executive, and fatherly Mac, tortured by the secret identity of his client and military charge. Even more interesting to me, however, were the briefly appearing members of the Ruby Dynasty! We meet Del's brothers, his Aunt Dehya – the Ruby Pharaoh – and his mother. I found myself wishing that there was more of the formidable Dehya or Del's hardassed brother – but again, this is something I am certain I will find in the earlier books of the series.
Finally, what's a book about music without…music? It is a central component to this novel, as Del's lyrics play a particularly pivotal role in the story. Interestingly, Diamond Star's release is concurrent with a cd from Starflight Music, on which all the songs from the novel are put to music. Ms. Asaro penned all the lyrics, which are then performed by Point Valid, an alterna-rock band from Baltimore. Although the music doesn't quite fit with my musical tastes, the companion CD is a cool idea. The quality of the lyrics surpasses the melodies (just my own personal preference, of course), and even those who might not be blown away by the songs themselves can appreciate the comprehensive effort put into creating this music novel.
Overall, I highly enjoyed Diamond Star and plan on visiting Ms. Asaro's earlier works very, very soon!
Notable Quotes/Parts: The lyrics for Del's "Sapphire Clouds" are my favorites, more so than the eponymous "Diamond Star," or the first hit "Emeralds." Actually, "Carnelians" is the most poignant song in the story, but I'm not ruining that one for you.
"Sapphire Clouds"

Running through the sphere-tipped reeds
Suns like gold and amber beads
Jumping over blue-winged bees
Don't catch me, please

Cause I'm
Running, running, running
Running, running, running
Running, running, running away

Flight of bubbles everywhere
Pollen dusting in my hair
No more troubles anywhere
Sapphire clouds above the air

And I'm running, running, running
Running, running, running
Running, running, running away

Memories fade in life's strain
Winds of age bring falling rain
Cornucopia of lives
Of years and joys and grieving sighs

Recall sapphire clouds on high
Drifting in an endless sky
Childhood caught and kept deep inside
To treasure after days gone by

And I'm running, running, running
Running, running, running
Running, running, running away
Additional Thoughts: As I mentioned above, concurrent with Diamond Star's release, a companion CD with actual versions of the songs from Starflight Music is available. You can purchase the songs on iTunes, or listen to the album online HERE.
Verdict: Diamond Star manages to hit the right notes. This is a compelling, romantic science fiction novel, and certainly recommended for existing fans, and newbies to the Skolian series. I'll certainly be back for more.
Rating: 7 Very Good
Reading Next: Strange Angels by Lili St. Crow