Title: Always a Scoundrel
Author: Suzanne Enoch
Genre: Historical Romance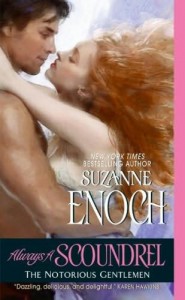 Publisher: Avon
Publishing Date: April 28, 2009
Paperback: 384 pages
Stand Alone or series: Book 3 in the Notorious Gentlemen series. It can be read as a stand alone though.
Why did I read the book: I have been waiting for Bram's book for a while now: it is a Reformed Rake story , my favorite romance trope.
Summary: Never a gentleman . . . until now.
Lord Bramwell Johns, the second son of a duke, is an unrepentant scoundrel. Now that his two closest friends are disgustingly ensconced in domestic bliss, Bram is feeling strangely restless. And not even relieving London's least deserving artistocrats of their ill-gotten jewels is enough—until the night he overhears an argument. It seems that Lady Rosamund Davies is about to be forced into marriage with a rogue even worse than himself.
Rose is well aware of Bram's scandalous reputation, so any reason for his sudden interest in her is suspect; more so since he's close friends with the man about to ruin her family! She has her own plan though, and Bram may be just what she requires—as long as she remembers that he is only looking out for himself. As long as she remembers that his kisses and caresses don't mean anything. As long as she can keep from wondering whether she can trust a scoundrel . . . with her heart.
Review:
A few days ago I wrote a review in which I say that one of my favourite tropes in romance is a Beauty and the Beast story. As much as love that one though, it doesn't come even close to how much I love Reformed Rake stories: there is something about a hardened- by- life, cynical- and –yet- humorous, whore- of- a- man falling in love with that one woman that makes him re-evaluate his life-style that gets me every.single.time.
Always a Scoundrel is Bram's story. One of the trio known as the Notorious Gentlemen, newest creation of Suzanne Enoch. I read the previous two books in the series and have been waiting for Bram's book with unabated anxiety. Out of the three rascals friends he was the one that was truly a rake, had truly a reproachable life and a dark past. I am pleased to say that Always a Scoundrel did not disappoint: it met my expectations brilliantly.
So, you have Bram ,or Lord Bramwell Lowry Johns, the second son of the Duke of Levonzy, going about his daily life , bored out of his mind. He whores, gambles and even steals from the rich to give to the poor, playing the part of the Black Cat, infamous robber of High Society's goods. All of this as a way to prove to his father that he is indeed, the disgrace the Duke thought him to be when he was merely 16. Bram's entire life since them has been a direct affront to a father who thought a second son was useless. However, if it all started as means to hurt his father, it soon became part of who Bram was and we all have one Kingston Core, Marquis of Cosgrove to thank for: the epitome of all that is immoral and the tutor of Bram's descent into dissipation.
Luckily for Bram, King is not his only companion: he has Phin and Sullivan, his two friends from the army who are able to see beyond his façade and who continuously have his back and wait as much as we do, for the moment the coin will drop and Bram will realise he is better than he thinks himself to be.
The proverbial coin drops when he becomes acquainted with one Rosamund Davies, a young woman who has just been sold, literally to Cosgrove: her brother has a huge gambling debt and Cosgrove offers to forget about it if she marries him. Her father agrees rather easily and rapidly and Rose is the one to be sacrificed for the good of the family. No one thinks about what she wants, no one ever considers to make the brother pay for his own mistakes. Rosamund is aware of this, she is critical of her own family but she is also prepared to do her duty. It could have been so easy to make Rosamund, a martyr but she is written far too well. Instead, she is a strong character, motivated by honour and an attachment to a family that does not deserve her sacrifice whilst being aware of it, which makes it all the more poignant.
And a matter of befuddlement to Bram: both because he doesn't understand what would King want from a plain, virginal woman and he doesn't understand why Rose is bent on protecting her family. His confusion leads him to investigate further and to ascertain that King is playing a game with Rose, who sees as a toy he wishes to break in the worst manner possible. Once she also learns of this fact in a couple of encounters with the man himself , she accepts Bram's offer of tutoring her in how to face King in his own grounds; and Bram and Rose become entangled in each other in a friendship that leads to more which leads to Bram becoming self-conscious when he realises he could be compared to the monster that King is.
And that, my friends is the moment I LOVE in Reformed Rake stories: the moment when the rake looks back at his life, realises he no longer wants to be that man and that he wants to change for that heroine. The moment that is full of a hurt that leaps from the page.
That is also the moment that makes or break a Reformed Rake story: as this only happens because of the heroine and that female
character needs to be well-written, interesting and to have that ONE thing that will make the reader believe that this rake, this man would change his life because of this woman.
And in Always a Scoundrel this one thing is: reflection. Rose's situation is a mirror to what Bram went through years ago and he recognises it as soon as he learns of her situation. What makes him follow her, fall for her in a way that he needs to protect and love her is that realisation that she is the better person by how she REACTED to the situation created by her family. She manages it all with the honour and dignity that he didn't. They are the underdogs, unwanted by their families, sharing similar backgrounds and bonding because of them. Of course, it also helps that Bram is hot and has the hots for plain Rose.
Ultimately, it takes a great woman to reform a real rake. It cannot be just about anyone, Bram is aware of this and muses to himself:
" If the woman Cosgrove had selected hadn't been witty and forthright or hadn't had a compelling sprinkle of freckles across her nose, would he be attempting to play a hero?"
No, he wouldn't. A rake like this be redeemed by THIS particular woman and Suzanne Enoch convinces me that they are a perfect couple. And I am grateful that Bram's path to redemption is heart-warming, sometimes even heart-breaking, as I hoped it would be.
Notable Quotes:
"So you intend to spend the remainder of your life whoring, drinking, wagering, and being as outrageous as you can imagine?
Bram shook himself. He made it a point to be serious as little as possible, and neither did he want to argue with two newly married men about the merits of being leg-shackled. "Please, Phin", he said aloud. "I would never think so mall. You know my ultimate goal is to lower the standards of morality enough that everything I do becomes acceptable."
"That's likely what happened at Sodom and Gomorrah" Sullivan observed.
"One can only hope"
Gotta love the pre-reformed rakes with sense of humour. My top priority is to hope that they are redeemed without ever losing their edge.
Verdict: Always a Scoundrel is everything I hoped for Bram's story. Suzanne Enoch delivers yet another good book in the Notorious Gentlemen series.
Rating: 7 VERY GOOD.
Reading Next: A Hint of Wicked by Jennifer Haymore