Welcome to the first official "Inspirations and Influences" post, a brand new feature in which we invite authors to write guest posts talking about their …..well, Inspirations and Influences. The cool thing is that the writers are given free reign so they can go wild and write anything they want. It can be about their new book, series or about their career as a whole. Anything goes. The idea was born when Meljean Brook wrote the Most Awesome Ever guest post at the time that Demon Bound was released last year. We plan to have at least one (but hopefully more) of these each month and we already have a pretty cool line-up.
To kick-start the series, we invited prolific romance writer Jodi Thomas. With more than 28 books written and quite a few RITA awards , Jodi has been inducted into the Romance Writers of America Hall of Fame in 2006. If you want to learn more about the writer and read reviews of her books, check out The Book Binge's Jodi Thomas Week that took place last year.
Her newest mainstream fiction book, Rewriting Monday (reviewed here by Ana) will be released on April 7th.
Without further ado, Jodi Thomas on her inspiration and influences: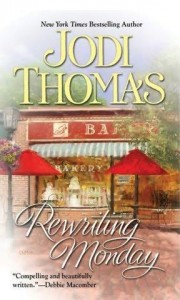 In a week, my twenty-eighth book will be released, REWRITING MONDAY, and I still have trouble believing I'm a writer sometimes. I spent years as a closet writer, telling few people, because when I did, they'd ask what I sold and I'd have to say 'nothing yet'. A writer becomes a writer long before she or he sells. I think sometimes even before they jot down Chapter 1 they are collecting ideas, tiny scraps of paper cluttered into the mind.
One of those scraps was a line I heard a woman say once about how everyone over the age of ten wishes they could go back and rewrite one minute of their life. From that line a story began to form. A story of a woman who'd made a mistake and lost all she thought important to her and a man who'd 'done the right' thing for everyone else but never been brave enough to fight for what he might want. In the end, they find that what's important, what matters, lies within them and has all along.
I also wanted to write a view of a small town in REWRITING MONDAY. I know I must have lived the other fifty weeks of the year when I was a child, but my memories are most clear of the two weeks I spent each summer in Hollis , Oklahoma , with my Aunt Dixie and Uncle Leroy. My aunt was the perfect small town lady and my uncle owned a little trucking company that hauled cattle and every relative in our family who moved. With five sets of aunts and uncles in town, I pretty much had the run of the place. I felt like I knew everywhere and everyone in town. My uncle always had a horse saddled and waiting in the back yard for me and at ten, I rode over to the rodeo grounds each night. Those memories of the people, the places, the way of life came forward in my mind as I wrote REWRITING MONDAY.
You asked who influenced and inspired me. The first person on my list would have to be my fourth grade teacher, Mrs. Dickerson. She saw a little girl in her class who couldn't read and recognized a reading problem even before they had names for them. Thanks to her, I got to go to a school one summer and learned to read. Sometimes I think my not being able to read at a young age may have helped in a strange way. I spent lots of time daydreaming. While I was making up stories in my head, my teachers were often saying 'pay attention'. I wish I could go back and tell them I wasn't wasting time, I was busy planning my career.
So now, after twenty years of watching my stories hit the stands, how do I feel about it? In truth, I don't concentrate on the books that are published, it's the ones in my head keeping me busy. I've another twenty or thirty stories to write. As I've done all my life, I live with a story whispering though my mind all the time. I work out conversations and plots as I drive along through my day and at the end of each day, I do what I've always done, I tell myself a story and go to sleep.
____
Thank you, Jodi. That was really interesting.
Now, for the giveaway.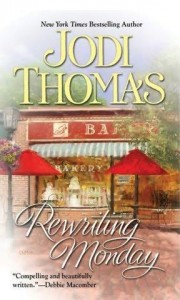 Jodi Thomas is generously offering a signed copy of Rewriting Monday and a tote bag to one lucky winner who leaves a comment on this post. Contest is open to all and will run till Saturday midnight Pacific Time. The winner will be randomly picked by Random.Org and announced in our stash on Sunday. Good luck!