Title: The Dangerous Book for Demon Slayers
Author:
Genre: Paranormal Romance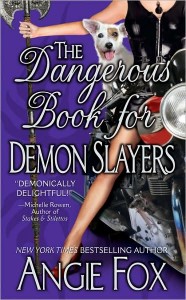 Publisher: Love Spell
Publishing Date: April 28, 2009
Paperback: 336 pages
Stand Alone/ Series: Second book in the Demon Slayer series.
Why did I read the book: I read the first one and enjoyed it a lot and was happy when I received the second one from the publisher.
Summary: Seriously. Why does a new hair dryer have a twelve-page how-to manual, but when it comes to ancient demon-fighting hocus-pocus, my biker witch granny gives me just half a dozen switch stars and a rah-rah speech? Oh, and a talking terrier, but that's another story. It's not like my job as a preschool teacher prepared me for this kind of thing.
So I've decided to write my own manual, The Dangerous Book for Demon Slayers, because no one tells me anything. Dimitri, my "protector," may be one stud of a shape-shifting griffin, but he always thinks he can handle everything by himself. Only he's no match for the soul-stealing succubi taking over Las Vegas. If I can't figure out how to save him—and Sin City—there'll be hell to pay.
Review:
It's been two weeks since preschool teacher Lizzie Brown learnt she was the Exalted Demon Slayer of Dalea. In that short period of time, she found out she had a family, became a member of the Red Skulls (a coven of geriatric biker witches), hooked up with a man who was her protector and a shape-shifter griffin, had to learn how to use her powers, went to hell and back AND found out her dog Pirate can speak.
But is she allowed to take a break and enjoy some sunshine in Greece with her new steady boyfriend Dimitri? NO. Because as it turns out, her Uncle Phil – who by the way is her half-fairy Godfather – is getting married to a succubus demon in Las Vegas. Why would a succubus want to get hitched as this so does not sound like their modus operandi – is what worries Lizzie and her grandmother. On the way to Vegas more problems creep up: Lizzie finds out she actually needs a license from the DIM – Department of Intramagical Matters – to work as a Demon Slayer and has to pass a test to get it. A test which no one has told her about and regarding things no one thought about teaching her.
To make matters worse, Vegas seems to have more succubi demons than the DIM accounted for and only Lizzie can stop them for doing whatever evil plan they had which may or may not involve her uncle and a vigilante slayer called Max . Add to the equation the fact that succubi love to suck Griffins' life force and even though, as a pure Griffin from an ancient lineage Dimitri is supposed to be impervious to them somehow they manage to deplete Dimitri's strength and ever-reliable warmth and Lizzie is in serious trouble as she has to save Phil and get Dimitri out of town..
But this time, Lizzie is seriously pissed off and she speaks out: she won't take the half-truths her grandmother throws at her or the fact that Dimitri wants to protect her at all costs. And this is how the Demon Slayer Lizzie initiates a process of soul-searching to find out what does exactly being a demon slayer mean and finally be able to get comfortable in the role. She even decides to write a manual, The Dangerous Book for Demon Slayers to help future generations.
The result: a more serious book, in tone and in plotting that its predecessor. The Dangerous Book for Demon Slayers is less funny than The Accidental Demon Slayer but it is all the better for it. It still has many of its quirkiness and peculiarities that are a lot of fun to read about (I just love Pirate and how he is still only a dog even if he can speak) but Angie Fox takes Lizzie and the troupe in a new direction which I wholehearted hoped for when I read the first book.
There are great issues being dealt here. For starters, Lizzie was not even supposed to be the demon slayer. That was her mother's path, not hers. For that reason, Lizzie doesn't have the one thing that could mean a less solitary life for Demon Slayers : another slayer to rely on. You see, all slayers to this point, had twin sisters and therefore were a duo. Lizzie has to carry all this power on her own and be responsible for other people lives and that is a great burden. She has to make hard choices on this book in order to save people and above all she has to pin down the three Slayer's truths: Look to the Outside, Accept the Universe and Sacrifice Yourself and what exactly do they mean.
There is also a great look into her relationship to Dimitri and the repercussions to what she did to keep him alive in book one (another reason why this series is good: there are always consequences to actions) and I truly warmed up to him on this one – I still would like to know more about the man and it doesn't help that the book is narrated in first person by Lizzie so we don't have Dimitri's point of view, which is a shame. It seems I will have to wait for book 3 to get to know him better. A word of caution: although the series is marketed as Paranormal Romance, please don't expect a lot of romance or sex. There is so much action and dangerous sequences in the novel , that the romance takes second place to everything else but I think it's more realistic this way.
The Dangerous Book for Demon Slayer is a much more thoughtful book than the first one but with enough humor and action to make it still a light and quick read . I know I devoured the book in one go. I am, needless to say, a fan.
Notable Quotes/ Parts: I loved the final showdown and how action packed it was. Just like in the first book!
Additional Thoughts: Tomorrow Angie Fox will be guest blogging here and talking about Inspiration and Influences (our new author series!) and giving away some goodies. Be sure to stop by
Verdict: With a more thoughtful approach on this one, but still with a lot of humor and plenty of action sequences, this series is a winner and I can't wait to see where Angie Fox takes her characters next.
Rating: 7 Very Good
Reading Next: The Secret Wedding by Jo Beverley