We saw this at Kati's place (who saw it at Nicola's) and we thought: wow, what a cool meme, we want to play too!
So here it goes:
1. What author do you own the most books by?
Ana:
Agatha Christie – I own all of her books and read every single one of them by the age of 13.. Runner-up would be Neil Gaiman.
Thea:
Oooh, Stephen King. Easily. I have two bookshelves full of King, and that's not counting some of my older, tattered books back at my family home or the Dark Tower spinoff comics. I'm not even sure who the runner up would be; I read a lot of series' so it's probably inadvertently Laurell K. Hamilton or something.
2. What book do you own the most copies of?
Ana:
O Menino Maluquinho by Ziraldo. See below
Thea: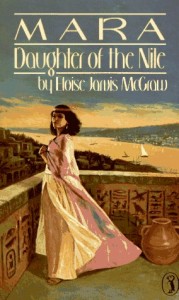 I generally try to stick with the one copy rule to save my wallet from complete ruin, but if I had to say the book I've had to re-purchase the most over the years, it would have to be Mara Daughter of the Nile by Eloise Jarvis McGraw. I've read my old copies to the point where the books have literally fallen apart, and I've lent out copies that somehow never make it home.
3. What fictional character are you secretly in love with?
Ana:
That's easy and it is not a secret at all: Sebastian St Vincent from Devil In Winter by Lisa Kleypas.
Thea:
Umm…Batman.
4. What book have you read more than any other?
Ana:
Don't laugh but that would be The Little Prince by Antoine de Saint Exupéry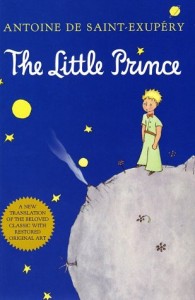 Thea:
Probably Mara Daughter of the Nile again.
5. What was your favorite book when you were ten years old?
Ana: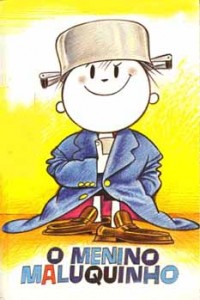 Please remember I am Brazilian and grew up in Brazil. This means all the children's books I read were by Brazilian authors. When I was ten years old, I was in love with Ziraldo's books. He is an amazing writer and my favorite is O Menino Maluquinho (roughly translated as The Crazy Boy). It is the story of a young boy who was different from anyone else. It is all about this boy who was just… a happy boy. A growing up tale that is all.kinds.of.awesome. I still have my first copy of this from 1980, the year the book came out. I was 4 years old then and my mother wrote the following: "to my daughter so that you can fall in love with reading." This copy is falling apart and I bought another one when I was older. This is the ONLY book I have two copies of.
Thea: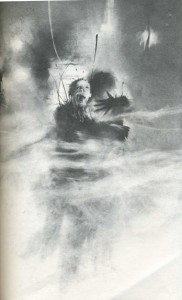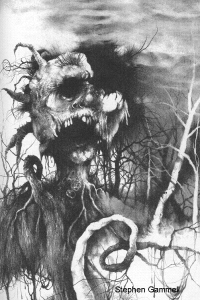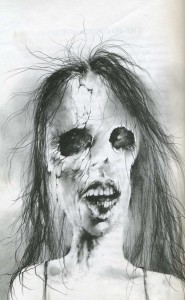 I'm cheating and taking three books: The Lion, the Witch and the Wardrobe by C.S. Lewis and Alanna: The First Adventure by Tamora Pierce were two great favorites of mine…but the one book I loved more than anything else was Scary Stories to Tell in the Dark by Alvin Schwartz. Man I must've checked that badboy out from the library every week. I loved the scary stories and the freaky artwork. Just…awesome.
6. What is the worst book you've read in the past year?
Ana:
In the past year?? Phenomenal Girl 5 by A.J. Menden
Thea:
Easy. Breaking Dawn by Stephenie Meyer. There's a couple of days of my life that I'll never see again.
7. What is the best book you've read in the past year?
Ana: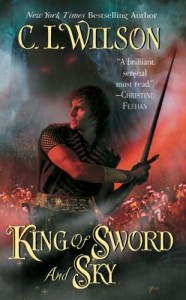 I think it will have to be King of Sword and Sky by C.L. Wilson. BUT I am reading one right now, that may well get the top spot: The Name of the Wind by Patrick Rothfuss. It is EXTRAORDINARY so far but I still have 300 pages to go.
Thea:
A much more difficult question! In 2009 so far I don't think I have a clear-cut best book, but I some memorable ones I'd have to go with are: Goth by Otsu-ichi, Eon by Alison Goodman, The Forest of Hands and Teeth by Carrie Ryan, Bone Crossed by Patricia Briggs, Magic Strikes by Ilona Andrews, and The Magicians and Mrs. Quent by Galen Beckett.
8. If you could tell everyone you tagged to read one book, what would it be?
Ana: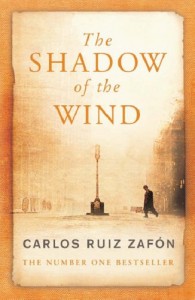 The Shadow of the Wind by Carlos Ruiz Zafón.
Thea: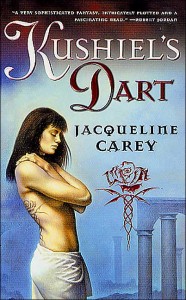 Kushiel's Dart by Jacqueline Carey. Man, I love that series.
9. What is the most difficult book you've ever read?
Ana:
I really can't remember anything in particular but I am sure some of the books I had to read for uni were galling. Possibly the ones for Economics 1
Thea:
Hah! As an econ grad, I take that to heart dear Ana. My most difficult fiction book would have to be The Fountainhead by Ayn Rand. And by difficult I mean, difficult to read without giving in to the urge to throw the book with disgust. Ayn Rand makes me sick.
10. Do you prefer the French or the Russians?
Ana:
French (although never read any of the Russians). But from Voltaire's Candide and Flaubert's Sentimental Education to all of the amazing French Historians like Philippe Ariès, Lucien Febvre, Georges Duby and so many others, French authors were the most important to my formative years.
Thea:
French for the fries, apple pie and dressing. Oh MAN, I AM LAME! Seriously, I'd probably have to go with the French authors too. Yeah I was a history major as well, and a lot of the required reading used Rousseau, Voltaire, Diderot…and even just going on classic literature, I far prefer Victor Hugo to Leo Tolstoy. Give me Les Miserables over War and Peace any day.
BUT if I had to choose where I'd rather visit? I'd totally go with Russia.
11. Shakespeare, Milton or Chaucer?
Ana:
Shakespeare, obviously. I try to watch at least 2 of his plays every year at the Globe or at Stratford Upon Avon
Thea:
Uh…Shakespeare. Although Milton is awesome, Chaucer is not my thing (boyfriend was an English major and I sat in on a few classes with him and helped him edit his papers – and that minimal exposure to Chaucer was more than enough for my lifetime).
12. Austen or Eliot?
Ana
Austen: Persuasion is one of my favorite novels of all times.
Thea:
Jane Austen, hands down. It's all about the Bennets, baby.
13. What is the biggest or most embarrassing gap in your reading?
Ana:
Quite possibly the fact that I never read the Russians. Not that I care, really.
Thea:
Hmm. I've never read a James Patterson, Danielle Steel, or Nora Roberts book before in my life. Dont know if that's embarrassing, but there you have it.
14. What is your favorite novel?
Ana: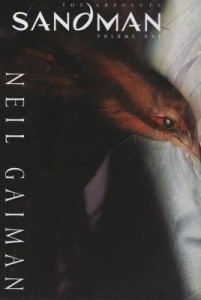 Oh man. Really? The more I think about it, the more I think The Sandman is the most complete and astonishing work of art ever. There.
Thea: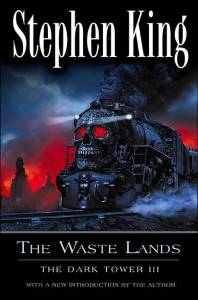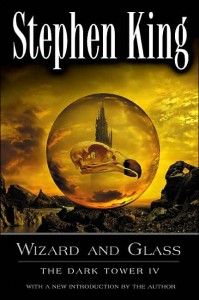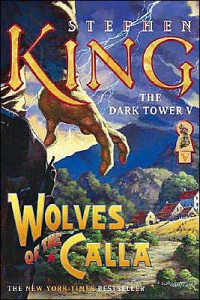 Aw, come on! Favorite EVER? Can I pick a series? The Dark Tower books by Stephen King, as deeply flawed as they are, will always hold a special place in my heart. If I had to pick one book from the series for a favorite, it would be book 3, The Waste Lands. And book 4, Wizard and Glass. And book 5, Wolves of the Calla. OK! That's it! Are you happy now?
15. Play?
Ana:
In my opinion, plays are to be seen and not read. To read Shakespeare for example is not the same thing as watching one of his plays on stage. Bearing that in mind, the most amazing play I have ever SEEN was The Taming of the Shrew, by Shakespeare, by the Royal Shakespeare Company.
Thea:
Oh, I don't know about that. I love reading and dissecting plays, as well as seeing them performed on the stage. My favorite plays to read are Shakespeare's Twelfth Night and Eugene O'Neill's painful Long Day's Journey Into Night.
16. Poem?
Ana:
I am not a huge fan of poetry. But I do really love The Lady of Shallot by Alfred, Lord Tennyson
Thea:
Oh it's all about Edgar Allan Poe. The first poem I ever memorized when I was a wee thing (7-8 years old?) was Poe's "El Dorado." I have this beautiful collection of Poe work, poems and short stories, illustrated with these gorgeous oils that was another one of my favorite books when I was younger. My two favorite poems have to be "El Dorado" and "Dream Within A Dream" by Poe.
17. Essay?
Ana:
Humm, can I skip that one? Otherwise I would have to say my own on Brazilian native Indians and their religious beliefs against the invading catholic missionaries on the 16th century. Yep. I haven't got a single gram of humility in this body of mine.
Thea:
Essay? Do people really have favorite essays? Hurmm. The only essays I've read have been for university. The only real memorable one was…
….
Exactly.
18. Short Story?
Ana:
I don't read short stories that often.
Thea:
I love short stories. Edgar Allan Poe's "The Tell Tale Heart" and "The Cask of Amontillado" were always my two favorites, but I'm also a huge fan of "Children of the Corn," "The Raft," and "Crouch End" by Stephen King. Does "Tales of the Black Freighter" from Moore's Watchmen count too?
19. Non Fiction
Ana:
I recently read and loved Bill Bryson's A Short History on Nearly Everything and thought is was so interesting.
Thea: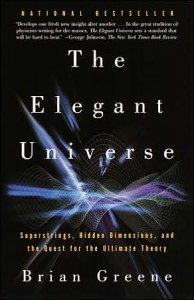 The Elegant Universe by Brian Greene is freaking fascinating (Super String theory of the universe…very cool astrophysics made understandable to the non-MIT/NASA minded laymen). Also Jared Diamond's Guns, Germs, and Steel and Collapse are both fantastic (he also teaches at my alma mater!).
20. Graphic Novel?
Ana:
The Sandman – see question number 14
Thea: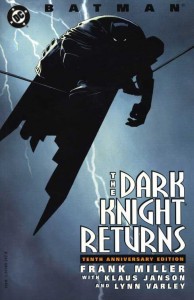 Just one? The Dark Knight Returns by Frank Miller. It's such a beautiful character study, so seminal, so…epic. Of course, Gaiman's Sandman is high on the list, along with Moore's Watchmen and Willingham's Fables.
21. Science Fiction?
Ana:
Does Romantic Scifi count? I love everything that Linnea Sinclair writes. More recently I read In Her Name by Michael Hicks and was awed by it.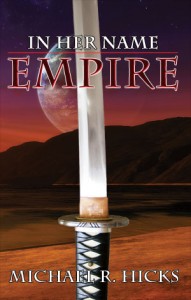 Brand new cover!
Thea: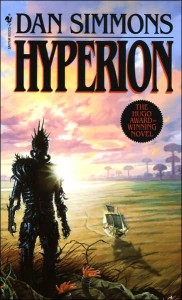 Oh this is easy – Dan Simmons's Hyperion and Fall of Hyperion. I also love C.J. Cherryh's Cyteen, and Lois McMaster Bujold's Miles Vorkosigan books.
22. Who is your favorite writer?
Ana:
Neil Gaiman. Bar none. The man is my God of Writing.
Thea:
For sentimental reasons, Stephen King (even though I know, intellectually know, that his writing isn't perfect – but he's just such a damn fine storyteller). But on basis of all around merit? I'd have to go with Neil Gaiman or Jacquelline Carey.
23. Who is the most over rated writer alive today?
Ana:
Stephen King? *ducks Thea's shoe*
Thea: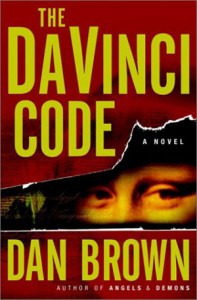 Hah! Just because Ana can't stomach horror doesn't mean he's not a damn important, iconic writer. For overrated? I'll go with Dan Brown. I would rather gouge my eyes out with a corkscrew than read his gawdawful prose. Example:
"Almost inconceivably, the gun into which she was now staring was clutched in the pale hand of an enormous albino with long white hair."
Are you freaking kidding me?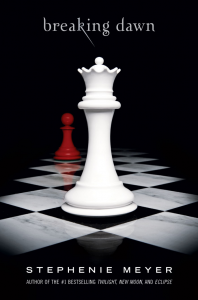 Though Stephenie Meyer gives Brown a run for his money. Example: "Reneseme." Come on now.
24. What are you reading right now?
Ana:
The Name of the Wind by Patrick Rothfuss and The Dangerous Book for Demon Slayers by Angie Fox.
Thea:
Blood Lite by assorted authors of the Horror Writers Guild, and Wings of Wrath by C.S. Friedman.
25. Best Memoir?
Ana: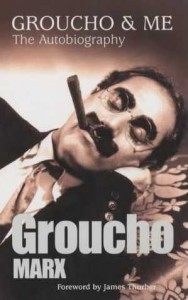 Oh man, Groucho Marx's autobiography Groucho and Me is one the most hilarious things I ever read.
Thea:
I don't read memoirs too often, but the last one I read was Barack Obama's Dreams From My Father. I'm taking it Memoirs of a Geisha doesn't really count, eh?
26. Best History?
Ana:
L'Invention du Quotidien. By Michel de Certeau and The Conquest of America by Todorov. Both changed the way I look at things and people.
Thea: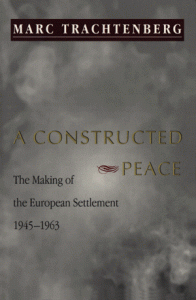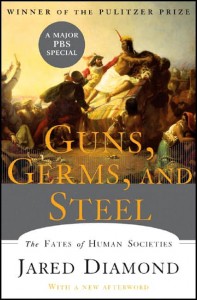 A Constructed Peace by Marc Trachtenberg is probably the most informative, balanced, all-encompassing deconstruction of the Cold War I have read. Of all the history texts I was required to read, this stands out as the single best. Also, Jared Diamond's Guns, Germs and Steel is fantastic.
27. Best mystery or Noir?
Ana:
The Woman in White by Wilkie Collins.
Thea: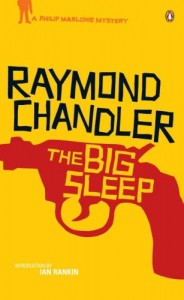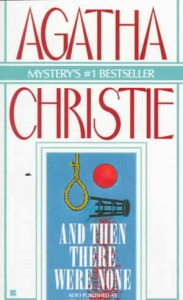 And Then There Were None by Agatha Christie for best mystery. For best noir, I go with Raymond Chandler's The Big Sleep. Absolutely brilliant.
And that's it for us! We tag…everyone who wants to play!