Title: Smooth Talking Stranger
Author:Lisa Kleypas
Genre: Contemporary Romance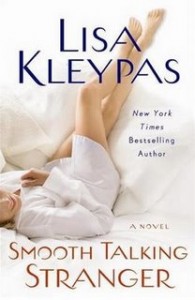 Publisher: St. Martin's Press
Publishing Date: March 31st, 2009
Hardcover: 384 pages
Stand Alone or Series: 3rd book in Travis' family series but can be read as a stand alone.
Summary: Ella Varner has it all–a successful career as an advice columnist, a handsome boyfriend, and a circle of friends in Austin. When anyone has a problem, Ella knows the answers.
But one night she receives a call that changes everything. And as Ella's world is turned upside-down, she meets a man who is the opposite of everything she ever wanted . . . a man who will offer her the most irresistible challenge she has ever known .
Why did I read the book: It's a Lisa Kleypas!!!!
Review:
It is no secret I am a HUGE Lisa Kleypas fan. One of the best weeks here at The Book Smugglers was the Lisa Kleypas Appreciation Week last year when we had reviews, guest posts, a special about the Wallflowers and an interview with the author which was, without a doubt, one of the greatest moments of my reading/reviewing life. Lisa Kleypas is responsible for many books I adore and the creator of the one and only Sebastian St. Vincent (Devil in Winter), my all time favourite romance hero. Her previous contemporary, Blue-Eyed Devil, released last year, was an amazing book and it made my top 10 of 2008. It should come as no surprise that I was extremely excited about Smooth Talking Stranger and I even expected it to make my shortlist top reads of 2009.
Bearing all that in mind, it is with a heavy heart and not a small amount of sadness that I say that Smooth Talking Stranger did not work for me at all. It started out ok, I liked both protagonists and of course, there was the always reliable Lisa Kleypas' wonderful writing and boy, can the woman write amazing heroes and fantastic sexual tension and anticipation. But the more I read it, the less I liked it and it all comes down to Ella, the heroine and to the way her character came across to me. Add to that a couple of gripes with other minor points and ergo, what was minor, became major and marred my overall enjoyment.
The basics: Ella Varner is an advice columnist who signs her column as "Miss Independent"– she is a feminist who doesn't hate men but who also doesn't think women need men to be complete. She has been in a stable relationship with environmentalist friendly Dane, for a few years. Her life is all well and the way she likes it to be until one day she gets a phone call from her mother to say her sister had a baby, no one knows who the father is and she left the baby, Luke with their mother and joined a rehab clinic. Then we learn about Ella's horrible childhood: with a mother who went from man to man (some of them abusive to the children) and is still a man-eater to this day and how this had repercussions to the lives of the two sisters. Ella had therapy and broke away from the family and made a life she was proud of but her sister did not follow the same healthy path.
Their mother, who is not an example of maternal care at all, does not want anything to do with the baby and Ella has no choice but to take Luke under her care, precipitating a lot of changes in her life. For starters, her partner Dane does not want children not even for a few months and Ella is left alone to deal – I truly admired her for that and for being capable of great sacrifices for her sister and for a baby who was after all, an innocent in all that. But then she decides the best course of action is to try and find the baby's father.
This is my gripe number 1: even though she is in contact with the sister who KNOWS who the father is, who tells her she will be back in 3 months to get the baby and decide what to do then, Ella still thinks it's a good idea to go knocking at men's doors to ask for paternity tests. Where is Miss Independent here? Why can't she wait for a few months? The first candidate is our hero, millionaire business men / playboy Jack Travis who had one date with her sister and who denies he has slept with her. The baby cannot possibly be his. Ella doesn't believe him but he is intrigued by her and decides to do a test anyway. Very soon all is cleared up and the baby is not Jack's – and he decides to help her finding the real father. They decide without any real proof that it MUST be the man that helped her sister to go to the clinic . This is my gripe number 2: would an intelligent, accomplished, rich man like Jack Travis agree that this is a good idea? Apparently so, because that's exactly what he does.
Now, the relationship between Jack and Ella grows in parallel to the Baby Problem. On top of becoming attached to a baby that was not hers, could never be hers , Ella was also becoming attached to a man who was everything she did not want or need in a man: Jack is a very possessive alpha male who was the marrying kind and who kept pushing Ella to the limits of her safe existence.
Then there comes gripe number 3: they have unprotected sex – no condoms are used. Now, I know that once I became a romance reader, it is as if I signed an invisible "Terms and Conditions" in which I agreed to suspend disbelief and let some things pass for the sake of a good story, the unprotected sex in contemporary novels being one of them. Usually, I am able to take a deep breath, and let it go by saying to myself, "hey, it happens in real life too, there IS such a thing as 'the heat of the moment'". However I couldn't for the life of me, respect Jack or Ella as characters after this. Not only because Jack says previously:
"First, I never have sex without holstering the gun"
And Ella says:
"When Dane and I had sex, we used condoms, spermicide, and the pill."
But because these two have spent the whole book up to that point dealing with the serious issue of a baby who was the outcome of unprotected sex! I mean, what does that say about two characters who are supposed to be REALLY intelligent?
I fully appreciate the fact that the issues above are more like nitpicking issues that most probably the majority of readers will not even consider given the awesomeness that is Jack's character and he is incredible: 100% typical Lisa Kleypas hero – which means, MADE of awesome.
But then, I have to go back to Ella again. Ella does not believe in marriage, she is very much into her career, and she doesn't need Jack. Yet, as she says about herself – she is completely temptable and everything that she is – or is supposed to be- crumble down pretty easy and pretty fast when she is faced with Hurricane Jack. And this is my major gripe with her character and the way it is developed or rather, under-developed. She starts the book sharing Dane's health and environment beliefs. She is even a Vegan because of him. Yes, it is all mostly for his sake but these traits that "Miss Independent" has are completely forgotten once she gets involved with Jack. I need to make it clear that I have nothing against the "power of love" helping people getting over their past not do I have any problems with characters (or people) re-evaluating what is important to them or not. This is really what happens to Ella here: she changes her values about life but not in a clear way. It's like it all happens and she is not conscious about the fact that she has serious identity issues and she jumps from one relationship to another and I felt these issues were not properly addressed. To make matters worse she only comes to the realisation about her love for Jack via a contrived plot device that I usually am not happy about when it's used to "make" character realise they love each other and in this case is even worse because it happens on the very same day that something else occurs (how is that for cryptic) and to be honest: Jack deserved better. I kept waiting for something to be written that would clarify Ella's issues for me – one page, one paragraph, anything, but it never happened. The frustration is even worse because I know Lisa Kleypas can write identity crisis very very well.
Jane from Dear Author wrote an interesting post about Smooth Talking Stranger and The Power of The Comfort Read and how despite some issues she could identify in the book, at the end of the day, the book was a comfort read to her. I can completely relate to that and man, you have NO IDEA how much I wish I had felt the same about Smooth Talking Stranger.
I know I am probably in the minority when it comes to this book but there was simply no chemistry between Smooth Talking Stranger and I. It is a great testimony to Lisa Kleypas' wonderful skills as a writer that even though I had many problems I still devoured the book like a packet of yogurt covered banana chips – my favourite snack.
It wasn't meant to be. Now, I shall await with great anticipation her next contemporary, her next historical, heck, her next laundry list.
Notable Quotes/ Parts: Lisa Kleypas CAN write sexual tension and sex scenes in ways that always make me sigh. Like this one quote, right after they have sex:
When he finally caught his breath, he muttered a few curses. I had to bury a shaky laugh in the covers, because I understood. I felt as if, somehow, a thing that was entirely ordinary had been reinvented, and the two of us along with it.
Verdict: A fantastic hero in a story that did not work for me.
Rating: I am torn about this one – part of me wants to give it a 4 because I was so frustrated, but I know other people will like it (many have already). A 5 , then.
Reading next: A Perfect Darkness by Jaime Rush