Title: A Taste of Magic
Author: Tracy Madison
Genre: Paranormal Romance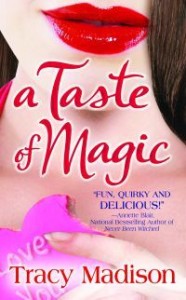 Publisher:Love Spell
Publishing Date:February 24, 2009
Paperback:292 Pages
Stand Alone/ Series: Book 1 in a series but can be read as stand alone
Why did I read the Book: I was asked by the author if I would like to read and potentially review her book. I read the blurb, it sounded like it could be a fun read so I said yes.
Summary:Elizabeth Stevens is one bite away from happiness.
Today is Elizabeth Stevens's birthday, and not only is it the one-year anniversary of her husband leaving her, it's also the day her bakery is required to make a cake–for her ex's next wedding. If there's a bitter taste in her mouth, no one can blame her.
But today, Liz is about to receive a gift. Her Grandma Verda isn't just wacky; she's a little witchy. An ancient gypsy magic has been passed through her family bloodline for generations, and it's Liz's turn to be empowered. Henceforth, everything she bakes will have a dash of delight and a pinch of wishes-can-come-true. From her hunky policeman neighbor, to her gorgeous personal trainer, to her bum of an ex-husband, everyone Liz knows is going to taste her power. Revenge is sweet…and it's only the first dish to be served.
Review:
Elizabeth Stevens is a 34 year old divorcee who runs, along with her best friend Jon, A Taste of Magic Bakery. It's been exactly one year since her husband Mark left her for his lover who are now getting married and Elizabeth has been hired by a third party to bake their wedding cake. She can't say no, as the Bakery is not doing very well at the moment and they really need to repay a loan Mark gave them before they can get back on their feet. To add insult to the injury, Elizabeth hasn't dated for a year, she is not at the top of her form and her small apartment still has unopened boxes from the time she moved out of the house she shared with her husband one year ago.
It's time for a change. And change comes when her grandmother Verda, presents her with a very special gift on her 35th birthday: the ability to do magic. Their family come from an ancient Gypsy lineage and the women– one in each generation – have the gift of magic that needs to be passed on. Elizabeth's mother refused the gift (she is a non-believer) and Verda decides that Elizabeth is the perfect recipient – if only because the magic works both ways: Elizabeth will use to help others but it will, first and foremost help herself. Each woman develops the gift differently according to their own special talents and Elizabeth's will surface when she bakes. At first by accident, then on purpose, whatever Elizabeth wishes for a person she is baking something for, the wish will come true once they eat it.
It takes some time for Elizabeth to get used to the idea and for her to learn how to use her powers and for the wishes to WORK effectively and it's interesting to see how every action has a consequence and some of the things she wishes for end up backfiring and she needs to fix them. However, even though the book is characterised as "Paranormal Romance" and the "Magic" element is very strong in the story, I thought it was when plot deviated from the "para" towards the "normal" that A Taste of Magic really came alive to me and I could see great potential for Tracy Madison as a contemporary romance writer.
The story is narrated in first person by Elizabeth and she is a great character – her voice is funny, smart and often self-deprecating. And for the greatest part, A Taste of Magic is a light, amusing read. It is hilarious to see her first steps towards flirting and getting dates again. Or her first encounter with her neighbour Nate, who is a cop, when she is stuck in half way through her bathroom window, trying to get into her flat, because she is drunk after a night out and can't find her keys. And how life changes when two men become attracted to her, not only Nate – who is really the hero of the piece, although he doesn't appear as much as one would like – but also Kevin, her personal trainer from the gym.
But what really stroke a cord with me were the more intimate moments when Elizabeth analyses her life, looks back at this year that has past and what has she done with her time or when she thinks back to her marriage with Mark. Or her dealings with her sister (protagonist of the next book). Or thinks about the future. Some of these moments are really painful – almost too painful for Elizabeth and the reader:
" I felt like someone had erased me and I had to learn to draw myself all over again, only I didn't know which pencil to use."
And I wish I could have seen more of Elizabeth's voyage of self-re-discovery on her own – without the help of Magic. Although to be fair, the author did not use the Magic aspect to make it easy for her, in the end it probably made things more difficult.
Ultimately, there was enough magic – if you'll excuse my lame pun – in the genuine affections shared by Elizabeth and her family and friends to make this an enjoyable read without the need for the paranormal element. And Nate, oh how wish we could have seen more of Elizabeth and Nate's interactions. THAT would have been magical.
Notable Quotes/ Parts:
Standing up, I looked – really looked – at my apartment. I didn't like what I saw. (…) When I'd moved out of the house Marc and I shared for so long, I couldn't have cared less about furnishings. I just wanted it over with, and I didn't want to drag along any physical reminders. One quick trip to Valu-Mart had done the trick. A cheap black couch set, fake wood end tables, no-frills lamps, a bed minus a headboard, a wood-composite desk, half-opened boxes, and the laundry baskets I kept my clothes in rounded my furnishings. I hadn't even bothered to buy a real dresser. I'd been living like this for nearly a year, and it hadn't bothered me once in that entire time. I mean, I had food, a place to sleep, a roof over my head – what else did I need?

I sat on my bed and hugged a pillow. Why I hadn't seen this before, I didn't know. I hadn't been living. Not really. More like existing: just getting from one day to the next as quickly as possible. My chest grew tight and heavy. The room swam as my eyes filled with tears. It seemed the entire year of misery bombarded me at once.

No. I didn't want this. I needed to learn how to breathe again. To see in color again. And yes, I had to figure out how to live again. I was ready for a change.

No, more than that. I needed a change. Merely existing could kiss my ass
Verdict:Light and funny with some really touching moments. The paranormal aspects did not work for me but can work for other readers.
Rating: 6, good.
Reading Next:Smooth Talking Stranger by Lisa Kleypas