After I first heard about this novel from the ladies over at Fantasy Debut, I immediately requested a review copy. The haunting premise–the obliteration of mankind due to a mysterious plague called The Despair, and creepy Collectors who steal the bodies of the dead–sucked me in (I'm a sucker for apocalyptic fiction). After reading and really liking The Suicide Collectors, I had to ask David for an interview and giveaway–which he has graciously accepted! Giveaway details are below.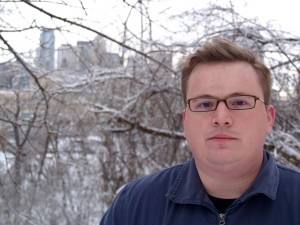 Without further ado, we give you David Oppegaard!
The Book Smugglers: First and foremost, we'd like to thank you for taking the time to "chat" with us and to congratulate you on the release of your debut novel, The Suicide Collectors! The novel has garnered some great praise, earning a starred review from Publisher's Weekly. You must be thrilled!
David: Thank you, it's great to be here. And yes, I'd have to say life is pretty good at the moment. It's nice to have your novel reviewed well, especially when it's you first. No one wants to be told their baby is ugly.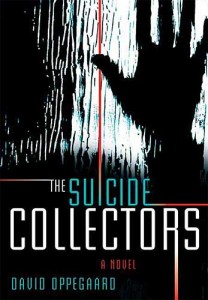 The Book Smugglers: The Suicide Collectors is a post-apocalyptic tale, but instead of nuclear war or zombies, your novel focuses on inexplicable mass suicide as the cause of humanity's demise, in a phenomenon called the Despair. What inspired you to create the Despair as your literary apocalypse?
David: I don't know, exactly. I remember it was a dark January night in 2004, here in St. Paul, and it took a lot of pacing around my living room before I started thinking about suicide, and the various suicide epidemics I'd heard about in the past. I was intrigued by the idea of a global suicide plague and wondered if I could pull one off as a writer.
The Book Smugglers: Is the Despair an actual pandemic, some disease-like phenomenon for which there is no cure with only 10% of the population more resistant to its clutches? Or is it less literal and more symbolic? (Or both?)
David: I'd have to go with both, though I think the Despair leans more toward the symbolic side. Basically people have decided, individually, to end their lives, and five years into this plague of ennui only the Last Ten Percent remain alive, out of stubbornness or insanity or both.
The Book Smugglers: How about those Collectors? There's something inherently disturbing about these robed figures that come silently to steal the dead, denying those living friends and relatives even the smallest sense of closure that comes with burial or cremation. Can you tell us a little about these Collectors—what inspired their creation and their role in your novel?
David: The Collectors aren't your traditional bad guys. They're more like a symptom of the Despair itself. Once I came up with the idea of a world under the pall of suicide, I wanted to create a hero (Norman) who would fight against the Despair. The Collectors provided a physical embodiment of an otherwise insubstantial opponent, a group of people Norman could rail against and stand up to. Dark robes are just your archetypal creepy clothing.
The Book Smugglers: Will there be a sequel? What projects do you have a-cookin'?
David: I'm not sure if there's going to be a sequel or not. Not for a while, anyway. My next book is titled Wormwood, Nevada. A young married couple moves to a small town in central Nevada, and on the night of their arrival a meteorite lands in the center of town. From there things just get more intense as Wormwood and its citizens begin to unravel.
The Book Smugglers: The Suicide Collectors has been compared to post-apocalyptic novels in the spirit of Robert McCammon's Swan Song and Cormac McCarthy's The Road. What is your favorite apocalypse/post-apocalypse novel?
David: My favorite has to be A Canticle for Leibowitz by Walter M. Miller, Jr. I also like The Stand by Stephen King. I like how King had his characters travel across these big stretches of the United States and then meet up.
The Book Smugglers: The dead rise with an insatiable hunger for human flesh; the Button is pushed and the world is plunged into nuclear winter; a deadly viral plague sweeps across the planet, obliterating nearly all human and animal life; an asteroid slams into the earth's surface, setting off a chain reaction of environmental catastrophe; aliens invade and systematically begin exterminating humans to steal our planet for their own vile purposes. Which apocalypse scenario would you choose to live through?
David: I think I'd choose the alien invasion scenario. I'd love to meet an alien from outer space, and I've always been interested in the idea of joining an underdog resistance movement, like Luke Skywalker and the Rebel Alliance.
The Book Smugglers: The Suicide Collectors has been blurbed by the likes of Stan Lee and Mike Carey—both HUGE authors in the world of comics. Are you a comic book fan? If so, are there any favorite titles you'd care to share?
David: I'm just a casual comic book fan, though I really liked Marvel's Age of Apocalypse series and Superman's battles with Doomsday. My editor, Michael Homler, is the one who deserves credit for landing those great blurbs.
The Book Smugglers: As a debut author, can you tell us a bit about how The Suicide Collectors made it to publication?
David: That's really a 5,000 word story, but basically the manuscript made the rounds of many, many publishers, several of whom made similar comments about why they were turning it down. I rewrote the entire thing in response to their (and my agent Jonathan Lyon's) criticism and came back with a much grittier book. After about 18 months of making the rejection rounds, this newer version of The Suicide Collectors sold to St. Martin's Press. And let me tell you, that was a great call to get from my agent.
The Book Smugglers: Who, or what, are your greatest influences as an author? Do you have a favorite author or genre?
David: I grew up reading a lot of Stephen King. He taught me about storytelling and keeping the reader interested. As I got older, I read more and more classics, and was introduced to stylistically impeccable writers like Checkov and Cheever, and I continue to try and meld that love of a juicy story with clean, unpretentious writing.
The Book Smugglers: If you were stranded on a desert island, what five books would you bring with you?
David: Don Quixote, Crime & Punishment, the collected works of Shakespeare, The Lord of the Rings (counts as one book!), and Slaughterhouse-Five.
The Book Smugglers: We Book Smugglers are faced with constant threats and criticisms from our dear significant others concerning the sheer volume of books we purchase and read—hence, we have resorted to 'smuggling books' home to escape scrutinizing eyes. Have you ever had to smuggle books?
David: Oh yeah. I played football in high school. I had to smuggle books onto the bus on the way to games. The coach just wanted us reading the playbook. Ha.
The Book Smugglers: Thanks again for your time, and we wish you all the best!
David: No, thank you!
David Oppegaard was born in St. Paul, Minnesota, and grew up in the small town of Lake Crystal, Minnesota. Lake Crystal had a population of 2,003 at the time and David spent a lot of time playing football, reading books, and cracking wise. He wrote his first book at the age of fifteen, a 400-page tour de force that will never, under any circumstances, see the light of day.
David holds a B.A. in English Literature from St. Olaf College and an M.F.A. in Writing from Hamline University. A finalist for the Indiana Review Fiction Award and the Iowa Fiction Award, David has worked as an optician, a standardized test scorer, a farm hand, an editorial assistant, a trash picker for St. Paul public housing, a library circulation assistant, and as a child minder on a British cruise ship. He currently works as a temp. receptionist in the Department of History at the University of Minnesota.
The Suicide Collectors is his publishing debut. His second novel, Wormwood, Nevada will be released in the fall of 2009, also from St. Martin's Press.
You can follow David online at his official website: www.davidoppegaard.com
———-
Giveaway Details: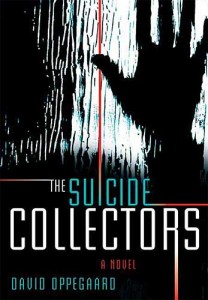 As we mentioned in yesterday's review, we have five copies of The Suicide Collectors available for giveaway for five lucky winners. To enter, leave a comment either here or in yesterday's review. Only one entry will be counted per person! The contest will run until Sunday at midnight PST. Good luck!