Title: Vampire Knight, vol. 1
Author: Matsuri Hino
Genre: Manga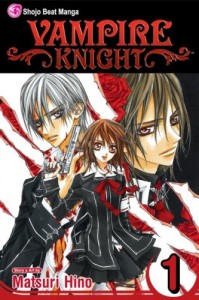 Publisher:VIZ Media LLC; Shojo Beat Manga Ed edition
Publication Date: English – Jan 9, 2007
Comic:208 pages
Stand Alone/Series: Volume one of an ongoing series.
Summary: Cross Adademy is attended by two groups of students: the Day Class and the Night Class. At twilight, when the students of the Day Class return to their dorm, they cross paths with the Night Class on their way to school. Yuki Cross and Zero Kiryu are the Guardians of the school, protecting the Day Class from the Academy's dark secret: the Night Class is full of vampires!
Yuki Cross has no memory of her past prior to the moment she was saved from a vampire attack ten years ago. She was adopted by the headmaster of Cross Academy, and now works alongside Zero to guard the Academy's secret. Yuki believes that vampires and humans can coexist peacefully, but her partner has different ideas…
Why did I read the book:It was recommended by one of our readers and I thought it could be a good addition to the Manga week.
Review:
I had my eyes on this Manga series ever since it was suggested by a reader way back when. This seemed like the perfect opportunity to pick it up and I am so glad I did – Vampire Knight, vol. 1 is a great way to start a series and it has wetted my appetite to read more. As an indication of its success (and as far as I am aware) the series is still ongoing and it currently has 9 volumes published plus an anime series with 26 episodes so far. This Manga is a traditional Japanese Manga meaning that the writing (and the reading) is from right to left and what we usually think as the front cover is actually the back. It takes getting used to, but once I get going it was rather easy not to get lost.
The opening page is already stunning in the art department and with a great set-up: a young girl being attacked by a vampire and saved by another. The child's name is Yuki Cross and ten years later she is a student at Cross Academy and the adopted daughter of its headmaster, Cross Kaien. She is also a member of the school's disciplinary committee along with her friend Zero. They need to make sure that the kids that attend the Day Class do not interact too much with the kids from the Night Class – the disciplinary committee are charged with maintaining the order and making sure that the secret is kept: that all of the kids in the Night Class are vampires – of the preternaturally beautiful and intelligent kind.
The Cross Academy is therefore, a special place born out of the headmaster's dream that one day vampires and humans can co-exist pacifically. The kids go about their days (or nights) attending classes, the Day Class being clueless about the true nature of the Night Class. It is not very clear – at least not in this first volume – how exactly this co-existence is supposed to work with the Day Class being ignorant about the Night Class' true nature so I feel that the true experiment relates to the Night Class being able to check themselves –for that they even take blood pills. If the Day Class is controlled by the disciplinary committee , the Night Class answers to Kaname Kuran, pureblood vampire of an ancient lineage and the vampire who saved Yuki's life and took her to headmaster Cross. Kaname is both respected and feared by the other Night Class' students and he helps keeping them away from the humans.
And this is the trio that carries the story: Yuki, who is a cheeky 15 year old girl clearly dedicated to her duties to her father's ideal and to her friends – she has a close relationship with zero and a HUGE crush on Kaname who she knows is beyond her human grasp; Zero, an emo 16 year boy who comes from a vampire hunting lineage and abhors anything vampire – Zero has a tragic past and the secret he and the headmaster keep will change his life forever once it emerges; and Kaname who has a status in the midst of the all of the vampires and a stranger relationship with the headmaster – he seems to know more than he is supposed to about both Zero and Yuki's past.
It is clear that both men have feelings for Yuki and that the series has a great potential for angst and darkness; and it starts in this first volume that is both introduction and set up of things to come (to say more about the plot is to spoil it). There is a bit of humour and a bit of lightness but I think this qualifies more as a dark fantasy series.
Whereas both the story and characters are interesting and the premise clever , I thought the greatest strength of Vampire Knight is the art –which I thought was gorgeous, stunning. The boys look like boys (a pet peeve of mine when it comes to Manga and Anime is that usually the men are so effeminate) and the action sequences were very cool and upped the tension quite a lot. There was great attention to details – from the different uniforms to the weaponry used.
If you are sick of Vampire flavouring with your paranormals you should probably keep away. Vampire angst ("to suck blood or not to suck blood that is the question") is not really original but I liked what I saw so far, specially with a few hints that there is more to the angst than that simple equation – I will most certainly read volume 2 and see how it goes from there.
Notable Quotes/ Parts: An example of the art:
The Night Class: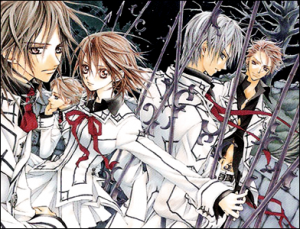 Additional Thoughts: Vampire Knight reminded me of Vampire Academy by Richelle Mead which has a similar setting – a boarding school for vampires and humans.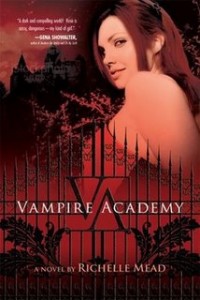 But Vampire Academy is a bit more complex that the mere division between humans and vampires and is of course, a proper YA book and not Manga. It is in any case, highly recommended. Our joint review is here.
Verdict: Gorgeous art. Clever premise with interesting albeit not entirely original (vampire angst? been there, done that) characters.
Rating: I would rate the art alone at around a 9 and the book as a whole at a lower 7 – it is difficult to judge since it is only the first volume.
Reading Next: Demon Diary by Kara.