The Book Smugglers' Quarterly Almanac Volume IV is officially here. A (ad)venture from your friendly neighborhood Book Smugglers, we are delighted to present you the fourth – and final – volume of our quarterly collection of awesome!
Without further ado, we introduce…
THE BOOK SMUGGLERS' QUARTERLY ALMANAC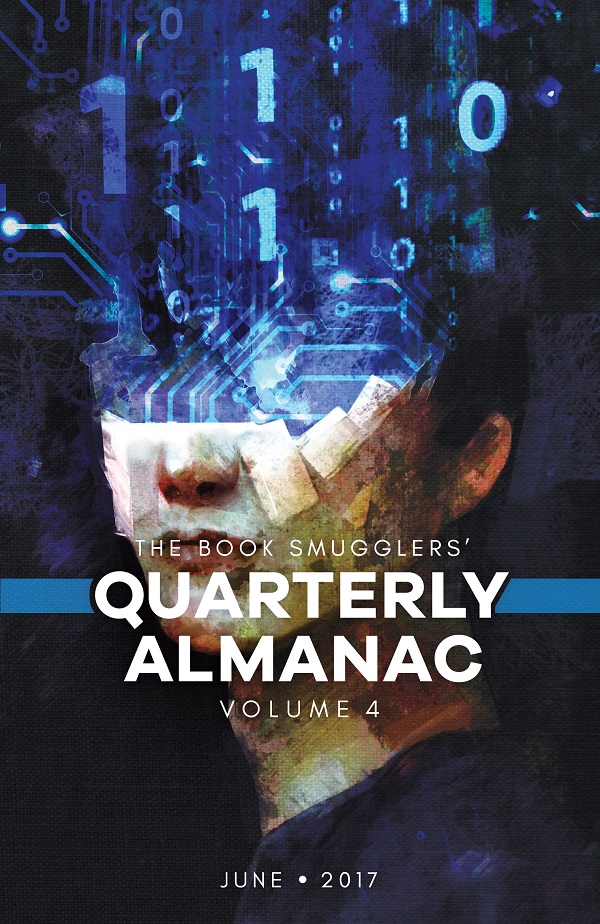 A quarterly collection of awesome, selected and edited by The Book Smugglers
Collecting original short fiction, essays, reviews, and reprints from diverse and powerful voices in speculative fiction, THE BOOK SMUGGLERS' QUARTERLY ALMANAC is essential for any SFF fan.
IN THIS VOLUME (JUNE 2017):
A.E. ASH
(With a brand new story called "Nice", set in the world of the upcoming novella Temporary Duty Assignment)
FOZ MEADOWS
(An essay, about Slipfic)
OCTAVIA CADE
(A reprint of the author's award-nominated short story "The Mussel Eater")
GABRIEL SQUAILIA
(An essay, on body horror and coming out as trans)
BÁRBARA MORAIS
(An essay, on diversity and language)
YUKIMI OGAWA
(A new short story called "Nini" about an AI, a space station and an old goddess. The cover art is based on "Nini")
BOGI TAKÁCS
(An essay, on superhero registration tropes, power fantasies and Western-centrism)
YOSIA SING
(A new short story, "El Periodista y la Guerrera", a story featuring LGBTQIA superheroes fighting for justice for marginalized groups)
SARAH KUHN
(An essay, on romance, women who lust and The Courtship of Princess Leia)
ANA GRILO
(A review of Bitch Planet volume 2)
THEA JAMES
(An essay, Where to Start With the Star Wars Expanded Universe)
How To Procure Your Copy of The Almanac
The Almanac is available now as an ebook with major retailers and soon, as a Print On Demand paperback! Get your copy by using the links below.
Buy the Book: