Another case for Young and Yang – and Bottoms.
Title: The Tiara on the Terrace
Author: Kristen Kittscher
Genre: Middle Grade, Mystery
Publisher: HarperCollins Children's Books
Publication Date: January 5 2016
Hardcover: 400 Pages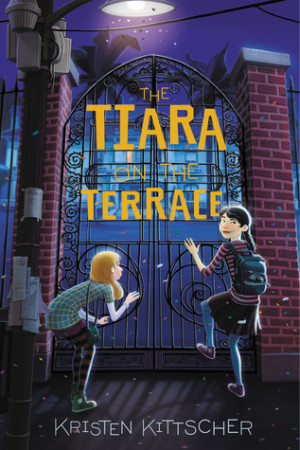 In this funny, clever novel, perfect for fans of Pseudonymous Bosch and Gordon Korman and a companion to The Wig in the Window, tween sleuths Sophie Young and Grace Yang go undercover at Luna Vista's Winter Sun Festival to catch a murderer before he—or she—strikes again.

Sophie Young and Grace Yang have been taking it easy ever since they solved the biggest crime Luna Vista had ever seen. But things might get interesting again now that everyone is gearing up for the 125th annual Winter Sun Festival—a town tradition that involves floats, a parade, and a Royal Court made up of local high school girls.

When Festival president Jim Steptoe turns up dead on the first day of parade preparations, the police blame a malfunctioning giant s'more feature on the campfire-themed float. But the two sleuths are convinced the mysterious death wasn't an accident.

Young and Yang must trade their high tops for high heels and infiltrate the Royal Court to solve the case. But if they fail, they might just be the next victims.
Stand alone or series: Book 2 in the Young and Yang series. We received book 1, The Wig in the Window here.
How did we get this book: ARCs from the publisher
Format (e- or p-): eARC
REVIEW
Ana's Take:
Tween sleuths Young and Yang – and now, Bottoms – are back with a new whodunit in Tiara on the Terrace.
After solving a big crime and becoming minor celebrities in their Luna Vista town, Sophie, Grace and Trista are keeping mum and carrying on with their normal lives by taking part in the town's Winter Sun Festival.
But just as celebrations are about to start, the Festival president dies, his death ruled accidental, even though science geek Trista has reasons to believe otherwise. Things get even fishier when his replacement falls suspiciously ill. Add to that the suspicious behaviour of most adults involved in the festival and our amateur sleuthing gang is back on the case. Could it be that these people are that invested in who gets to be teenage Queen? Or is there something more ominous behind these "accidents"? Revenge? Money? Cosmetics?
If that wasn't enough, the three girls get roped into working as assistants to the teenage girls of the festival's Royal Court.
Young and Yang's second outing is as delightful as their first case, The Wig in the Window. And just like its predecessor most of the fun reading these books comes not only from the genuinely mysterious and dangerous cases but also from the central focus on the relationship between Grace, Sophie and Trista. Sometimes that relationship is fraught, especially when there is a moment when Grace seems to be pulling away from "childish" pursuits. That push and pull between "childish" and "teenage" is very much there as the girls straddle that difficult line between tween and teen.
The story also delves into questions of appearances vs true self by examining internalised bias in a myriad of ways. Sophie – the novel's viewpoint narrator – has self-image issues and those come to the forefront even more prominently now that this case deals with beauty queens and teenage girls. Confronting those bias, rethinking how she sees herself and others at the same time that most of the teen girls get a moment to shine and even, become part of the storytelling. It's pretty great and a whole lot of fun.
This is a perfect companion read to Robin Stevens' delectable historical tween sleuth Wells and Wong series.
Thea's Take:
I truly loved Kristen Kittscher's debut novel, and the first book in this middle grade mystery series, The Wig in the Window. I loved it so much, in fact, that it made my top 10 books of 2013–because of its spunky heroines, because of the painful but truthful examination of the tension that grows between best friends as they grow up (and grow apart), all written into a wonderfully paced and surprising mystery novel. Suffice it to say, when Ana and I heard about The Tiara on the Terrace, we were both thrilled.
In this second adventure, Sophie Young and Grace Yang are back–this time as sixth graders volunteering to help out with Luna Vista's 126th Winter Sun Festival. The Festival is THE EVENT in Sophie's town–everyone participates in parade prep (getting floats ready and in tip-top shape). For adults, becoming a part of the Festival planning committee is not only a fun activity, but a position of power and prominence. For teenagers, the Festival is so important because a royal court is decided and a Queen crowned–and for younger middle schoolers, the Festival also promises the opportunity for a few young girls to be selected as Pages to the Princesses and Queen.
Sophie Young and Trista Bottoms could care less about becoming Pages to the royal court, but go along with Grace Yang's urging to audition when the kindly Festival president ends up dead from an "accident" (the girls overhead the cops say it was a likely homicide), and the interim president ends up hospitalized due to "stress". Something sinister is happening to the people involved in the Winter Sun Festival, and it's up to Young, Yang, and Bottoms to find the murderer and save the day… again.
Oh, dear friends. I love this book. I have a soft spot for middle grade novels AND for detective novels featuring young sleuths–so when both of these genre elements come together, and they come together well, I'm a very happy reader. This second novel continues the story of Sophie and Grace (and Trista)'s friendship as the girls navigate the treacherous waters of tweendom leading up to high school, and as with the first novel The Tiara on the Terrace is narrated by Sophie as she grapples with the pressures, insecurities, and questions that come with growing up. This time around, though, Sophie is completely out of her element as a Page–aka, a princess in training for the Royal Court. Sophie's inner monologue is really what drives this book, at least for me, as she worries about her stylish and more popular friend Grace slipping away, and as she herself struggles with her own appearance and lack of charm (at least when it comes to impressing the pretty, popular girls on the Court). The cool thing about this series and about Sophie in particular as a narrator is that she grows and learns from her mistakes–at one point, Sophie makes a really bad friend move (we've all been there, right?) and has to deal with the consequences. While it's painful and hard to read, it also rings as incredibly genuine (at least, it certainly does to me).
In addition to awesome characterization and themes of growing up and friendship, The Tiara on the Terrace is also a really smart, entertaining mystery. Young, Yang and Bottoms aren't as assured as the adults around them are that Mr. Steptoe's death was an accidental float malfunction–and so they infiltrate the Court and try to gather clues. While sixth grade sleuths catching criminals that no one else can isn't a new literary trope, the ingenuity and determination the girls show piecing together several clues (many of which are hilarious and completely plausible adult oversights, like taping a password to the bottom of a keyboard) is awesome. The ultimate villain won't necessarily surprise anyone–but it's the kind of mystery that does Nancy Drew, Harriet the Spy, Turtle Westing, or Encyclopedia Brown proud.
Absolutely recommended.
Additional Thoughts: You can read an exceprt of the novel and enter a giveaway to win a copy of The Tiara on the Terrace HERE. Open till Jan 17 2016.
Rating:
Ana: 7 – Very Good
Thea: 7 – Very Good
Buy the Book:
(click on the links to purchase)