Everything you wanted to know about Carlie St. George's awesome fairytale noir series.
Earlier we revealed the cover for The Case of the Little Bloody Slipper by Carlie St. George, the first of three interconnected novelettes in The Spindle City Mysteries. We are now pleased to unveil details for all three stories in the series.
About the Spindle City Mysteries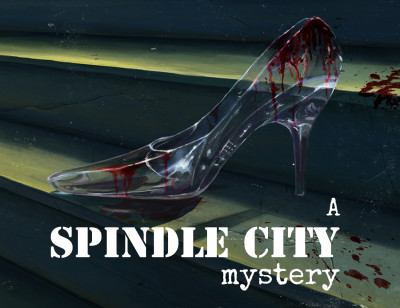 I walked over and squatted down. Lying on the middle step was one of Ella's glass shoes. It was still intact and lying on its side. It was also covered in blood.
Jimmy Prince is a private detective with a tendency to take on hopeless cases and ask too many questions and in Spindle City, asking the wrong questions is a guaranteed one-way ticket to the long and silent ever after.
In this hardboiled detective series from Carlie St. George, Jimmy and his sidekick Jack navigate the City's dark streets and bloody secrets in three noir-inspired mysteries:
The Case of the Little Bloody Slipper (11/3/2015)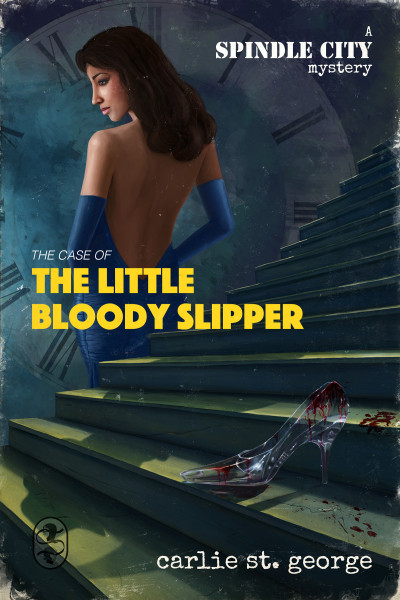 It was half past eleven when I saw her. She was standing at the top of the staircase, with restless fingers and defiant eyes, wrapped in blue silk that clung to her hips.

Jimmy Prince is a private detective with a tendency to make bad decisions, take on hopeless cases, and ask too many questions. But no one is answering his inquiries about Ella, the mysterious dame who slipped into the Prince family gala, stayed for a dance, then disappeared at midnight leaving just a single bloody glass slipper behind.

With the help of his trusty assistant Jack (a street-savvy teen runaway who is as tough as she is resourceful), Jimmy finally catches a break when one of Spindle City's most powerful players, the Godmother, lets slip that Ella is part of a much larger conspiracy and not at all who she seems. With every new clue, Jimmy finds himself a step farther down a path that threatens to uncover some of the city's best kept, and most deadly, secrets.

In Spindle City, all kinds of tales get told… for a price. Asking the wrong question is a guaranteed one-way ticket to the long and silent ever after.

Taking on this new case might just be Jimmy Prince's biggest mistake yet.
Add the book on Goodreads.
Pre-order today.
The Price You Pay is Red (11/24/2015)
"All women are dangerous," Rose said. "Anyone underestimated is."

When Jimmy Prince–excessively stubborn gumshoe and maker of terrible life choices–stumbles on the corpse of Spindle City's darling actress and heiress Sarah "Snow" White, he and street-savvy sidekick Jack are once again on a case that threatens to expose ugly truths from Spindle's dark underbelly. Turns out Snow's death is no ordinary open-and-shut case involving something as mundane as a jealous coworker or spurned lover. Her murder points to a much deeper, insidious plot that involves some of Spindle's biggest criminals–as well as some of its greatest, most celebrated citizens.

At stake is a rumored vaccine that could save thousands of lives from the Pins & Needles plague–a disease for which there is no cure, and that has already affected Jimmy's friends and family in irreparable ways. But as Jimmy Prince knows all too well, hope is for saps, and The Spindle is not a city for those who believe in happy endings.

Even when they want to, above everything else.
Add the book on Goodreads.
Cover reveal and pre-order on November 16.
The Long and Silent Ever After (12/15/2015)
"Hello, Prince," the Godmother said. "I'm calling in that favor."

When Rose Briar–cabaret singer, drug lord, and notorious secret-keeper–disappears without a trace from her club, The Poisoned Apple, Jimmy Prince and Jack are on the case once again. This time, the duo may have bitten off more than they can chew, as their investigation drags them into the path of the Spindle's greatest and most formidable criminal–one who got her nickname for her tendency to burn her enemies alive.

It doesn't help that Jimmy is having a hard time focusing on the case, torn between his head's desire to do the right thing, and his heart's insistence for that one person who always has three gats, a pen, and a smile at the ready.

But in Spindle City, the long and silent ever after waits for no one–and it's Jimmy's turn to dance with the dragon.
Add the book on Goodreads.
Cover reveal and pre-order on December 7.
Three cases. One private eye. And the seven deadly dames who run Spindle City.