Welcome to Smugglivus 2014! Throughout this month, we will have daily guests – authors and bloggers alike – looking back at their favorite reads of 2014, looking forward to events and upcoming books in 2015, and more.
Who: Fiona Wood, Australian author of young adult novels, Six Impossible Things and Wildlife. Her third book, Cloudwish, will be out next year. Before writing YA fiction, Fiona worked as a television scriptwriter for twelve years, writing everything from soap, and one-hour adult drama, to children's drama. Ana read and reviewed Wildlife HERE.
Everybody, please, a warm welcome to Fiona!

Thanks for asking me over to Smugglivus, Ana and Thea, and happy holidays to all! Here are some things I loved in 2014.
Adult fiction
Elena Ferrante, the Neopolitan novels: My Brilliant Friend, The Story of a New Name, and Those Who Leave and Those Who Stay have been my favourite reading this year.
Each book left me feeling both satisfied, and craving more. An intimate exploration of the complex relationship between friends, Lenu and Lila, tracked over a lifetime. An unflinching investigation of gender and society and politics. Compulsive and engrossing. "We made a pact when we were children: I'm the wicked one."
Young Adult fiction
We Were Liars by E. Lockhart wears its pomo Goose Girl/King Lear heart on its sleeve with taut elegance. Following an unnamed trauma, Cadence suffers from selective amnesia. She recalls summers spent in privileged happiness with extended family, and this narrative is interspersed with reimagined fairytales illuminating facets of family and power relationships that seem destined to end badly. Cadence's eventual unpeeling and recollection of what has happened packs an emotional wallop. It was no less moving the second time I read it.
Set in the Australian Northern Territory, Nona & Me by Clare Atkins establishes a broad canvas of family, community and politics, while keeping sharp narrative focus on sixteen-year-old Rosie's story of love, and friendship, past and present. Indigenous Australia is all too rare in YA fiction, but it is at the heart of this strong debut novel.
Film
I was mesmerised by Richard Linklater's Boyhood, completely hooked into the enhanced sense of reality wrought from the long-term shooting schedule – a few weeks each year for twelve years – that allowed characters to grow older in film real-time.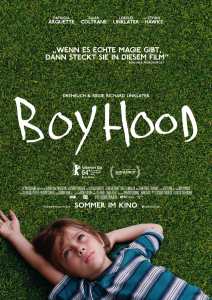 A poignant look at growing-up – a process that doesn't stop with the end of childhood.
Play
This is Our Youth, by Kenneth Lonergan (who also wrote Margaret, one of my all-time favourite films).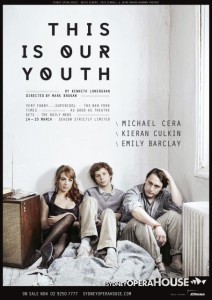 A funny and heartrending negotiation of the savage space between adolescence and adulthood, played by the wonderful Michael Cera, Kieran Culkin and Tavi Gevinson.
Concert
alt-J at the Beacon Theatre. AMAZING. Audience on its feet from the first moments.
TV
Olive Kitteridge. Elizabeth Strout's fabulous novel is the source of this brilliant HBO adaptation, and Frances McDormand's performance is perfection.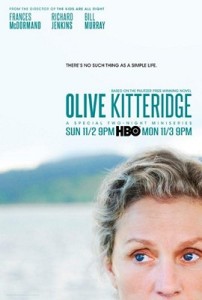 "I'm just waiting for the dog to die so I can shoot myself."
Rectify. Impeccable writing and direction, and a sensational ensemble cast.
Non-fiction
Can't We Talk About Something More Pleasant? by Roz Chast.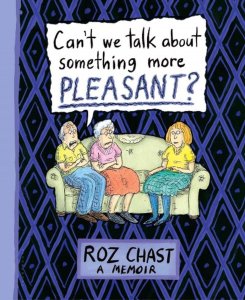 A close-up and personal account of the loss of independence, and eventual death, of her elderly parents. Brimming with frustration, tenderness, and humour, the book beautifully explores this bleak terrain.
Eat-y Treat-y
Citron glazed donut from joe coffee. My editor told me about these donuts when I was in NYC recently, underlining yet again the importance of the editor/writer relationship in all things.
Looking forward to…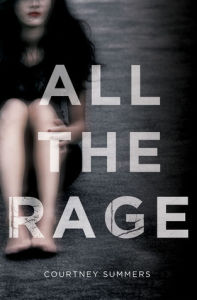 When I'm writing a YA manuscript, as I have this year, I try to keep myself in an isolated bubble, and don't read much YA. So I'm looking forward to catch up reading in 2015, as well as All The Rage by Courtney Summers, A Sense of the Infinite by Hilary T. Smith, and new work by Cath Crowley, Vikki Wakefield, and Simmone Howell.

Happy Smugglivus!