Today we are delighted to unveil the cover for a new upcoming YA Fantasy,Sword by Amy Bai!
Without further ado, BEHOLD! The smugglerific cover!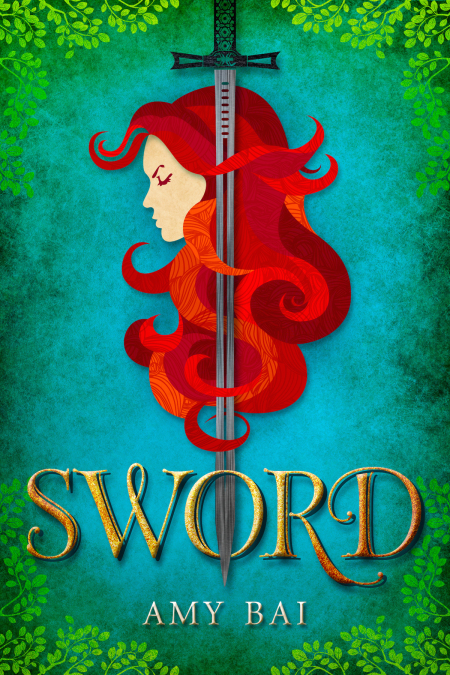 About the Book
Sword shall guide the hands of men…


For over a thousand years the kingdom of Lardan has been at peace: isolated from the world, safe from the wars of its neighbors, slowly forgetting the wild and deadly magic of its origins. Now the deepest truths of the past and the darkest predictions for the future survive only in the verses of nursery rhymes.

For over a thousand years, some of Lardan's fractious provinces have been biding their time.

Kyali Corwynall is the daughter of the Lord General, a child of one of the royal Houses, and the court's only sword-wielding girl. She has known for all of her sixteen years what the future holds for her- politics and duty, the management of a House, and protecting her best friend, the princess and presumed heir to the throne. But one day an old nursery rhyme begins to come true, an ancient magic wakes, and the future changes for everyone. In the space of a single night her entire life unravels into violence and chaos. Now Kyali must find a way to master the magic her people have left behind, or watch her world -and her closest friends- fall to a war older than the kingdom itself.

SWORD Cover Design Process by Jenny Zemanek:
I'm so thrilled to be at The Book Smugglers today to talk a little bit about the design process for SWORD. Working with author Amy Bai and Kate Sullivan from Candlemark & Gleam was an absolute pleasure, and I can't wait for everyone to see the final product!
Amy and Kate came to me with a pretty clear idea of what they were looking for with SWORD's design, but they also allowed me the freedom to take their ideas and run with them, keeping their minds open when I presented a few variations of their original concept. Obviously, with the title being SWORD, I thought a design that failed to include a sword would be odd, but I also didn't want the cover to be a strictly literal interpretation of the title.
After reading the design memo, a couple things jumped out at me, namely protagonist Kyali's long red hair. I was immediately intrigued by the contrast between the femininity of her long, flowing locks and the masculinity of her weapon, and it was that contrast that led to the initial design concept.
I collaborated with another illustrator to create a rough sketch of Kyali to present to Amy and Kate, her hair wrapping around her sword to create movement and flow.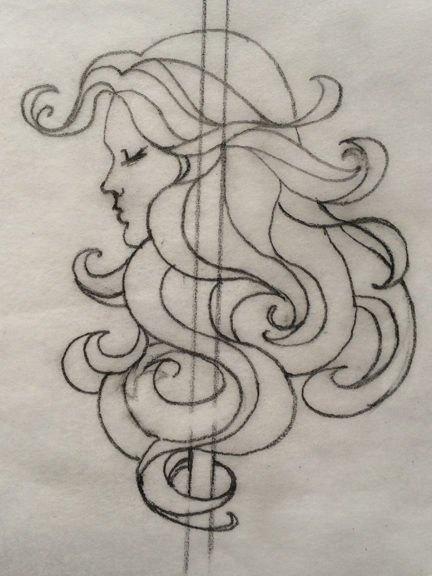 The illustration went over really well with only a few minor revisions, so I moved on to the comp stage. Amy and Kate mentioned parchment paper in their initial idea, so I kept that texture as the primary background but shifted the color to blue to really make Kyali's red hair pop. Type is always a vital component of any cover, so I wanted to make sure the typeface we used reflected the same feminine/masculine contrast highlighted by the illustration. What we ended up with is a type treatment that has a few small flourishes, but is boldly roughened by texture.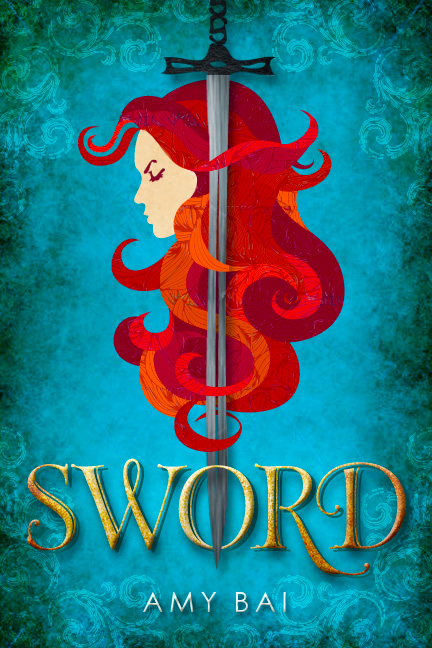 While the overall design was a success, both Amy and Kate worried the background read too much like water, an element that doesn't play a role in the story at all (but wait for book 2!). They suggested leaves or branches instead to reflect the mountain/forest setting, and their constructive feedback led to a much more successful final design!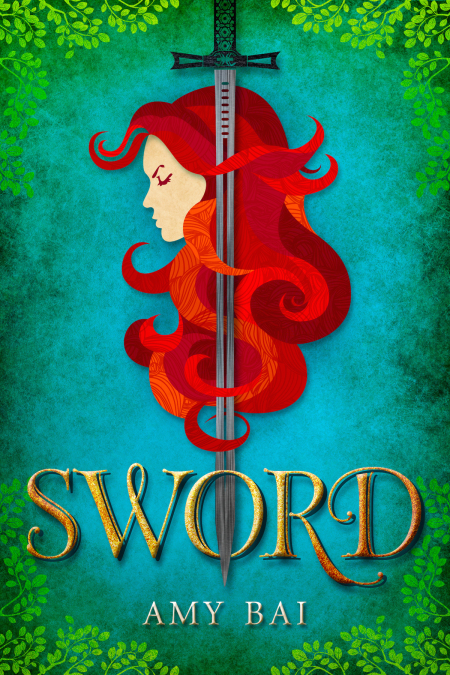 Amy Bai on the cover:
I got to see the drafts and the tweaks and be a part of the process for this cover, and let me tell you, that's an amazing and weird thing to do, when it's for your own book. It's such a strange experience, to have an artist take the story and characters that have lived in your head in words, and turn them all into an image. I can't even tell you how thrilled I am with the end result. I only hope Jenny at Seedlings wasn't expecting more feedback during the creation of this awesomeness, because I basically just replied with "Aaagh, those colors! Aaagggh, that hair! OMG, ANGRY EYEBROW FTW, I CAN NOW DIE HAPPY."
I was totally helpful.
(But seriously, do you see that eyebrow? It's coming for you.)
I'm not artistically talented—I mean, at all: stick figures are about my speed—and I'm the original Thawed Cavegirl when it comes to graphics, so if Jenny had told me she came up with the cover for SWORD by waving a wand and dancing thrice around a bonfire at midnight, I'd have believed her easily. Because there's more than a little magic in this.
About the Author
Amy Bai has been, by order of neither chronology nor preference, a barista, a numbers-cruncher, a paper-pusher, and a farmhand. She likes thunderstorms, the enthusiasm of dogs, tall boots and long jackets, cinnamon basil, margaritas, and being surprised by the weirdness of her fellow humans. She lives in New England with her husband and her dog, and travels, with her husband (though not the dog, alas) as often as she can get away.
When she's not writing in hermit-like solitude or plotting world domination via a silly-string war, you can catch Amy procrastinating on her blog.

Giveaway Details
Thanks to the publisher, we have five digital glaleys of Sword up for grabs! The sweepstakes is open to ALL and will run until Saturday, November 29 at 12:01am EST. To enter, use the form below! Good luck!