BOOK SMUGGLERS PUBLISHING
PROUDLY PRESENTS
Six Short Stories for the Discerning Reader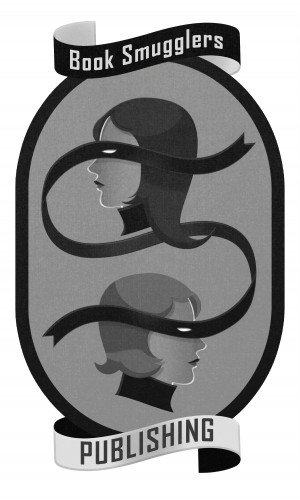 Once upon a time, two book smugglers had a dream. They dreamed that they'd use all the knowledge and experience they've accumulated with 7 years of book-reviewing and blog-editing for the forces of good and decided to take on the mantle of publishers.
To achieve this dream, the duo opened short story submissions earlier in 2014, with the goal of finding 3 amazing stories written by wonderful authors. They hoped to find three stories that would be not only entertaining, but would also uphold the tenets they value as book smugglers: tales of subversion from unique, feminist, and diverse voices and perspectives.
The duo read hundreds of submissions over the course of a few months, and they agonized over the stories they had received because so many of them were incredibly good.
Ultimately, because they could not just pick three stories, the smugglers settled on a final six fairy tales to be published in 2014.
The Book Smugglers are now ready to reveal to the world these stories: six fairytale retellings from all over the world, written by a talented group of authors and illustrated by three specially commissioned artists.
Behold! The debut Fall 2014 lineup from Book Smugglers Publishing!

Hunting Monsters
Written by S.L. Huang
Cover art by Kristina Tsenova
Available 10/7/14
"Happy birthday, child. Careful not to shoot any grundwirgen."

Ever since she was a small girl, she has learned to be careful on the hunt, to recognize the signs that separate regular animals from human-cursed grundwirgen. To harm a grundwirgen is a crime punishable by death by the King's decree – a fatal mistake that her Auntie Rosa and mother have carefully prepared her to avoid.

On her fifteenth birthday, when her mother is arrested and made to stand trial for grundwirgen murder, everything she thought she knew about her family and her past comes crashing down.

Auntie Rosa has always warned her about monsters. Now, she must find and confront them to save her mother, no matter the cost.
A subversive retelling of: Beauty and the Beast, Red Riding Hood.

In Her Head, In Her Eyes
Written by Yukimi Ogawa
Cover art by Jacqueline Pytyck
Available 10/21/14
Trills of silver, quiver of gold.

Pot Head, they called her. Heavy-head, they teased her. In a noble house of dye masters, Island-born Hase is an outcast, ridiculed by her fellow servants and employers – all because of the smooth, reflective sphere that covers her head. Little does the household know that Hase has a mission and a purpose, carried behind her pot-covered head, in her impenetrable eyes.
A subversive retelling of: Hachikaduki

Mrs. Yaga
Written by Michal Wojcik
Cover art by Jacqueline Pytyck
Available 11/04/14
A retelling that features Baba Yaga, a prominent figure in Slavic culture.
Full description to come.

The Mussel Eater
Written by Octavia Cade
Cover art by Kristina Tsenova
Available 11/18/14
A story based on the Maori story of Pania of the Reef.
Full description to come.

The Astronomer Who Met The North Wind
Written by Kate Hall
Cover art by Sally Jane Thompson
Available 12/02/14
A retelling of "The Princess Who Met the North Wind" written by Wendy Eyton.
Full description to come.

The Ninety-Ninth Bride
Written by Catherine Faris King
Cover art by Jacqueline Pytyck
Available 12/16/14
A retelling of the framing story of the Arabian Nights.
Full description to come.

All stories will be published for free in their entirety on The Book Smugglers and be made available as ebooks for sale via several online retailers and directly from The Book Smugglers. Each ebook will contain the full story and a Q&A, as well as an essay from the author on writing the retelling, elaborating on the themes explored in their tale.
Tomorrow, September 30, we will be revealing the beautiful cover for Hunting Monsters. See you then!