Welcome to Smugglivus 2013! Throughout this month, we will have daily guests – authors and bloggers alike – looking back at their favorite reads of 2013, and looking forward to events and upcoming books in 2014.
Who: Agent provocateur Justin Landon, the brilliant guy behind Staffer's Book Review (one of our fave SFF blogs), and co-editor of Speculative Fiction 2012.

Welcome, Justin!

Gender parity is a hot topic. Have you noticed?
The women over at Lady Business have done a tremendous job, along with our very own Book Smugglers, Foz Meadows, and a host of activist writers, bringing gender discrimination to the forefront. The fact remains we have far more men represented in certain venues than we ought to given the general 50/50 nature of the gendered world. But, it seems like it's getting better if for no other reason than we're talking about it.
So much focus has been on talking about authors that it's easy to overlook the fact that they aren't the only contributors to a final form novel. You've got the editor, the publicist, the publisher itself, and the cover artist. The first three, interesting enough, are often women. I have no data to support that, but anecdotally there's a large percentage of women in those positions. The latter, cover artist, does not seem to possess that same equality.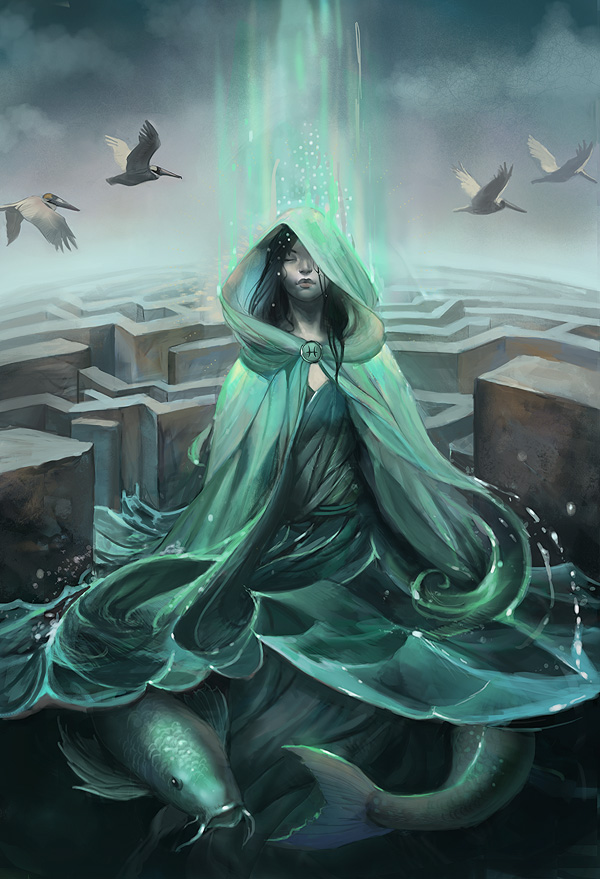 Pisces by Julie Dillon
My inquiry on the subject began when I ran a piece on my own blog about one of my favorite artists, Richard Anderson. A few weeks later, I ran a similar piece on Jeffrey Alan Love. Given the predisposition of the blogging community to focus more on male writers than female, something I've tried to change, I felt compelled to do the same with art. Where to begin? Unfortunately, I wasn't aware of many women in the science fiction and fantasy illustration scene outside of the estimable Julie Dillon.
A typical first stop in situations like this is to check the Hugo list. Considering the only female artist I knew was the recently Hugo nominated Julie Dillon, that's exactly what I did. Turns out Dillon was the first professional female artist to be nominated for a Hugo in 27 years. Read that again. In fact, Rowena Morrill in 1986 was the previous torch holder for "The Last Woman to Be Nominated." Morrill was nominated several times previous to 1986, along with Val Lakey Lindahn. Sixty years of Hugo Awards and we're talking about three female nominees. Ever.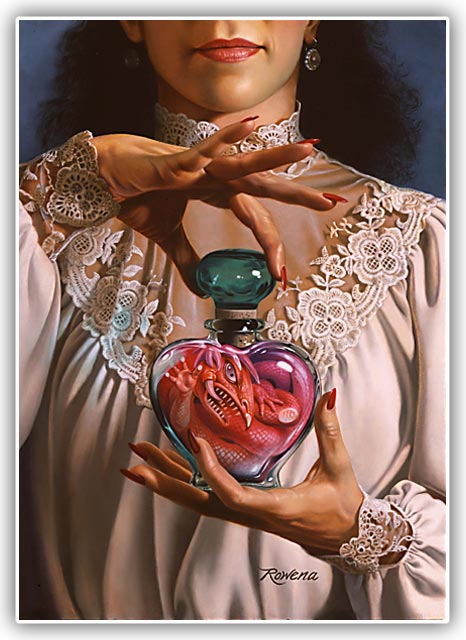 Forbidden Fragrance by Rowena Morrill
I feel like the kid, Squints, from the movie The Sandlot.
Well, we know all about those Hugos, don't we? Bunch of misogynists! Surely the Chesley Awards would be better. And they are, slightly. Over the last ten years the Chesley's nominated a woman for best hardcover illustration four times, three of which were Kinuko Y. Craft. A woman has not won in that time span. (For complainers of sample size, I just couldn't lay my hands on the history further back than 2002). They did recognize the great Julie Bell for Lifetime Achievement though in 2007, so maybe things are looking up.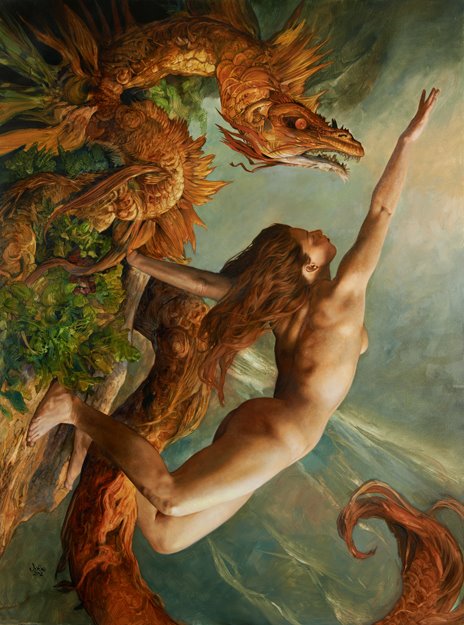 A Passion for the Future by Julie Bell
Perhaps looking backward wasn't the right answer, as gender parity is a more recent conversation (tongue in cheek), I decided to order a copy of Spectrum 20. Spectrum is an annual volume that looks at the year's best fantastic art. Inclusion in its pages is decided by a panel of judges. This year that panel included Tim Bruckner, Irene Gallo, Tim Kirk, Mark A. Nelson, and Michael R. Whelan. The book opens with a list of Spectrum Grand Master Award winners. Nineteen in total. This year's winner is Brom. The last and only woman to win the award on her own? The aforementioned Kinuko Y. Craft. (Diane Dillon won it as part of the Leo and Diane Dillon team.) Not off to a good start. I started looking through the different categories of art in the book and here is what I found:
Advertising: 2.5 of 20 (the half being Zelda Devon w/Kurt Huggins for "Trash Ball")
Book: 8 of 86
Comics: 5 of 46
Concept: 1 of 27
Editorial: 4 of 26 (two of the four are the same artist)
Institutional: 15 of 79 (some repeated artists)
Unpublished: 33 of 168 (some repeated artists)
Roughly 15% of the images in the book were drawn by women. Even in the "Unpublished" category, where it seems we should be approaching a more manageable ratio due to the fact that no one has paid for the work, we still see less than two female artists for every ten illustrations. In short, what the fuck is doing on here?
Perhaps Spectrum 20, the Hugo Award, and the Chesley Award were something of anomalies. Maybe, like fiction, we spend too much time honoring men, while women toil in the background with exceptional work that goes unrecognized. With that in mind, I started pinging my contacts to get some data straight from the source. How many women are working in cover illustration in SF&F?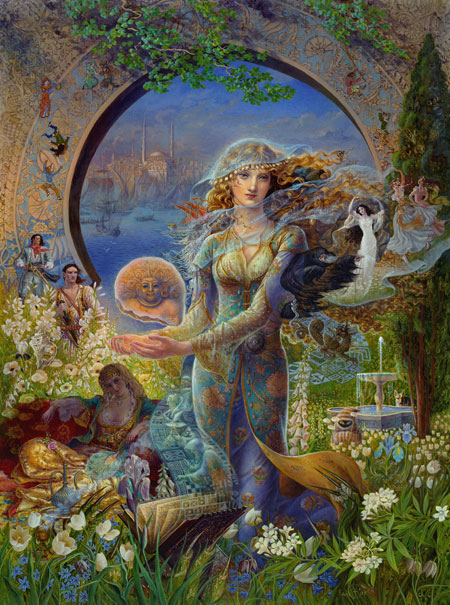 Cybelle's Secret by Kinuko Y. Craft
My first call was legendary Tor Art Director, Irene Gallo. From September 2013 to August 2014 in the Tor hardcover and trade list, 90 titles had commissioned illustration (or photo-illustration). 7 were done by women. Tor.com, which does a tremendous amount of original illustration for its short fiction, uses female artists 21% of the time. My next stop was Lee Harris with Angry Robot who offered 5 female artists out of 26 titles in 2013, or roughly 25%. Lou Anders with Pyr indicated they worked with two female artists this year. Other publishers were contacted, but were unable to generate the data.
While my survey is hardly comprehensive or statistically significant, it raises some very disturbing patterns that demand further exploration.
Gallo offered the right question in our email exchange, "There are at least as many young women in art schools and workshops. Usually more, in fact. Why do so few remain ten years later?" I would amend the question to add, do fewer women remain in the field or is it merely that women in science fiction and fantasy illustration struggle to find work in book publishing? And if so, in either case, why? Like Gallo, I don't know the answers, but let's throw out some possible ones.
Women illustrators don't have a style that suits commercial genre book covers.
I struggle with this one. I'll admit, women like Victo Ngai, Lili Ibrahim, and Kali Ciesemier do perhaps have a style that precludes them from easily matching to what I might refer to as marketable SF&F. Their styles are unique and odd and amazing, but not necessarily classic in a Frank Frazetta or Michael Whelan kind of fashion. Of course, Jeffery Alan Love's work isn't exactly standard. Nor is what Joey Hi-Fi does. Not to mention Will Staehle's odd designs.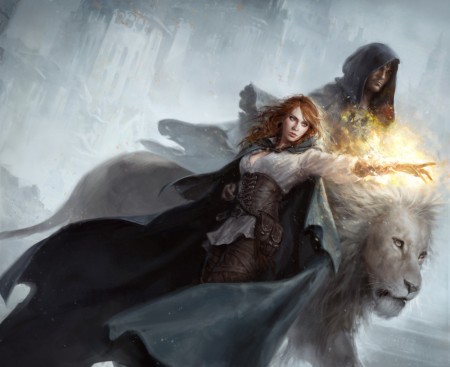 The Order of Deacons by Karla Ortiz
Meanwhile, Karla Ortiz, Lindsey Look, Lauren Saint-Onge, Winona Nelson, Cynthia Sheppard, Nicole Cardiff, Charlie Bowater, Elena/Hellstern, Elsa Kroese, AlectorFencer, Diane Özdamar, and Melanie Delon, to name a few, seem to fit very neatly in the commercial mold. Ortiz's style, for example, reminds me quite a bit of Jason Chan. Winona Nelson has something of Dan dos Santos in her work. Of course that's selling both Ortiz and Nelson short. They have their own beautiful style, as do all of the women I mention here. They're all doing the kind of art that's absolutely in the mold of the most prolific male artists, particularly in reference to cover illustration.
It's possible that most of the women are incredibly difficult to work with, have no time to answer publishings' phone calls, or simply refuse to leave empty space for type setting. It's possible like it's possible George R.R. Martin will release a book next year. In other words, I'm not convinced. What's definitely not possible is that these women aren't capable of doing commercial SF&F work. That's just bullshit.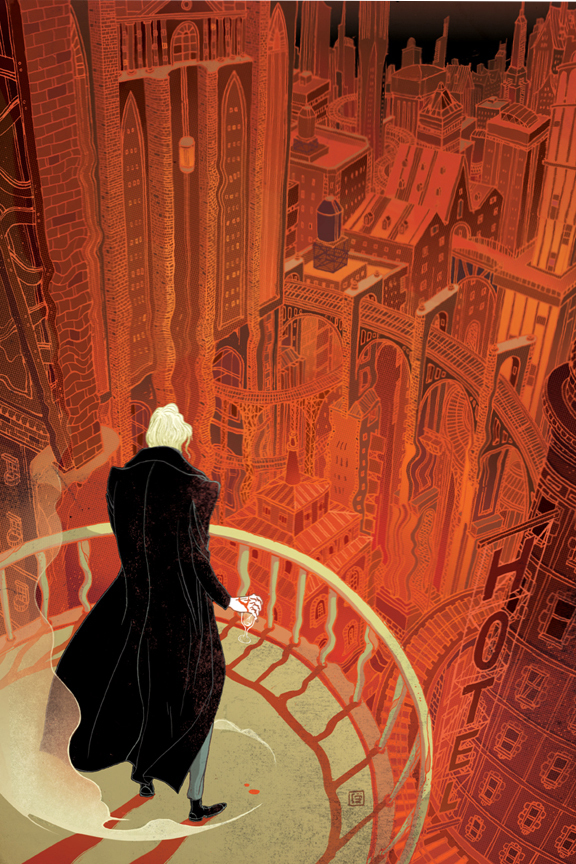 Vicious by Victo Ngai
In fact, Ngai was commissioned by Tor this year for Vicious. Ibrahim worked with 47 North for the The Palace Job. Ortiz produced The Order of Deacons for the Science Fiction Book Club. Women are finding work in the field, but at a frequency that prompts the tired phrase, 'the exception that proves the rule.'
Women are more likely to take their art to other fields, or not be freelance, or whatever else.
This is the fake geek girl argument if I ever saw one. You want me to believe that women make up the majority of the genre readership, have a huge presence on the editorial staffs of publishers everywhere, and generally let their geek flag fly in large numbers, but most of the geek artists don't want to work in the space? Uh huh. I'm not buying it. This is the platitude we use so we don't feel bad about ourselves.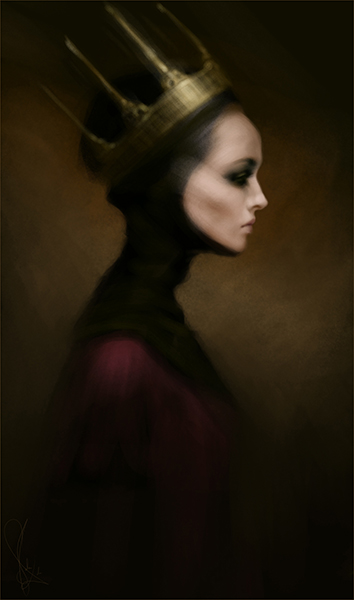 Drama Queen by Melanie Delon
Genre fiction is inherently conservative due to investment in series, making the status quo extremely attractive.
Ding. Ding. Ding. Or at least this is much closer to the mark. Notice that I struck out a part of the assumption. Series investment is just another piece of cover (pun intended). Women aren't working in the field because Art Directors and Editorial Directors have a mission statement—sell books. Publishing goes with proven commodities. They gravitate toward what they knows they can sell. John Harris, Kekai Kotaki, Larry Rostant, Michael Komarck, John Picasio, and all the rest, have proven time and again that they can resonate with the demographic SF&F publishers have targeted for a generation.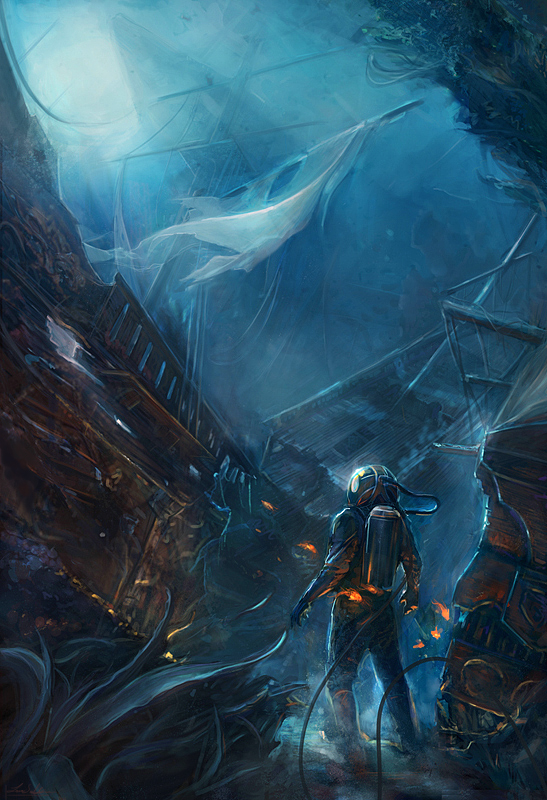 But, I would argue that generation, that paradigm, is changing. Not merely by the measure that we're demanding a more representative field be offered an opportunity, but also that we're demanding more progressive work. We don't just want to read the another installment of David Weber. We want the eye opening and mind blowing Ancillary Justice from Ann Leckie. We don't want another Terry Goodkind regurgitating all the things we've heard a million times. We want Elizabeth Bear with her haunting prose and powerful characterizations.
I say we, but I mean me. Call it wishful thinking. Publishing might change their patterns if we give them time. Odds are if we don't make noise no one will notice and business as usual will continue. It's not good enough for me. It's not good enough for my daughter. And I don't think it's not good enough for you.
Prove me right.

It's definitely not good enough for us, either. Thanks, Justin, for the eye-opening post!