THE END (of the year) IS NEAR.
November is almost over, Smugglivus is just around the corner (yay!) and I am FREAKING OUT. Every year is the same vicious circle: Day Job becomes increasingly demanding before Christmas, I get super tired and stressed because of that, then end up not reading as much as I want to in the lead up to the holidays, then my TBR gets ginormous and then I panic because IT'S ALMOST TIME FOR OUR TOP TEN LISTS AND WHAT IF I AM MISSING SOMETHING PRECIOUS?
I attempted to organise my shelves last weekend and ended up with about 50 books (HA HA HA HA HA) I wish I could read before the end of the year but knowing this is impossible, I made a shorter list. But I know I won't be able to read all of these so I am turning over to you for help! Have you read any of the titles below? Loved them? Hated them? Would like me to read any of those so then YOU can decide to read them or not? Let me know! Share your feels!
Without further ado, here is The List:
Rituals and Reflections by Roz Kaveney
Two women – and the workings of Time and Fate.

In a time too long ago for most human memory, a god asked Mara what she most wanted. She got her wish: to protect the weak against the strong. For millennia, she has avenged that god, and her dead sisters, against anyone who uses the Rituals of Blood to become a god through mass murder. And there are few who can stand against her.

A sudden shocking incident proves to Emma that the modern world is not what she thought it was, that there are demons and gods and elves and vampires. Her weapon is knowledge, and she pursues it wherever it leads her. The one thing she does not know is who she – and her ghostly lover, Caroline – are working for.

RHAPSODY OF BLOOD is a four-part epic fantasy not quite like anything you've read before: a helter-skelter ride through history and legend, from Tenochitlan to Los Angeles, from Atlantis to London. It is a story of death, love and the end of worlds – and of dangerous, witty women.
Why Do I Want To Read: Because Liz Bourke has been raving about them nonstop.

The Year of the Ladybird by Graham Joyce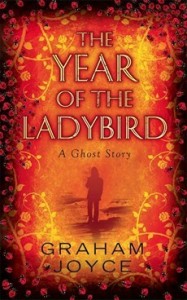 A ghost story with a difference from the WORLD FANTASY and multiple BRITISH FANTASY AWARD-winning author of SOME KIND OF FAIRY TALE.
It is the summer of 1976, the hottest since records began and a young man leaves behind his student days and learns how to grow up. A first job in a holiday camp beckons. But with political and racial tensions simmering under the cloudless summer skies there is not much fun to be had.

And soon there is a terrible price to be paid for his new-found freedom and independence. A price that will come back to haunt him, even in the bright sunlight of summer.

As with SOME KIND OF FAIRY TALE, Graham Joyce has crafted a deceptively simple tale of great power. With beautiful prose, wonderful characters and a perfect evocation of time and place, this is a novel that transcends the boundaries between the everyday and the supernatural while celebrating the power of both.
Why Do I Want To Read: Because I love Graham Joyce's writing and have really enjoyed the two books I've read from him.

Hild by Nicola Griffith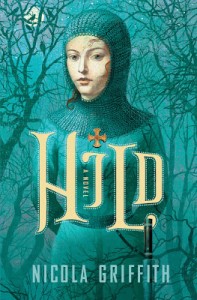 A brilliant, lush, sweeping historical novel about the rise of the most powerful woman of the Middle Ages: Hild

Hild is born into a world in transition. In seventh-century Britain, small kingdoms are merging, usually violently. A new religion is coming ashore; the old gods' priests are worrying. Edwin of Northumbria plots to become overking of the Angles, ruthlessly using every tool at his disposal: blood, bribery, belief.

Hild is the king's youngest niece. She has the powerful curiosity of a bright child, a will of adamant, and a way of seeing the world—of studying nature, of matching cause with effect, of observing human nature and predicting what will happen next—that can seem uncanny, even supernatural, to those around her. She establishes herself as the king's seer. And she is indispensable—until she should ever lead the king astray. The stakes are life and death: for Hild, her family, her loved ones, and the increasing numbers who seek the protection of the strange girl who can read the world and see the future.

Hild is a young woman at the heart of the violence, subtlety, and mysticism of the early medieval age—all of it brilliantly and accurately evoked by Nicola Griffith's luminous prose. Recalling such feats of historical fiction as Hilary Mantel's Wolf Hall and Sigrid Undset's Kristin Lavransdatter, Hild brings a beautiful, brutal world—and one of its most fascinating, pivotal figures, the girl who would become St. Hilda of Whitby—to vivid, absorbing life.
Why Do I Want To Read: It's a historical novel about the life of one of the most important female figures of the Middle Ages, written by an award-winning novelist and EVERYBODY ON TWITTER and all around the blogs I read has been raving about it. In fact, if there is ONE book from this list I will definitely read is this one. Book Depository, why so slow?

The Girl Who Soared Over Fairyland and Cut the Moon in Two by Catherynne Valente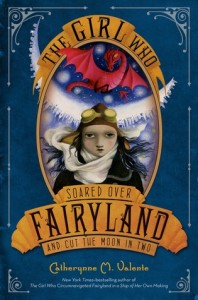 "One of the most extraordinary works of fantasy, for adults or children, published so far this century."—TIME Magazine, on the Fairyland series

September misses Fairyland and her friends Ell, the Wyverary, and the boy Saturday. She longs to leave the routines of home, and embark on a new adventure. Little does she know that this time, she will be spirited away to the moon, reunited with her friends, and find herself faced with saving Fairyland from a moon-Yeti with great and mysterious powers.

Here is another rich, beautifully told, wisely humorous, and passionately [layered] book from New York Times-bestselling author, Catherynne M. Valente.
Why Do I Want To Read: Because I HEART the first two books in the series so much. But for some reason, I haven't felt compelled to read this one yet….unless one of your tell me is top 10 material? I might save this for later and savour it during the holidays…

sAGA by Brian K. Vaughan, Fiona Staples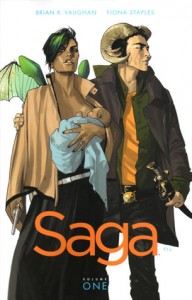 When two soldiers from opposite sides of a never-ending galactic war fall in love, they risk everything to bring a fragile new life into a dangerous old universe.

From New York Times bestselling writer Brian K. Vaughan (Y: The Last Man, Ex Machina) and critically acclaimed artist Fiona Staples (Mystery Society, North 40), Saga is the sweeping tale of one young family fighting to find their place in the worlds. Fantasy and science fiction are wed like never before in this sexy, subversive drama for adults.

This specially priced volume collects the first six issues of the smash-hit series The Onion A.V. Club calls "the emotional epic Hollywood wishes it could make."
Why Do I Want To Read: It looks good, sounds even better and loads of people I respect across the board (YA bloggers, SFF bloggers as well as Romance bloggers) seem to love it.

The Glass Republic by Tom Pollock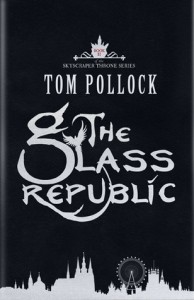 Pen's life is all about secrets: the secret of the city's spirits, deities and monsters her best friend Beth discovered, living just beyond the notice of modern Londoners; the secret of how she got the intricate scars that disfigure her so cruelly – and the most closely guarded secret of all: Parva, her mirror-sister, forged from her reflections in a school bathroom mirror. Pen's reflected twin is the only girl who really understands her.

Then Parva is abducted and Pen makes a terrible bargain for the means to track her down. In London-Under-Glass looks are currency, and Pen's scars make her a rare and valuable commodity. But some in the reflected city will do anything to keep Pen from the secret of what happened to the sister who shared her face.
Why Do I Want To Read: I really loved book 1 in the series and the second book stars my fave character.

The Living by Matt de La Pena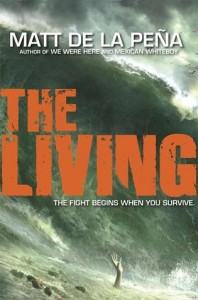 Shy took the summer job to make some money. In a few months on a luxury cruise liner, he'll rake in the tips and be able to help his mom and sister out with the bills. And how bad can it be? Bikinis, free food, maybe even a girl or two—every cruise has different passengers, after all.

But everything changes when the Big One hits. Shy's only weeks out at sea when an earthquake more massive than ever before recorded hits California, and his life is forever changed.

The earthquake is only the first disaster. Suddenly it's a fight to survive for those left living.
Why Do I Want To Read: I recently saw Matt de la Pena's incredibly poignant article at NPR and then I immediately bought his new book which I hear is bad but I think this might not be the right time to read it considering its topic.

Below by Meg McKinlay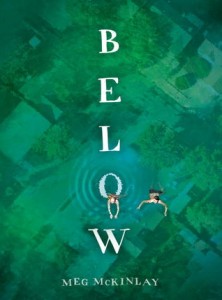 Secrets have a way of floating to the surface. . . . Mystery, compelling characters, and an abandoned town beneath a lake make for a must-read adventure.

On the day Cassie was born, they drowned her town. The mayor flipped a lever and everyone cheered as Old Lower Grange was submerged beneath five thousand swimming pools' worth of water. Now, twelve years later, Cassie feels drawn to the manmade lake and the mysteries it hides — and she's not the only one. Her classmate Liam, who wears oversized swim trunks to cover the scars on his legs, joins Cassie in her daily swims across the off-limits side of the lake. As the summer heats up, the water drops lower and lower, offering them glimpses of the ghostly town and uncovering secrets one prominent town figure seems anxious to keep submerged. But like a swimmer who ventures too far from shore, Cassie realizes she can't turn back. Can she bring their suspicions to light before it's too late — and does she dare?
Why Do I Want To Read: Because of this review

Transparent by Natalie Whipple
High school is hard when you're invisible.

Fiona McClean hates her family, has had to move to a new school and seems to be completely invisible to the boy she likes. So far so normal, right? But Fiona really is invisible. She doesn't even know what colour her own hair is.

Born into a world where Cold War anti-radiation pills have caused genetic mutations, Fiona is forced to work for her mind-controlling mobster father as the world's most effective thief. When her father announces she must become a murdering assassin, Fiona and her telekinetic mother make a break for freedom. Running to a small Arizonian town, Fiona finds that playing at 'normal life' with a mother on the edge, a brother she can't trust, and a boy who drives her crazy is as impossible as escaping her father.
Why Do I Want To Read: I think this book was on Thea's radar and I didn't think much of it until I came across the UK version in the book store and thought: well, this looks FUN.

A near-future thriller that fans of the GONE series and Doctor Who will love

Clair is pretty sure the offer in the 'Improvement' meme is just another viral spam, though Libby is determined to give it a try.

But what starts as Libby's dream turns into Clair's nightmare when her friend vanishes.

In her search for answers, Clair seeks out Jesse – a boy whose alternative lifestyle might help to uncover the truth.

What they don't anticipate is intervention from the mysterious contact known only as Q, and being caught up in a conspiracy that will change everything
Why Do I Want To Read: Same as above. Bought the two books at the same time.

Winger by Andrew Smith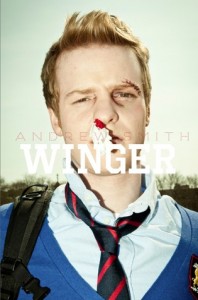 Ryan Dean West is a fourteen-year-old junior at a boarding school for rich kids. He's living in Opportunity Hall, the dorm for troublemakers, and rooming with the biggest bully on the rugby team. And he's madly in love with his best friend Annie, who thinks of him as a little boy.

With the help of his sense of humor, rugby buddies, and his penchant for doodling comics, Ryan Dean manages to survive life's complications and even find some happiness along the way. But when the unthinkable happens, he has to figure out how to hold on to what's important, even when it feels like everything has fallen apart.

Filled with hand-drawn info-graphics and illustrations and told in a pitch-perfect voice, this realistic depiction of a teen's experience strikes an exceptional balance of hilarious and heartbreaking.
Why Do I Want To Read: It's a PW top book of 2013 and most ContempYA reviewers I trust have loved it!

Entangled by Ame Rose Capetta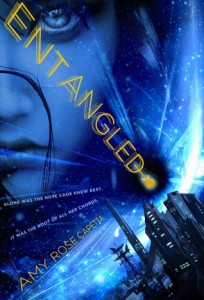 Alone was the note Cade knew best. It was the root of all her chords.

Seventeen-year-old Cade is a fierce survivor, solo in the universe with her cherry-red guitar. Or so she thought. Her world shakes apart when a hologram named Mr. Niven tells her she was created in a lab in the year 3112, then entangled at a subatomic level with a boy named Xan.

Cade's quest to locate Xan joins her with an array of outlaws—her first friends—on a galaxy-spanning adventure. And once Cade discovers the wild joy of real connection, there's no turning back.
Why Do I Want To Read: It sounds so good! It was sold to me by its editor at BEA because she mentioned Scifi and Electric Guitars! I am easy.

New's Emerald by Garth Nix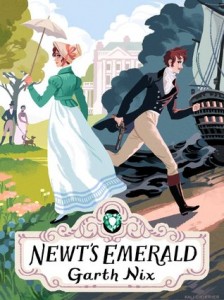 After the Newington Emerald is stolen at the height of a conjured storm, eighteen year-old Lady Truthful Newington goes to London to search for the magical heirloom of her house. But as no well-bred young lady can hunt the metropolis for a stolen jewel, she has to disguise herself as a man, and is soon caught up in a dangerous adventure where she must risk her life, her reputation… and her heart.

Balancing twin roles as a young lady coming out in her first season and as an intrepid young man up against an evil sorceress isn't easy, but Truthful has to manage it. Her father's life and even the fate of England may depend upon her recovering the Newington Emerald
Why Do I Want To Read: WHAT IS THIS? A romantic fantasy with a cross-dressing lady protagonist written by Garth Nix? SHUT UP AND TAKE MY MONEY

So what do you think? Which ones should I read first? Thoughts, comments, all welcome!