Old School Wednesdays is a weekly Book Smuggler feature. We came up with the idea towards the end of 2012, when both Ana and Thea were feeling exhausted from the never-ending inundation of New and Shiny (and often over-hyped) books. What better way to snap out of a reading fugue than to take a mini-vacation into the past?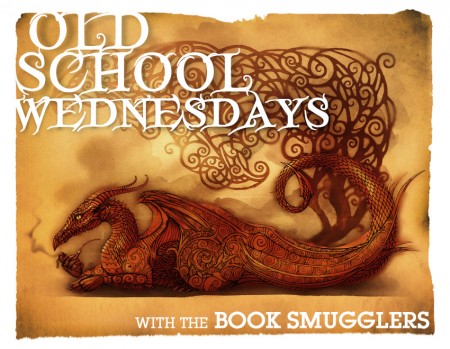 Logo designed by the wonderful KMont
Today, Ana continues her ongoing love story with Terry Pratchett by reading Reaper Man

Title: Reaper Man
Author: Terry Pratchett
Genre: Fantasy
Publisher: Corgi
Publication date: First published in 1991
Paperback: 288 pages
'Death has to happen. That's what being alive is all about. You're alive, and then you're dead. It can't just stop happening.'

But it can. And it has. So what happens after death is now less of a philosophical question than a question of actual reality. On the disc, as here, they need Death. If Death doesn't come for you, then what are you supposed to do in the meantime? You can't have the undead wandering about like lost souls. There's no telling what might happen, particularly when they discover that life really is only for the living…
Standalone or series: It's Discworld book #11 but it can be read as a standalone (although I do recommend maybe reading Mort first as it gives a better understanding of the character Death).
How did I get this book: Bought
Format (e- or p-): Print Book
Why did I read this book: I am on a mission to read ALL THE TERRY PRATCHETT'S
Review:
Reaper Man is a book that I find really hard to define. It would be so easy to simply describe it as a hilarious – or even absurdist – romp about the chaos that ensues after Death is (forcibly) retired without an immediate replacement to take over his duties. There are wizards running around, there are snow globes that pop out of nowhere then hatch into EVIL shopping trolleys (!!), a bunch of previously-undead people (including a vampire and a boogeyman) fighting for Undead Rights alongside the newly-undead Windle Poons. Whilst, in the meantime, basically oblivious to all the chaos, Death assumes the mantle of Bill Door and finds work at Miss Flitworth's farm as a literal reaper man, helping with the harvest.
And this description above would not be inexact.
But it would be an incomplete one. This is a funny, absurd book and it does feature all of the above and it is perfectly fun and fine at face value. But it is finer when it comes to its metaphors and its thought-provoking themes. There is actually one fun moment of meta-awareness within the story when Windle Poons realises that the whole chaos surrounding him, the things happening to him are so full of metaphorical interpretations it is almost too much.
Anyways, one of the main ideas here is that when Death retires, the living cease to die – at least for a time. In a more immediate storyline, the building of this untapped life force causes many problems for the inhabitants of Discworld and allows for darker forces to try to exploit this gap.
The point is, no Death = no moving on, especially to those who are waiting for this idea of personified Death to come and collect them. Actually one of the recurrent ideas of the Death books (at least these two I have read) is that beliefis a force to be reckoned with and it infuses the entire concept of this worldbuilding.
One of the main characters here alongside Death is the elderly magician Windle Poons who have lived an unremarkable life until he became undead. He died but there was no one to collect him so he came back to life only to find that he now has a strong body and a clear mind for the first time in decades. This extra time proves to be everything to him – at first, he is perfectly happy to go along with his friends' plans to rebury him (alive) because he understands his being HERE is completely abnormal. But then he finds himself being needed…and that is a powerful motivator.
Meanwhile, Death finds himself with counted time for the first time. For someone who never had to count time before, this comes as a shock. It is the first time since the beginning of life that Death truly understands his harvest.
This juxtaposition of both storylines is fascinating because what happened to both these characters is a boon but in different ways. Windle has more time, Death has less time but both find meaning. And it's remarkable because it is still all so relative because minutes and hours and lives are still ephemeral in the great scheme of things but all so important to everyone.
So this is about Time and about life and about being needed, being helpful. It's also about empathy: the ending of this book is one of the most beautiful things I have ever read. It's Death coming to a better understanding of his role, of his standing, of the humans he is supposed to harvest. His relationship with Miss Flitworth is a thing of heart-warming beauty and their final moments and their literal danse macabre are so full of compassion it almost made my heart burst.
And it is funny because Death becomes even more humanised – which is exactly what caused the problem in the first place – but he is now probably a better Death than ever before. You just ask the Death of Rats (and while at it, the Death of Fleas) what they think of it.
Notable Quotes/Parts:
"Belief is one of the most powerful organic forces in the multiverse. It may not be able to move mountains, exactly. But it can create someone who can.

People get exactly the wrong idea about belief. They think it works back to front. They think the sequence is, first object, then belief. In fact, it works the other way."
Rating: 9 – Damn Near Perfection
Reading Next: Rose Under Fire by Elizabeth Wein
Buy the Book:
(click on the links to purchase)
Ebook available for kindle US, kindle UK, nook, Kobo, Google Play & iBookstore