Welcome to Smugglivus 2012! Throughout this month, we will have daily guests – authors and bloggers alike – looking back at their favorite reads of 2012, and looking forward to events and upcoming books in 2013.
Who: Courtney Summers, YA writer of gutsy Contemporary fiction including Cracked Up to Be, Some Girls Are and Fall For Anything.
Recent Work: This is Not a Test, a wonderful Contemporary Horror novel and one that is beyond a doubt, one of Thea's top 10 books of 2012.
We are delighted to have Courtney as our first Smugglivus Guest Author! Please give it up for her!

Unfortunately, 2012 is the year I didn't read as much as I wanted to thanks to some seemingly never-ending edits, but fortunately, 2012 also has the distinction of being the year where pretty much every book I did read was awesome. So I like how that worked out. BUT it made it really hard to narrow down a list of my favourite books for this guest blog and before I begin, I'd like to use this space to shake my fist at all the talented authors out there writing books right now.
*shakes fist*
So it was a challenge, but I did manage to select five of my favourite reads released in 2012 to share with you and I think you should all read them as soon as you are done reading about them. I chose the number five because come this January, Ana and Thea have been blogging for five years, which is AWESOME. Congrats, ladies!
And THEN, I followed up my list of five with a list of three anticipated releases for 2013. I picked three because three is a pretty great number, if you ask me (not as great as five, though). The books are ordered alphabetically by title, because asking me to order them from favourite to least would be impossible.
Spoilers for this post: every book I talk about is awesome.
Five Favourite Releases for 2012:
Beautiful Music for Ugly Children by Kirstin Cronn-Mills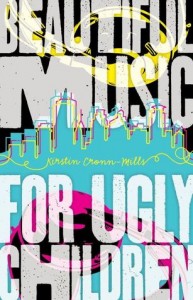 I was introduced to Kirstin Cronn-Mills's fierce and clever writing style in her debut, The Sky Always Hears Me and the Hills Don't Mind, and coming back to it for her sophomore release was one of the best reading experiences I had this year. What's the book about? In Gabe's words (from the back cover): "My birth name is Elizabeth, but I'm a guy. Gabe." We get to follow Gabe as he comes out as transgendered to his closest family and friends and at night we sit with him as he DJs for a community radio show. But as his show increases in popularity and gains him an adoring fanbase, he finds the things he's worked so hard for jeopardized by some jerks who realizes the Gabe they listen to and love is also the Elizabeth they went to school with. This book is thoughtful, heartfelt, fun, funny, smart and it totally made me cry. I loved spending time with Gabe and the people in his life, who are just as compelling and realistically drawn as he is. Gabe is the King–and you'll get what that means when you read it. Because you've got to read it
Come See About Me by C.K. Kelly Martin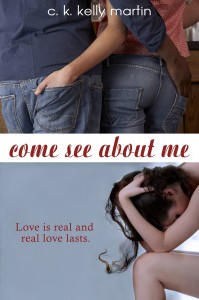 C.K. Kelly Martin is one of my all time favourite authors. Known for her hard-hitting, edgy YA (which you should also check out!), Come See About Me marks her first adult novel and it's a brilliant outing. It's about 20-year-old Leah, who is learning to come to terms with the sudden death of her boyfriend. She hits rock bottom and a change of scenery has her entering a casual sexual relationship with an Irish actor, but he has troubles of his own. As their relationship gets steadily more complicated, Leah struggles to work through her grief and move forward. I really like reading books about loss but I am VERY picky about them. I dislike stories about "charmed grief"–or at least that's what I think of it as… you know, the death of a loved one is designed to make everyone a little more quirky and the world a little more whimsical? Bleeeeh. Death is hard. It's hard to lose and it's hard to grow from loss. Martin captures this painful reality, understands it so much, it will make you ache, but more than that, the way she ultimately turns it into something so hopeful and so beautiful and so honest took my breath away. And the romance? Just as real, just as fearless, and soooo good.
Send Me a Sign by Tiffany Schmidt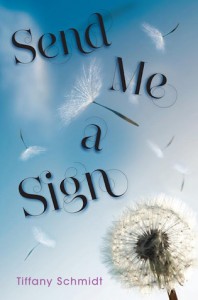 For as much as I can devour a book about grief/loss, I–weirdly enough–have an aversion to books about illness, particularly cancer. I've lost loved ones to it and they're very difficult for me to read. Are you like me? Do books that feature the subject make you run in the opposite direction? Well. Send Me a Sign is a book about a girl named Mia and Mia has cancer and I am telling you now to run TOWARD it. In this book, Schmidt successfully challenges familiar cancer tropes by writing a story of a teen who happens to have cancer. She's not a character who is only her illness. When Mia–who is obsessed with signs–is diagnosed with leukemia, she decides to keep it a secret from the people closest to her, not wanting them to look at her differently. But when your life is as perfect and together as Mia's is pre-diagnosis, that isn't an easy thing to do. As Mia desperately looks for signs that hint at her outcome, she also juggles the demands of family and friends and two boys competing for her affection. This is a book about living, and that's the first thing you should know. The second? Schmidt makes some daring narrative choices that really pay off. I love challenging, memorable female protagonists–ones that buck the notion that a girl must always be nice. Mia doesn't always make the most likable decisions and that makes me love the book even more–it's real. The third thing you need to know? Send Me a Sign is one of the (very) few books featuring a love triangle that I was totally invested in. I loved both guys equally and that never happens! NEVER! Swoonworthy.
Shadow Bound (Unbound #2) by Rachel Vincent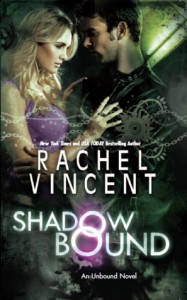 Rachel Vincent's Unbound series is fast becoming one of my favourites. It's set in a dark and gritty universe where there are Skilled and Non-Skilled. A Skilled person can be a blood tracker (someone who can track a person by blood), a traveler/shadow walker (someone who can travel via shadows), or a binder–someone who can contractually bind you to serve a person no matter what. If you resist orders, your body will systematically shut down. Now imagine two warring crime syndicates–headed by the most evil men ever–in this dark and gritty universe who have bound their entire Skilled and Non-Skilled workforce to them and oh my gosh. Questions of free-will and the exact lengths you'd have to go to to reclaim some of, if not all of it, abound. Shadow Bound is the second installment in the series, but it can be read on its own. It follows Kori Daniels, a fierce as hell shadow walker who is on the outs with her boss, Jake Tower, for failing to protect him during a break-in in the last book. After being horrifically tortured, she's brought out of the basement to prove her worth one last time by convincing Ian Holt–one of the most powerful shadow walkers to hit the scene–to sign his life away to the Tower Syndicate. But Ian's got plans of his own–plans that might save Kori, or kill her. I cannot emphasize enough how bold and fresh and edgy I think these books are. The way Vincent's characters navigate this complicated world boggles my mind in a good way. My favourite thing about Shadow Bound was how Vincent nailed the dynamic between Kori and Ian. Kori's agency, her growth, was handled in a wonderful and empowering way. I love these books because they're not afraid to go to there. Vincent is an amazing writer and I'm dying for the next installement, Oath Bound, which releases next April.
Through to You by Emily Hainsworth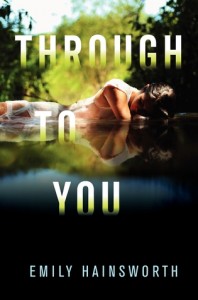 Through to You is a contemporary book with a sci-fi twist and that's one of many reasons I love it. It's about a boy named Camden Pike, who has pretty much given up since his girlfriend, Viv, died in the same car accident he walked away from. Cam would give anything for a chance to see her again–anything–and then… he gets his wish. A mysterious green light reveals a window to another dimension where Viv is alive. But there's another girl, Nina, who knows Cam better than he knows himself and not everything is as it seems… I can't think of a person who hasn't wished for a second chance. The greater the loss, the greater the desire to do it all over again–and do it right. Cam has such a visceral narrative and his grief and yearning are palpable. Hainsworth nails it so well that when Cam finally glimpses an opportunity to grasp the thing he wants most, you want it as much as he does. There is so much here in this contemplative and emotional debut. It makes you think about the person you are and the person you want to be and the strength it requires to change. The other thing I adore about it is it straddles genres fantastically, offering a great gateway read for a contemporary reader who wants more sci-fi or a sci-fi reader who wants more contemporary. Wonderful.
Three 2013 Releases I'm Looking Forward To…
Note: I'm kind of cheating this one because I've read all of these books and they are fantastic but I haven't read them in their final incarnations and I'm so excited about revisiting them when they're officially released.
17 & Gone by Nova Ren Suma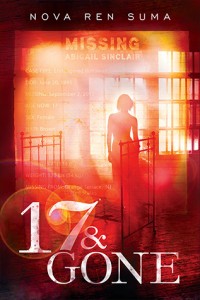 Nova Ren Suma's writing is so haunting. It gets right under your skin and stays there. It's lyrical without being forced and it. Defies. Genre. Unless 'brilliant' is a genre. Then it is totally that one. Imaginary Girls was a stunning debut and 17 & Gone is an equally stunning sophomore release. It's about a girl named Lauren, who has visions of missing girls. They're all her age–17–and they're either asking her for help… or trying to warn her that she's next. I can't wait for this one to come out so I can talk about it with people. It's eerie and lush and its twists and turns are unforgettable.
The Reece Malcolm List by Amy Spalding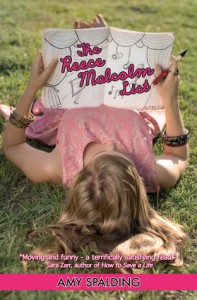 I can't wait for everyone to read this because it's one of the freshest, funniest and sweetest books that's going to debut next year. When Devan's father dies, she moves to L.A. to live with her New York Times Bestselling author mother, Reece Malcolm–who she knows nothing about. When Devan arrives, she falls into a group of great friends at a school for performing arts, finds first love and starts to understand the enigma that is her mother. Amy Spalding knows how to tell a story, is basically all I really want to say. You will smile. You will sniffle. You will laugh. I love how family based her work is, which is nice when parents in YA are often mysteriously absent.
When You Were Here by Daisy Whitney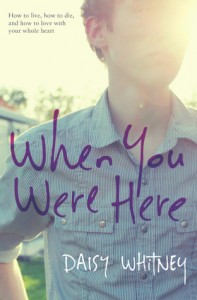 It's about a boy named Danny who has experienced some incredible loss in his life, most recently the death of his mother just before his high school graduation. His desperate attempt to understand her last days, as well as make sense of the break-up he went through with his only support system, Holland, sends him on a trip to Tokyo where he learns about life and love. With the release of The Mockingbirds and its sequel, The Rivals, Daisy Whitney proved herself a formidable talent who is unafraid to tackle tough subject matter (date rape, vigilante justice). When You Were Here is no exception and she does it with her trademark thoughtfulness and beautiful prose.
I hope everyone has a Happy Smugglivus! May it be wonderful and involve the hugging of many books. (I know mine will!) Thea and Ana, thank you for having me. Congrats again on the fifth anniversary of the blog and here's to many, many more!

Thank you, Courtney!