Welcome to the Falling Kingdoms Quest blog tour!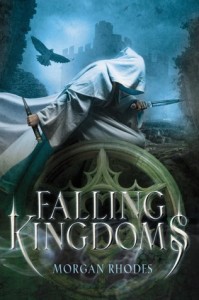 In a land where magic has been forgotten but peace has reigned for centuries, a deadly unrest is simmering. Three kingdoms grapple for power—brutally transforming their subjects' lives in the process. Amidst betrayals, bargains, and battles, four young people find their fates forever intertwined:

Cleo: A princess raised in luxury must embark on a rough and treacherous journey into enemy territory in search of a magic long thought extinct.

Jonas: Enraged at injustice, a rebel lashes out against the forces of oppression that have kept his country impoverished—and finds himself the leader of a people's revolution centuries in the making.

Lucia: A girl adopted at birth into a royal family discovers the truth about her past—and the supernatural legacy she is destined to wield.

Magnus: Bred for aggression and trained to conquer, a firstborn son begins to realize that the heart can be more lethal than the sword…

The only outcome that's certain is that kingdoms will fall. Who will emerge triumphant when all they know has collapsed?
About the Quest:
Hidden in each tour stop is the answer to a Falling Kingdoms trivia question.
Email the answer to yrmarketing@us.penguingroup.com with Falling Kingdoms Blog Tour in the subject line for the chance to win one of FIVE hardcover copies of Falling Kingdoms! The more questions you answer, the better chance you have to win!
QUESTion: What is the meaning of Magnus' name?
Email the answer, found somewhere below, to yrmarketing@us.penguingroup.com for the chance to win one of five hardcover copies of Falling Kingdoms!
Excerpt:
"Someone asked Magnus a question, but he hadn't been paying attention. After a while, everyone at a banquet like this began to resemble a swarm of buzzing fruit flies. Annoying, but impossible to squash quickly and easily."

– Chapter Two, FALLING KINGDOMS
From Morgan Rhodes:
Prince Magnus Lukas Damora is the son of King Gaius and heir to the throne of icy Limeros and its black granite castle set on the top of a high cliff on the edge of the Silver Sea. Many in the kingdom assume Magnus is exactly like his handsome, but tyrannical and sadistic father – after all, the two look so much alike.
Magnus constantly wrestles with what his mind tells him versus what his heart tells him. His heart has led him into painful territory and the desire he feels for someone who can't be his is a constant source of anguish. He covers all of this up with a practiced mask of indifference and sarcastic commentary. Very often, what Magnus says is not exactly what he thinks.
Magnus was given this name since it means "great" in Latin. His father, the king, expects great things from Prince Magnus—as long as they're in-line with his own royal agenda.
Magnus is a character who really came alive on the page when I started to write him and forged his own path. He constantly surprises me and is really the epitome of a character who is neither good nor bad, but a delightful mix of the two. He's the character who is the most fun for me to write and I always look forward to his scenes.
On Monday, head over to Night Owl Reviews to find the answer to your next QUESTion, then email the answer to yrmarketing@us.penguingroup.com for a chance to win a copy of Falling Kingdoms!
12.3 QUESTion, found somewhere in the Night Owl Reviews tour stop: What number in line for the throne is Princess Cleoina?
GOOD LUCK!