"Inspirations and Influences" is a series of articles in which we invite authors to write guest posts talking about their…well, Inspirations and Influences. The cool thing is that the writers are given free rein so they can go wild and write about anything they want: their new book, series or career as a whole.
Today, we're happy to have C.J. Omololu over as our guest, here to talk about her new book Transcendence, a book about past lives, and the inspiration behind its premise.
Please give it up for C. J., folks!

That Eerie Feeling
In Transcendence, my main character Cole gets an overwhelming sense of déjà vu when she visits London for the first time. I think most of us have had those feelings at one time or another – the sense that you've been somewhere before, that you know what's around the next corner in a city you've never been, the time you met that stranger and felt that you've known him all of your life.
I hate to exercise, but I do walk my dog every morning. He's a big hairy thing – people tell me that it looks like I'm walking a bear – but he's a great walking companion because he can go fast and far and rarely interrupts my thinking.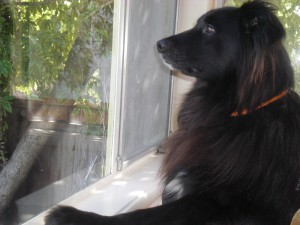 I don't walk with anyone else or listen to music because I like to use the time to work out problems in my newest book or just think about what I have to do that day. Because I like to use the time to think, I take the same route every day so that I don't have to worry about where I'm going.
I live in Northern California, and in my neighborhood most of the houses are old by our standards. I've always loved living in old houses – the bungalow we own was built in 1916. There are some great old houses on my dog walk route, but there's one that has always attracted me more than any of the others.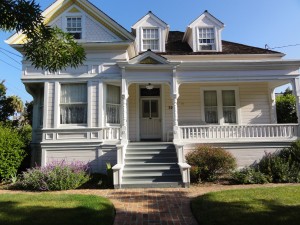 Thanks to the Internet, I know that it was built in 1890. I don't know whether it's the wide front porch or the light over the door with the delicately painted flowers, but something about this house always makes me stop.
Whenever I look up at the porch, I get a strong sense of a group of people waiting under that light, all dressed in their Sunday best, the women in long skirts with bonnets on their heads. It's cold out, so they also have on velvet capes and long coats trimmed with fur as they wait to be admitted into the warm glow of the parlor. It doesn't matter what the weather is in real life, this is the scene that always hits me every time I pass this house, along with a feeling of homesickness for a house that I've never actually entered.
It probably means absolutely nothing. Maybe I've seen a porch like this in an old Jimmy Stewart movie or in a Thomas Kincaid painting. I'm sure my imagination is just running away with me (again). But what if these feelings of familiarity actually do mean something? What if déjà vu is really a crack in the memories we all carry with us of our past lives, a hint that what we know about our lives is only the beginning? Once I started asking myself these questions, I couldn't stop, and the idea of the Akhet – a group of people who remember all of their past lives – was born.
The thing I love about déjà vu is that it's universal. In almost every culture you can find people who have felt this feeling of 'being there before' whether they're looking at an old photo, holding an antique vase or running their hand along the stone walls of a building at the Tower of London.
The people who actually live in that house don't have a clue. If they glance out their window and see me looking up at the painted light fixture, they must think I'm just another dog walker out for a morning stroll. They have no idea that their house was the spark for a story about past lives, lost loves and second chances.

I'm a writer living in Northern California with my husband and two sons. I grew up with the serviceable last name of Jaynes, but then married a handsome Nigerian man, which is why my other last name has so many vowels.
I met my agent, Erin Murphy, in an elevator (really) at a writer's conference and when I finished my first novel, we signed together. My young adult novel Dirty Little Secrets came out with Walker Books in February 2010. Transcendence, a new novel about reincarnation and the choices we make came out in June 2012 with the sequel to follow in June of 2013.
The Giveaway:
We have a copy of Transcendence up for grabs! The contest is open to ALL and will run until Saturday June 23 at 12:01pm EST. In order to enter, leave a comment using the form below. Good luck!