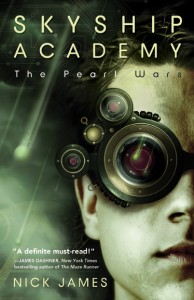 Title: Skyship Academy: The Pearl Wars
Author: Nick James
Genre: Science Fiction, Post-Apocalyptic, Young Adult
Publisher: Flux
Publication date: September 8th 2011
Paperback: 384 pages
A devastated Earth's last hope is found in Pearls: small, mysterious orbs that fall from space and are capable of supplying enough energy to power entire cities. Battling to control the Pearls are the Skyship dwellers—political dissidents who live in massive ships in the Earth's stratosphere—and the corrupt Surface government.

Jesse Fisher, a Skyship slacker, and Cassius Stevenson, a young Surface operative, cross paths when they both venture into forbidden territory in pursuit of Pearls. Their chance encounter triggers an unexpected reaction, endowing each boy with remarkable—and dangerous—abilities that their respective governments would stop at nothing to possess.

Enemies thrust together with a common goal, Jesse and Cassius make their way to the ruins of Seattle to uncover the truth about their new powers, the past they didn't know they shared, and a shocking secret about the Pearls.
Stand alone or series: Skyship Academy book #1
How did we get this book: We both scooped up signed copies at BEA
Why did we read this book: Both of us have had this book on the radar since before BEA. And post-apocalyptic sci-fi dystopias rule.
REVIEW
First Impressions:
Ana: I've been excited about reading Skyship Academy ever since I first heard about it in the build-up to BEA last May when Thea put it on my radar because it sounded soooo good. But Holy SciFi YA Batman! I was not prepared for how much fun I would have reading it or for how cool and well developed the SciFi elements would be. Add to that a couple of great protagonists, and a HOLY CRAP A WTFPOLARBEAR type of twist at the end and ergo: this a pretty decent, fun Scifi book.
Thea: Like Ana, I was extremely enthusiastic for this novel. A post-apocalyptic Earth with an ongoing war between renegade "Shippers" and bureaucratic "Surfacers"? There's a lot of potential there, and, for the most part, The Pearl Wars delivers. Though I feel the writing from both a plotting and characterization perspective lacked focus in the first two thirds of the novel, the ideas are so strong and compelling that I felt it was worth the effort. Plus, the big reveal in the book's final act is definitely a good one (and yes, almost WTFPOLARBEAR status).
On the Plot:
Ana: Skyship Academy starts off with a bang with the two main protagonists facing off – and this encounter not only kicks off a weird reaction on both of them grating each with awesome and terrifying abilities but it also gets the story going as they need to find out more about these abilities, about each other and how can this possibly be connected with the way things are in the world. From that point onwards, the story is fast paced, interesting and I was glued to the pages until the – AWESOME – end. Although I could see one of the twists coming miles (and miles) ahead, I was very much not prepared for the main revelation in the end – it turned everything up to that point upside down and it opens up the story for loads of further development.
In terms of setting, I loved all elements of the world-building and I found everything to be very believable and intriguing not only in the terms of how the world came to be in the state that it is in but also how everything functions right now. I loved the separation and difference between the Skyshippers and the Surface dwellers and how it all involved complex politic, economical, scientific and social circumstances. Although I am not necessarily an expert (far, far from it) one of my favourite things about Scifi, especially futuristic Scifi is how it can be fun but also extremely insightful about the state of the world. I believe the author managed to combine both aspects really well, and never to the detriment of the other.
I was really impressed with this book – and can hardly believe it is a debut novel. I admit that I am one of those annoying readers who tends to question everything and usually has several "Wait a Minute" moments when reading. But I found myself relaxing and truly enjoying the ride – right now there is really, no greater compliment from me.
Thea: Overall, this is a fun, generally fast read with some truly awesome ideas. While I agree that the book ends on a high note and finally gets moving by its final act, I do think that The Pearl Wars suffered from a lack of focus and could have been a lot tighter for much of the novel. The book does, as Ana says, begin with a bang as Skyshipper Jesse Fisher finds himself dangling off a twelve-story building in a Fringe Surface town at the mercy of Cassius Stevenson, one of the cruel supersoldier in training types for the Unified Party (the official government for what used to be the USA). Then, something inexplicable happens when Jesse and Cassius are together and both begin to develop something akin to superpowers. Much of the novel is spent following these two separated characters as they struggle with their disparate worlds: one at a Skyship Academy (which is a secret cover story for Pearl Hunter training), and one at a Unified Training Camp (on the surface of the planet). While I loved the idea of this dichotomy of Skyshippers and those from the Unified Party, with their different ideologies but eerily similar endgame (i.e. prevailing over the other party and controlling all the Pearls), I felt that there wasn't really enough background or detail given about these two warring camps. Early on, we learn that a mysterious woman known as Madame is in charge of the Unified camp, but other than the name Madame and a few scenes in her office, we don't really know anything about her or her party. Or what they stand for, or really want (other than some heavy-handed "YOU CAN'T HANDLE THE TRUTH!" type of stuff at the end of the book). The same applies to the Skyshippers – we know they have their own leader, Alkine (whose name sounds a lot like Adama, teehee), and are some kind of nebulous party that broke with the official government back during the apocalyptic war, but the detail I yearned for was sadly neglected.
The overall effect is that this world is very dichotomous – very black and white, right and wrong. Towards the end of the novel when the big reveals come (and finally some of those juicy details sort of come to fruition), this simplistic divide is only exacerbated as there is the heavy-handed/not-so-thinly veiled Message about Terrorists and Homeland Security.
There's also a frustrating lack of plot direction, initially, with too much time spent on Jesse being disinterested with his studies, sucking at something that is akin to Skyship capture the flag, and otherwise being generally incompetent. In contrast, Cassius is hyper-confident and effective, managing to deus-ex-machina his way around dusty wastelands and magically catch up to Jesse every time he seems to have escaped. That said, I did love the tension between Jesse and Cassius from a narrative perspective (Jesse's first person versus Cassius's third person narration), and the differences in their characters and personas – but more on that in a bit.
I know it sounds like I'm being unduly harsh with The Pearl Wars – and I don't mean to be. The ideas in this book are superb, and there is so much potential for greatness here. I love the concept of Pearls (and the big reveal concerning them late in the book); I love the ideas behind this iteration of Earth and its destruction. I love the general plotline of this book and the direction it ultimately takes, and I am hungry for the next installment. I just wish there was a tighter focus for those exposition/buildup chapters instead of so much time wasted on pointless action that does nothing to advance the story, and perhaps a touch lighter hand, thematically, later on in the novel.
On the Characters:
Thea: I have to say that I loved the dual protagonist approach to this novel, with Jesse telling his shaky side of the story and displaying his insecurities, versus Cassius's more assertive, aggressive third person storyline. The contrast between these characters is a sharp one, and I appreciated the very different perspectives (although the narration point of view makes it seem like Jesse is the "good guy" versus Cassius's misguided aggression). Personally, I wasn't a huge fan of Jesse – the boy is helpless and virtually incompetent when it comes to anything (he's basically a dude in distress, and needs bailing out at every turn by his more adroit female companions). He's clumsy, flies under the radar at the academy, and basically has no desire to continue in his career path as a Pearl Hunter for the Skyship cause – and that's fine. I just wish there was a little more meat to his character, perhaps some further introspection or a more distinct voice. As it is, he's kinda the male equivalent of a Bella Swan: nondescript except for one super special thing (in this case, Jesse's…superpower, for lack of a better word). That super special thing IS pretty cool though, and Jesse does show some mettle by the end of the book, so I do have hope for him in future installments.
Far more interesting to me were the secondary characters and supporting cast. Cassius, Jesse's foil, is a driven young man with an axe to grind, and I loved his single-minded determination. With the developments that happen in this novel and his feelings of discovery and betrayal, Cassius's character arc is far more interesting to me than Jesse's and so very promising for future books in the series. There are also two badass female characters in the novel – Avery, with her own compelling twist of a story, and Eva, the most battle-hardened of the younger Academy ensemble.
Then, of course, there are the two opposed heads who don't really get much time or depth – I'm referring to Madame, the utilitarian leader, and Captain Alkine, the Skyship commander. As I mentioned in the plot discussion above, I don't think enough time or detail was assigned to these two characters and Madame borders on the caricaturish end (what with her wearing impeccable designer suits and certain dialogue choices) and Alkine a bit too good to be true. I do like that there is mystery around both of these adult characters, but hope they are a little less two-dimensional in the next book. Certainly, Mr. James alludes to mixed motives on both characters' parts – I just hope that thread is fleshed out.
Ana: I too, loved the dual narration and although it took time to get used to the shift between first person/third person narratives, I believe the narrative choices suited both characters perfectly. I agree with not only Thea's assessment of Cassius but also how he proved to be the more interesting character because of what he was going through. His new-found ability actually has a much bigger, terrible outside effect that made his arc even more compelling.
Having said that: although Cassius is the more interesting character, I completely loved Jesse. I loved the fact that there is a bit of gender reversal role here because he was a dude in distress, who was self-doubting and basically not really good at what he was supposed to be doing. I felt he was as developed as Cassius and I loved how the two are as different as to almost be direct opposites.
As for the secondary characters, I felt they were pretty well developed as well including the two girls Avery and Eva who were strong character but not only because they were kick-ass – because they had compelling back stories and distinct voices. And I actually felt the same way about the two adults as well and I LOVED Madame as a villain. I felt the allusions to both these characters' past and the way they acted during this story were enough to convince me that Alkine is not entirely on the side of Good nor is Madame completely on the Dark Side of the Force. And that is awesome. I totally loved these characters and how they have so much potential to be even more awesome and I simply can't wait for more.
Final Thoughts, Observations & Rating:
Ana: With a cool premise, great writing and world-building, fantastic characters and a twisterrific ending, Skyship Academy just made into my notable reads of 2011 list. And now I am simply dying for more.
Thea: The Pearl Wars is a solid, fun read, and though it starts on shaky ground, it ends with a hell of a bang. I'll definitely be back for more.
Notable Quotes/Parts: You can check out a full excerpt online HERE.
Blog Tour Information:

Make sure to check out The Modge Podge Bookshelf for today's "On The Fringe" stop on the official Skyship Academy: The Pearl Wars blog tour! Plus, check out the rest of the stops on the tour for a chance to win a copy of the book with exclusive note from the author, Skyship diagram, and bonus material! Some of the stops on the tour have clues which spell out a secret coordinate – you'll need this coordinate to win on the last stop of the tour www.frenzyofnoise.net.
Rating:
Ana: 8 – Excellent
Thea: 7 – Very Good
Buy the Book: