Welcome everyone, to The Book Smugglers' Nebula Readathon 2011! In honor of the annual Nebula Awards, we will be hosting an interwebs readathon, in which we will attempt to read all of the titles on the Best Novel and Andre Norton Award for YA ballots. You can see the full details, schedule, and related posts HERE.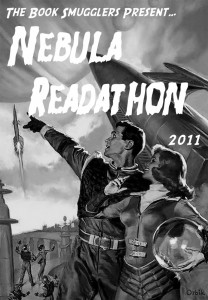 Today's nominees are The Native Star by M.K. Hobson & Hereville: How Mirka Got Her Sword by Barry Deutsch.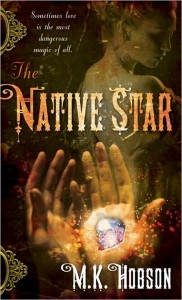 The Native Star by M.K. Hobson
Full Review HERE
In the tradition of Jonathan Strange & Mr. Norrell, this brilliant first novel fuses history, fantasy, and romance. Prepare to be enchanted by M. K. Hobson's captivating take on the Wild, Wild West.

The year is 1876. In the small Sierra Nevada settlement of Lost Pine, the town witch, Emily Edwards, is being run out of business by an influx of mail-order patent magics. Attempting to solve her problem with a love spell, Emily only makes things worse. But before she can undo the damage, an enchanted artifact falls into her possession—and suddenly Emily must flee for her life, pursued by evil warlocks who want the object for themselves.

Dreadnought Stanton, a warlock from New York City whose personality is as pompous and abrasive as his name, has been exiled to Lost Pine for mysterious reasons. Now he finds himself involuntarily allied with Emily in a race against time—and across the United States by horse, train, and biomechanical flying machine—in quest of the great Professor Mirabilis, who alone can unlock the secret of the coveted artifact. But along the way, Emily and Stanton will be forced to contend with the most powerful and unpredictable magic of all—the magic of the human heart
Thea's Take: I truly loved The Native Star – and it completely took me by surprise. The cover is a little weird, and I had read mixed reviews before I jumped in and purchased the book last year, but I'm so glad that I did because I fell in love with Emily Edwards and Dreadnought Stanton almost instantly.
The Native Star is the story of a backwater earth witch, who fears for her family's prospects and financial security after her father takes ill and they barely survive a long, hard winter. Determined to take destiny into her own hands, Emily prepares a love potion for the most prosperous man in town – but she overdoes it, just a little. Her deception is quickly discovered by Dreadnought Stanton, a snide, high-and-mighty city warlock the sneers at Emily's blunderings. Their fates, however, are soon inextricably linked when the two of them work together to put down an unprecedented uprising of zombie miners and a strange, magical stone finds its way lodged into Emily's hand. As it turns out, the stone is "The Native Star" and an increasingly rare and incredibly powerful mineral that has the ability to absorb magic. Determined to get the rock out of her hand, Emily agrees to go with Stanton to the Mirabilis Institute, where he hopes to regain his lost stature and trust. But soon, the duo discover that the rock in Emily's palm is far more valuable than they'd ever imagined, and they lead a death-defying chase across the wild west in their search for answers.
The Native Staris such a strong book because it has that mysterious alchemy of strong characters, a unique setting, and somehow it manages to pull of western steampunk without a hitch. The relationship between Emily and Dreadnought (awesome name, by the way) is layered and believable, and each character has their own motivations and troubled pasts – Dreadnought in particular won me over with his backstory. Emily, too, is a multifaceted character that verges far away from Mary Sue territory (in fact, at times her thoughts are downright prejudiced and uncharitable – when she comes across the Miwok Indian tribe, for example), but is sympathetic because of her flaws. I loved the blend of Indian magic with a new system of steam technology married to supernatural powers, just as I loved the high stakes plot. Basically, I loved The Native Star.
Is it Nebula worthy? Oh HELL yes. It's not a traditional ballot pick, but I'm so glad it made the list because M.K. Hobson's is a fabulous book, and I cannot wait for The Hidden Goddess.

Hereville: How Mirka Got Her Sword by Barry Deutsch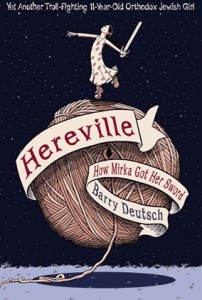 Spunky, strong-willed eleven-year-old Mirka Herschberg isn't interested in knitting lessons from her stepmother, or how-to-find-a-husband advice from her sister, or you-better-not warnings from her brother. There's only one thing she does want: to fight dragons!

Granted, no dragons have been breathing fire around Hereville, the Orthodox Jewish community where Mirka lives, but that doesn't stop the plucky girl from honing her skills. She fearlessly stands up to local bullies. She battles a very large, very menacing pig. And she boldly accepts a challenge from a mysterious witch, a challenge that could bring Mirka her heart's desire: a dragon-slaying sword! All she has to do is find—and outwit—the giant troll who's got it!

A delightful mix of fantasy, adventure, cultural traditions, and preteen commotion, Hereville will captivate middle-school readers with its exciting visuals and entertaining new heroine.
Ana's Take: "Yet another troll-fighting 11-year-old Orthodox Jewish girl"
Seriously, isn't that one of the best tagline you've ever read? And it tells you everything you need to know about Hereville in a nutshell. Mirka is an 11-year-old who lives in a Orthodox Jewish community with her father, brothers, sisters and stepmother who wishes she could fight dragons instead of spending her time knitting or studying. Her wish comes close to become a reality when one day she is granted the opportunity to go on a quest to get a sword which as you know, is first step in order to become a dragon-killer.
Hereville is Mirka's quest to get her sword and to become a dragon-killer. Those are the Fantasy elements of the novel which are well-balanced with the non-Fantasy aspects including those that relate to her relationship with her family (especially with her stepmother, who is as spirited as Mirka) and with her religious community. The art is another strong aspect of the novel: it is monochromatic and simple yet fun and entertaining.
The most important thing to me though is how the tough balancing act of the dichotomy between wanting to fight dragons and wanting a sword whilst being a member of an orthodox religion that does not welcome either is explored in a way that does not undermines the religion or presents it in a negative light. Mirka might question a few things, especially the role of women, but the overall sense is that of acceptance and respect for her life.
In the end, as much as enjoyed the story and think that the art is great, I was left sort of underwhelmed by the end of it. It seems I am in the minority though (obviously, or it wouldn't have been nominated for an award).
Is it Nebula Worthy? Not really – as much as I liked the story and I think it is really fun, I don't think it is as good as the others in the category.

So there you have it! Our reactions to the first two titles on our Nebula Readathon ballot. Now it's YOUR turn to join in the discussion. If you've read either of these books, let us know what you think! Leave a link to your review below, or feel free to start discussion here in the comments.