Author: Saundra Mitchell
Genre: Southern Gothic / YA
Publisher: Delacorte Books for Young Readers
Publication date: June 2010 (paperback)
Paperback: 192 pages
Iris is ready for another hot, routine summer in her small Louisiana town, hanging around the Red Stripe grocery with her best friend, Collette, and traipsing through the cemetery telling each other spooky stories and pretending to cast spells. Except this summer, Iris doesn't have to make up a story. This summer, one falls right in her lap.

Years ago, before Iris was born, a local boy named Elijah Landry disappeared. All that remained of him were whispers and hushed gossip in the church pews. Until this summer. A ghost begins to haunt Iris, and she's certain it's the ghost of Elijah. What really happened to him? And why, of all people, has he chosen Iris to come back to?
Stand alone or series: Stand alone
How did I get this book: Bought
Why did I read this book: Because I have seen a lot of really good reviews online.
Review:
"Nothing ever happened in Ondine, Louisisana, not even the summer Elijah Landry disappeared."
Thus begins Shadowed Summer with which is both a gripping line but also one that brilliantly sets the tone of the novel. Iris is a 14 year old and her summer in a small town in Louisiana is about to start. As per usual, her plans involve languorous days under the extreme heat and some pretend spell casting with her best friend Collette. One day, when visiting their usual haunt, i.e. the local cemetery and in the middle of yet another make-believe Raise the Dead spell-casting, someone whispers:
Where y'at, Iris?
Things are about to get real for Iris as a ghost starts to haunt her. And she believes it is the ghost of a boy named Elijah who disappeared years before never to be seen or heard of again until now: and Iris is certain the boy is dead and is asking for her help to solve the mystery of his death. While trying to help Elijah, Iris comes across secrets, unspoken truths about her town as well as having to deal with problems with her relationship with her best friend Collette and budding feelings for their friend Ben in what is a balanced story that mixes horror, mystery and coming-of-age.
I appreciate the fact that my attempt at summarising the novel makes it sound trite and is completely inadequate because Shadowed Summer is anything but. For starters it is a genuinely scary book and for such a short novel it is certainly tightly plotted – the mystery of Elijah's death kept me guessing till the very end and it has several twists and turns. The writing is evocative and the cadence of the book mirrors the setting and the environment within the novel. Above all though, the characters are what made me tick: their voices, the dialogue, their relationships with each other come across as genuine and relatable. From Iris and her relationship with her best friend Collette and how it starts to change as the two grow up and fall for the same boy (and I have to give kudos to Saundra Mitchell for making it a love triangle but still completely avoiding a clichéd outcome and I LOVED how Iris is loyal or how Ben or Collette are is not vilified); from Iris and her relationship with her father, who is a single parent trying his best to bring up a child on his own; to every other relationship in the book: be it that between Elijah and his mother or between Iris' father and his brother, they are all profoundly moving and the author shows major writing skills here, because even though everything is from Iris' point of view, these are brought to life through her eyes.
Shadowed Summer was quite a surprising read that crept up until its roots were firmly in place: days later I am still thinking about it. It's a Southern Gothic novel and it is one that wholly embraces the sub-genre's main characteristics: it relies on the supernatural side of the story to move the plot along whilst at the same time, provides social commentary; although you don't realise the latter until the very end of the novel – when everything falls into place. Unfortunately, to dwell on that would be to completely spoil the book but suffice it to say that the reason behind Elijah's death is sadly relevant and contemporary.
I loved this and highly recommend it.
Notable Quotes/ Parts: Excerpt from chapter one:
Nothing ever happened in Ondine, not even the summer Elijah Landry disappeared. That was an incident, and being specific, it was 'The Incident with the Landry Boy.'

Since he never was found, it gave me and my best friend, Collette, something to wonder about, and in Ondine, wondering was about all we had to do.

According to the sign out by the highway, we were home to 346 GOOD PEOPLE AND 3 CRANKY OLD COOTS and a good place to live, but that was a lie.

Ben Duvall's daddy hung the sign out during the evacuation. Ondine was on the way to Baton Rouge, and people seemed to believed if we touched up our paint, some of New Orleans' storm refugees would stay and make this home.

Nobody stayed longer than it took to get supper, and why would they?

We had gas station and a Red Stripe grocery store that rented out DVDs for three dollars a night- they didn't have anything good.

Collette's mama regularly lost her temper over the broken grill at the diner. And Father Rey was brimstone enough that even our Baptists would sit in his pews, especially if he trotted out the sermons about loving the sinner and hating the sin.

That was entertainment, and that's all we had.

When school was in, there was maybe ten of us, and we rode a bus forty minutes to St. Amant. That was different at least, but come summer, all we had was stale movies from the Red Stripe, extra Masses, and making stuff up.

Since we couldn't drive yet, me and Collette did a whole lot of making stuff up.

Well, we used to, anyway.

Sometimes, we'd be knights. It didn't matter that knights were supposed to be boys; we could ride horses and swing swords if we wanted to. Sometimes, we'd be witches, or elementals, or whatever good thing we thought up or got from our library books.

We found magic everywhere, in the trees and the wind, in teacups and rainstorms. We were bigger than Ondine, better than the ordinary people who came and went and never stopped to wonder what lay underneath the church's tiger lilies to give them such blood red hearts.

Nobody but us seemed to wonder, or bother, or ask about anything, and it strangled being the only ones. When we were twelve, Collette pricked open her finger to make a vow that we'd get out of Ondine as soon as she got her license.

It made me a little dizzy to see the red beading up on her skin, but I let her poke me, too. Anybody could make a promise. We had to bind ours with a spell.

But that was used-to-be, back when we had a New Orleans to run away to, before the storm, before we turned fourteen.

Fourteen changed everything.
Additional Thoughts: I find that I really like Southern Gothic novels – even as they scare the shit out of me. If you want to try more of the genre and have read Shadowed Summer already, I also recommend Cherie Priest's Four and Twenty Blackbirds (reviewed here).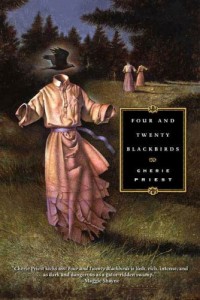 Although she was orphaned at birth, Eden Moore is never alone. Three dead women watch from the shadows, bound to protect her from harm. But in the woods a gunman waits, convinced that Eden is destined to follow her wicked great-grandfather – an African magician with the power to curse the living and raise the dead. Now Eden must decipher the secret of the ghostly trio before a new enemy more dangerous than the fanatical assassin destroys what is left of her family. She will sift through lies in a Georgian antebellum mansion and climb through the haunted ruins of a nineteenth century hospital, desperately seeking the truth that will save her beloved aunt from the curse that threatens her life.
Rating: 8 – Excellent
Reading Next: A Lot Like Love by Julie James