Welcome to Smugglivus 2010!
Throughout this month, we will have daily guests – authors, bloggers and publishers alike – looking back at their favorite reads of 2010, and looking forward to events and upcoming books in 2011.
Today, on our first official day of Smugglivus 2010, we kickoff the festivities with author (and traditional opener of ceremonies) Joel Sutherland!
Who: Joel A. Sutherland, author of speculative fiction, horror, and children's books. Waaaay back in 2008, when we first started The Book Smugglers, Joel was the very first author to contact us with a review query for a horror anthology he and his wife co-edited. For the past two years, Joel has been our inaugural Smugglivus guest – so of course, we have to continue the tradition in 2010.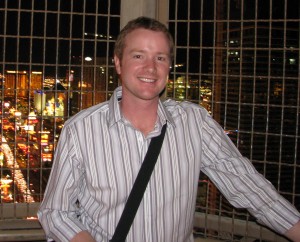 Recent Work: Children's creative writing book from Scholastic, Be a Writing Superstar; a comedic horror short in the Blood Lite II: Overbite anthology, edited by Kevin J. Anderson; and Stoker Nominated psychological horror novel Frozen Blood (reviewed by Thea HERE)
Ladies and gentlemen, please give it up for Joel!

It's the end of the world as we know it.
I know, I know, it's not 2012 yet, but I'm starting to think the Mayans got it wrong by a year. (To be fair, that's not bad. I can only assume the art of creating doomsday prophecies is a tricky business. Plus, they didn't have Google back then.)
Earthquakes, floods, H1N1, recessions, the coming of the end of the Harry Potter films… The world's a scary place filled with scared people making each other more and more scared by the hour.
And if you follow the book publishing business (after all, this is a book blog — or bblog for short, as I like to call them), you know that it's filled with scared people making each other more and more scared by the second. First the big bookstores began to dominate the scene, muscling out the smaller independent stores, and now those same big bookstores, such as Borders, are beginning to close their doors. Publishers are cutting imprints, laying off staff and taking fewer chances on anyone whose surname isn't Patterson, Steel or King. Mass market paperbacks are disappearing and mid-list authors are being forced to look for part-time jobs.
But there's one word that has the publishing biz and bookaholics the world over looking to the skies and running for their bunkers: e-books. You've heard the concern, of course. Perhaps you're even concerned yourself. E-books will be the death of the printed book. Like Jack Shephard in the final scene of Lost, books will be left to die with only the company of their most trusted companions (a la Vincent the dog, or people who refuse to change with the times and embrace technology) as they watch the Kindle and the Nook and the Sony Reader and the Kobo fly by overhead.
Wow, that was deep. Like, buried-hatch deep.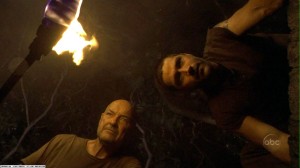 So what does all of this doom and gloom have to do with The Book Smugglers? Let me tell you: today, as you may or may not be aware (but as you're one of this bblog's countless faithful readers, I'll assume you're aware), is Smugglivus.
Yes, Smugglivus! A time of cheer. A time of happiness. A time of celebration for each and every Bosmad (Book Smugglers Addict). Because we're in for a treat, you and I — a month-long festival in which Ana and Thea take what is hands-down the best bblog on the internet and turn the dial all the way up to eleven. What's in store for us? Reviews, interviews, guest bloggers, giveaways… It's the most wonderful time of the year.
If all of this booky goodness isn't enough to make you forget about the world's problems, at least for a day or two or thirty-one, then I don't know what is.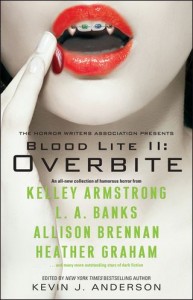 Smugglivus is also the time of year when we pause for a moment and give thanks to all the good that has taken place this year. For me, 2010 has been a banner year both professionally and personally. September saw the publication of my children's creative writing book, Be a Writing Superstar (Scholastic). I had a story published in the bestselling anthology series Blood Lite II: Overbite (Simon & Schuster), edited by none other than Kevin J. Anderson. I was one of 260 contestants selected out of 45,000 applicants to appear on the first season of the Canadian version of the hit show Wipeout, and was flown to Argentina (where the international course is located) for a week to represent my profession and try to cross the big red balls as The Barbarian Librarian. This past weekend was the first annual DarkLit Fest, an event I organized that brought together nineteen authors, editors and publishers from the fields of horror, mystery and dark fantasy, including Guest of Honour Kelley Armstrong. It was a free one-day event with panels, readings, book signings, pitch sessions, door prizes and a complimentary lunch, and the entire event turned out better than I could have hoped for — a complete success!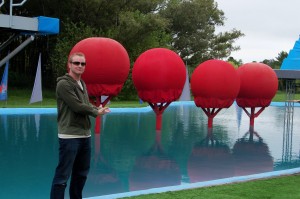 Joel on the set of Wipeout
Phew. Like I said, a banner year. The only speed bump was when Dorchester Publishing pushed back their entire Fall lineup — my Bram Stoker Award-nominated novel, Frozen Blood, was scheduled to be released this past October. Instead, it will come out next August. Like I said, it was a speed bump as small as a simile (if that makes sense, which I'm pretty sure it doesn't), and at least I know I'll have something to be thankful for next year at Smugglivus time.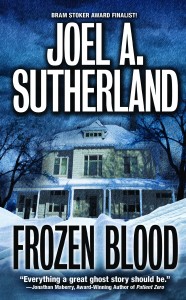 The highlight of the year was the birth of my first child, Charles, on March 4th, a date that a geek like me can truly appreciate (it makes me think of those obligatory yet rousing speeches that are given just before a battle in epic movies: "March forth and conquer!"). And my wife Colleen and I are ecstatic to announce that we're expecting again. So much good news that I keep looking up for the giant Monty Pythonesque foot that's surely about to unceremoniously squash me.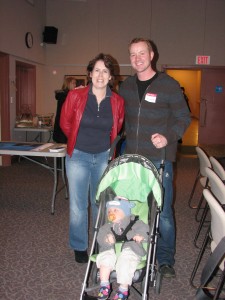 Joel with son Charles and DarkLit Fest Guest of Honour Kelley Armstrong
I'd like to urge you to take a moment out of your busy day to think of one thing you're thankful for this Smugglivus (it could be a life milestone, it could be the release of a new book by your favourite author, it could be bubble wrap, it could be Smugglivus itself!) and post a comment sharing it with the rest of us. One lucky person will be randomly drawn to win a copy of my book, Be a Writing Superstar. Sure, you might no longer be a child (or you might already be a writing superstar) but hey, it's Smugglivus! You've got plenty of people young and old to shop for, and an autographed book can make a nice gift.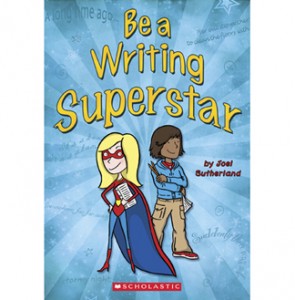 One final word on the so-called threat of e-books. As long as people are reading — whether it be from a book or an e-reader or a monitor or a phone or a … gosh, what's next? Direct e-book downloads to microchips implanted in our brains? — literature will survive, and that's all that matters. After all, as Jack lay on that cursed island and closed his eye in extreme close-up one final clichéd time, there was the hint of a smile on his lips. He was happy.
And so, I hope, are you.
From this Bosmad to you, Merry Smugglivus to all, and to all a good night!

And a Merry Smugglivus to you too, Joel!
Giveaway Details:
You heard the man! We have ONE copy of Be A Writing Superstar up for grabs! The contest is open to those in the US, Canada and UK, and will run until Saturday, December 4 at 11:59pm (PST). To enter, simply leave a comment here. ONE entry per person, please! Duplicate and/or multiple entries will be disqualified. Good luck!