Welcome to Smugglivus 2010: Day 13
Throughout this month, we will have daily guests – authors, bloggers and publishers alike – looking back at their favorite reads of 2010, and looking forward to events and upcoming books in 2011.
Who: Jaclyn Moriarty, Aussie author of AMAZING YA novels. Ana first came across her books this year and has fallen in love with the Ashbury/Brookfield series, which she reviewed HERE.
Recent Work: Dreaming of Amelia AKA Ghosts of Ashbury High in the US. Reviewed by Ana HERE.
Please give a warm welcome to Jaclyn Moriarty!

Earlier this year, I went on a beach holiday. It was the first holiday I'd taken since my four-year-old, Charlie, was born, and I had in mind that we'd play in the water in the mornings, and then he'd nap each afternoon while I read books.
Only, just as we arrived, he gave up his afternoon naps. 'I'm not tired!' he said, surprised and a little proud of himself. I knew it would happen at some point. I just didn't mean right then.
It was a good holiday —bush turkeys wandered around the resort, and a gelato bar was just across the road—but I'd been waiting four years to take this break.
Then, on the final afternoon, he fell asleep. Five days of sun and water had finally done him in. I sat on a deck chair on the balcony. It overlooked the pool. I had chocolate and nectarines, and I started reading a book—and almost at once I thought: Keep sleeping, Charlie! Because the suspense! and the concept! and the characters! and the pages flying by! (and the chocolate!). He slept for four hours. I finished the book just as he woke, and I thought: that was four years worth of holiday, right there. The book was The Hunger Games.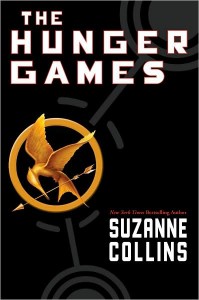 I read many other books that I loved this year. There was one that made sorrow beautiful (Lisa Moore's February), and one that made me wonder if this dark magic could actually be real (Justine Larbalestier's Magic or Madness).
One about a friendship between an elderly woman and a young man that was so complex yet light, so strange, warm and wise that I thought: this is a perfect book (Margaret Mahy's Memory). There was one that delighted me in the same way that melting butter, sugar, golden syrup, cinnamon and cloves delights me (Daniel Pinkwater's The Neddiad), one that made me hope its exquisite imagery would never end (Lorrie Moore's A Gate at the Stairs), and one that made me google the author madly, trying to figure out how he could write so authentically—and with such heart and humour—about fatherhood and space travel at once (Frank Cottrell Boyce's Cosmic).
But around October, there was a terrible time when I stopped reading. It was as if I'd been having a great time at a party for years, and then suddenly it all went wrong. I'd start listening to someone and I could theoretically see the humour, and everyone else would be laughing, but it just wasn't funny to me. Or someone would talk to me without ever looking into my eyes, always just over my shoulder, which would get on my nerves. I found myself saying to people, 'Look, I'm sorry but I'm finding you really boring,' and I even closed some people up and kicked them under the bed.
After a while, I gave up. I thought: Is this it? Are there really no more books? I felt alone, and very afraid.
Then suddenly a stranger appeared and I think she must have slipped ice skates onto my feet without me noticing, and she said, 'Did you know about this part of the party?' and there was a whole ice garden I hadn't noticed! We just skated along, turning corner after corner, and she was so confident and funny and original—and her characters had such essential goodness, with just the right shadows and edges—and I fell in love.
That was Geraldine McCaughrean's The Death-Defying Pepper Roux, and it saved the party for me, and so it is my book of the year.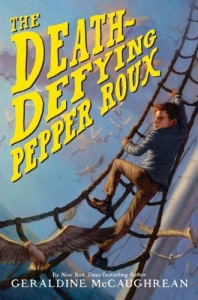 As for next year, I plan to finish writing the first of my books about the Kingdom of Cello; and to eat more broccoli and spinach; and to try a zumba class.

Thank you and Happy Smugglivus, Jaclyn!