"Inspirations and Influences" is a series of articles in which we invite authors to write guest posts talking about their…well, Inspirations and Influences. The cool thing is that the writers are given free reign so they can go wild and write about anything they want. It can be about their new book, series or about their career as a whole.
Today we are pleased to host the latest stop on Nancy Werlin's Extraordinary Blog Tour! Thea loved Nancy's first novel, Impossible, so of course we jumped at the possibility of having Nancy on The Book Smugglers for an Inspirations & Influences post to celebrate the release of Extraordinary.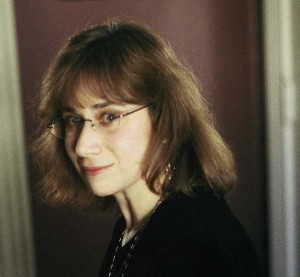 Please give a warm welcome to Nancy Werlin!

Sometimes it's hard for me to figure out where a book came from, but in the case of Extraordinary, it's more clear to me than usual. I often like to comment that a single idea is not enough to make a book. But a single idea can sometimes get you started, and it did for me here. That first spark came in response to someone else's art.
I was watching the musical Wicked (from the novel by Gregory Maguire — musical adaptation by Stephen Schwartz, with book by Winnie Holzman). For those that don't know, the original book, Wicked, which I also loved but which is broader in scope than the musical, was inspired by The Wizard of Oz. So we're looking here at a chain of influences.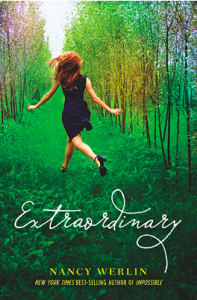 Anyway, there came the next-to-last scene in the play, where the Glinda and Elphaba sing their goodbye duet. (You can watch a rehearsal HERE). They explain how much they've meant to each other; how they've affected each other; changed each other:
Like a stream that meets a boulder
Halfway through the wood
Who can say if I've been changed for the better?
I was crying before they reached "Because I knew you, I have been changed for good." For me, the play had gone beyond entertainment and arrived at raw emotional truth.
And suddenly I wanted to try to write a novel that would be about an enormously important friendship between two teenage girls, one more pivotal than a romantic love affair. This friendship would test both girls to their limits, and would force them to grow, not just into maturity, but into better selves than they could ever have imagined becoming alone.
But as I said earlier, a single idea only gets you started. A novel requires dozens of ideas, of several levels of importance. One that I've talked about elsewhere was my choice to make Phoebe, the heroine, Jewish. (You can read about that HERE) And I also knew that I needed to make Mallory, Phoebe's best friend, a faerie. Both of these choices came with baggage: intricate back-stories that also influenced the plot and their characters.
But perhaps even more pivotal a choice was to bring between Phoebe and Mallory the (inevitable?) complication of a man. In this case, it would be Mallory's older brother, Ryland, who gets the yearning Phoebe all hot and bothered really, really fast.
The influence for the creation of Ryland — a very troubling character for some readers, especially those who were expecting a romance — is of course real life. The dangerous guy who does not have a heart of gold. Who cannot be saved by love and understanding. Who really and truly wants, for whatever reason, to destroy you.
Ryland landed in my book like a meteor crashing to earth. I knew he would do a great deal of damage to Phoebe, and indeed, he did. (Though I also hope readers will appreciate that he has his reasons, too — and good ones. And that Phoebe's reactions reactions do not mean she's weak, only trusting and inexperienced.)
Simultaneously, from helplessly watching her brother manipulate her friend, Mallory goes through her own crucible of fire — though the reader must infer much what's going on emotionally with Mallory by reading between the lines.
All of this was in service of getting both girls to that impossible place, that terrible place, where each would need to put the other before herself. Where each would emerge from this damage much, much stronger than she had been. Indeed, stronger than she ever dreamed she could be. And . . . more loving.
I hope readers will judge for themselves how it all worked out.

Nancy Werlin was born and raised in Peabody, Massachusetts, USA and now lives near Boston. She received her bachelor's degree in English from Yale.
Since then, she has worked as a technical writer and editor for several computer software and Internet companies, while also writing fiction.
You can read more about Nancy and her work on her website, over at her blog, or friend her on Facebook.
Giveaway Details: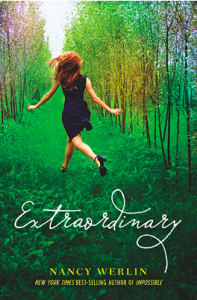 As promised, we have ONE copy of Extraordinary up for grabs! The contest is open to residents of the US and Canada ONLY and will run until Saturday, October 9 at 11:59 PM (PST). In order to enter, leave a comment here letting us know what YOUR favorite friendship in a novel is. Only one entry per person, please! Multiple or duplicate entries from the same IP address will be disqualified. Good luck!
Make sure to check in later today for our review of Extraordinary.