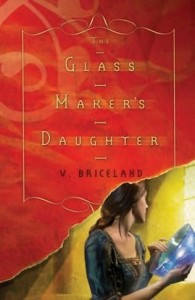 Title: The Glass Maker's Daughter
Author: V. Briceland
Genre: Fantasy (YA)
Publisher: Flux
Publication date: April 2009
Paperback: 312 pages
Magic lies at the heart of Cassaforte, medieval city of bewitchments and intrigue. Cassaforte is home to sixteen-year-old Risa Divetri, whose fate is about to be decided by the gods.

Risa has led the sheltered life of a nobleman's daughter, but soon she plans to leave home to study the family craft-creating enchanted glass objects. When the gods are consulted to determine which school she will attend, the impossible happens: Risa remains unchosen. The rejection sends Risa into a spiral of shame, anger, and confusion. If she's not meant to be a glass maker, what will she do?

But when Cassaforte's age-old magic begins to unravel and dark forces threaten the kingdom, Risa's fiery spirit and untapped powers take her on a perilous journey–one that will lead her to her true destiny.
Stand alone or series: Book one in the Cassaforte Chronicles
How did I get this book: Borrowed from a friend.
Why did I read this book: A friend of mine let me borrow it and I read it because of the cover – I love it. I haven't seen a lot of reviews of this book which is a shame.
Review:
In the medieval city of Cassaforte, ancient magic ties the King to seven families of craftsmen and every night a magical rite of fealty – in which the head of the house plays a horn from the top of their household – ensures that those ties and traditions are upheld. Risa is the 16 year old daughter of Casa Diverti , famous for their glass-making. The story opens the night before one of the most important rituals of Cassaforte for the daughters and sons of the casas when the Gods decide which school the kids will attend and Risa is understandably excited about it. Whichever school she ends up at, the choosing marks the beginning of adulthood and independence when Risa will leave her parent's house for good to start her own apprenticeship. Thus, it is not with a small amount of excitement that the entire family attends the public ritual but then unthinkable happens: Risa is left unchosen, a decision that happens for the first time ever in known history.
For the next few days Risa has to grapple with a sense of abandonment by the Gods and the need to find a new place not only within her family but within Cassaforte as well. She is a more than competent glass-maker but without learning the magic enchantments that will infuse the glass with more than its immediate value she is effectively worthless in this world.
Just then the Kings dies. The new King needs to be crowned by the heads of the seven families and in order to secure compliance, the Prince takes all of them hostage until they agree to crown him. It is a coup that goes beyond taking over the crown and that becomes clear when one by one the houses start to fall when the nightly ritual is not conducted since not only the head of the houses are gone but their heirs are all away in their schools.
And that's when Risa needs to step up and realises that the Gods may have another role for her to play.
The Glass Maker's Daughter is YA Fantasy of the finest kind. The world-building is not only original but also extremely vivid and interesting .The story evolves without ever losing sight of the History of Cassaforte and its political and magic traditions. The plot deals with courtly intrigue and power struggles seemly from the top of the food chain but as new characters are introduced, it starts to encompass other layers of society as well and what began as a Prince taking over power develops into an observation of the entire socio-political system in a very sophisticated manner.
And at the centre of it all lies Risa, and her coming of age. It begins with her being stripped of a future and continues with her being pushed into an uncontrollable situation in which she is the decision maker. That is wondrous for several reasons: for her age (when there is an older cousin around to take charge), for the fact that was abandoned by the Gods but also because she is a girl in a very stringent society in which women have very limited options (something that she struggled with from page one of the book). Risa is a determined young woman and I loved to see how she reacted to the fact that was not chosen: in a very believable way being depressed and angry at first and then searching for alternatives that relied solely on her strengths as a glass-maker. Her coming of age is also believable because it doesn't happen all at once: her path is one that alternates moments of extreme stubbornness and childish actions with adult decisions. She is a complex character, frustratingly obtuse at times, extremely observant in others.
I had a few misgivings with regards to how fast certain elements of the plot were developed (the discovery of certain magic elements for example) especially when compared to how other parts of the story were slow going and that would be greatest weakness of the novel: its uneven pacing.
Having said that, everything else is lovely, from the writing to the amazing background and including the budding romance between Risa and Milo, a lowly soldier. It was extremely refreshing to read a YA novel that had a romantic thread that did not overwhelm the rest of the plot and which felt naturally developed. Milo and Risa are of the same age and behave very similarly; their relationship is based on friendship and it grows from actual conversations that had nothing to do with Milo being Hot!Mysterious!Dark! because Milo was actually quite the opposite of all that: cute, honest and straight-forward and with a sunny personality. Although I would definitely say that their relationship is strangely devoid of any real physical contact in a very PG fashion.
But characters and writing aside, the greatest element of the novel and what kept me turning the pages was Cassaforte itself. As a setting it is reminiscent of a medieval Venice with its islands and canals and as an essential part of the world-building, it is alive and diverse and I love that the author is setting at least two other books there – I will definitely be reading those as well.
Notable Quotes/Parts:
Sunset, on the balcony atop her family's home, was Risa Divetri's favorite time of day. Beyond the Bridge of Muro in the west, the sun tickled the horizon and set the city's canals aglow. Water and light rippled back to where Risa balanced on the balcony's wide stone rail, making it seem as if the setting sun were stretching its long fingers toward her. She thought of how molten glass had the same red-hot intensity when plucked from the heart of a furnace.

If someone could peer into her soul that night—her last at Caza Divetri—might they see how hotly it, too, burned?

In the twilight, the limestone balcony rail felt warm and comfortable where she sat. Just below her stretched the upper branches of a gnarled old olive tree. If Risa dangled her legs, she could tickle the soles of her feet with its leaves. Far below, the tree's roots twisted among the rocks of the slope that dropped down to the canal, where a gondolier sang a slow, sweet tune as he punted by. Beyond the lone figure lay the Piazza Divetri, and then the cream-colored buildings of Cassaforte.
Additional Thoughts: The Glass Maker's Daughter is book one in this series all set in Cassaforte. Book 2, The Bucaneer's Apprentice was published in April and book three The Nascenza Conspiracy will be published in early 2011. They all look really good: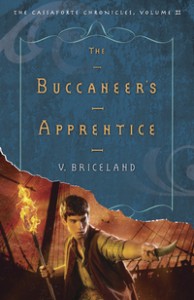 On his first sea voyage away from the magical city of Cassaforte, seventeen-year-old Nic Dattore awakens to find the vessel overrun by marauding pirates—and everyone else on board kidnapped or killed. After slaying the pirate who attacked him, Nic tosses a torch into a cache of gunpowder and blows up the ship.

Washed up on a deserted island, Nic and a motley crew of castaways decide to commandeer the pirate ship to get home. They battle pirates, assassins, and a cursed ship with a powerful secret while racing against time to save Cassaforte from a diabolical coup.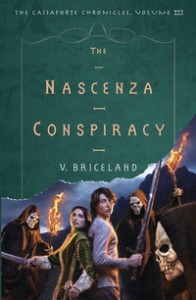 Petro Divetri—younger brother to famed sorceress Risa Divetri—wants to be left alone. His status as one of the seven ruling families in Cassaforte has saddled him with unwanted attention from bullies as well as those seeking favors.

When Petro and his best friend Adrio are sent to far-off Nascenza for the Midsummer rituals, they swap identities. Their prank goes awry when Adrio, mistaken for Petro, is kidnapped by loyalists seeking to overthrow the king. With the help of palace guard Emilia, Petro must rescue his friend and defeat a political plot that threatens to wipe out all of Cassaforte.
Verdict: The Glass Maker's Daughter marks the beginning of what I believe is a promising series of books set against the vivid background of Cassaforte. This first instalment has lovely writing, great political intrigue, adventure and believable romance.
Rating: 7 – Very Good, leaning towards 8
Reading Next: Gentlemen by Michael Northrop