It is day 4 of the BBAW 2010, and today's suggested blogging topic is:
Forgotten Treasure
Sure we've all read about Freedom and Mockingjay but we likely have a book we wish would get more attention by book bloggers, whether it's a forgotten classic or under marketed contemporary fiction. This is your chance to tell the community why they should consider reading this book!
Ana's Pick:
I don't even have to think twice to answer this question. I am going not with a book but with an author that I think is criminally under-read and under-reviewed around the blogs: Jaclyn Moriarty.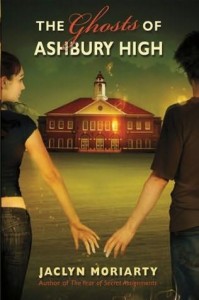 I picked my first Moriarty book – The Ghosts of Ashbury High – on a whim based purely on the cover and title of the book and OH MY GOD. It was insta-love. It is definitely one of my top 10 books of 2010 and after reading it, I went and bought all of her books in the Ashbury/Brookfield series and guess what, they are all equally awesome. All of them are epistolary novels, with great plotting, awesome flawed characters (most of them female) , very funny and thoughtful.
From me to you, here is a plea: give her books a go! You can start with Ghosts of Ashbury High and go from there. Go on, you know you want to!
Thea's Pick:
Last year I mentioned one of my all time favorite novels, Mara, Daughter of the Nile – a book published in the 1950s and still in print today – and I think that will always be my go-to for underrated, forgotten book. Eloise Jarvis McGraw's tale of a slave turned spy turned double agent in ancient Egypt is one of the most beautifully detailed, suspenseful, romantic books I have ever read and it is a damn shame that the book is not more well-known. (Check out Ana's review – on a dare – HERE)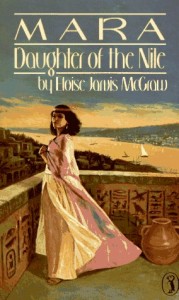 BUT, since I always push Mara, I'll talk about another series, too (in the same Egypt-vein). That is, the ineffable Amelia Peabody, her loving husband Emerson, and their precocious son Ramses.
Ana and I love the Amelia Peabody books. They are utterly delightful – the history is impeccable (as Ms. Peters is a prominent Egyptologist, it should be!), the plotting deft, and the humor unparalleled. Amelia Peabody is one of my favorite heroines in the history of fictional heroines, her trusty parasol ever ready, her acerbic wit brandished at the slightest provocation. In an age where Gail Carriger's Parasol Protectorate is so popular, I would strongly encourage any fans to go out and read the ORIGINAL with Amelia Peabody. Ms. Carriger's books are fun, but Amelia Peabody would kick washed-out copycat Alexia Tarabotti's ass any day of the week (meanwhile, Emerson – with Ramses' help, naturally – would easily brush aside his own doppelganger, Lord Maccon).

How about you? Any books or authors you think deserve more attention? Hey, an idea: leave a comment with suggestions and we promise to try and read them if we haven't already!