Hello all! Today we bring you another author spotlight on The Book Smugglers, with the debut urban fantasy novelist Sonya Bateman!
Sonya is the author of Master of None – a book about a singularly unlucky thief, a Djinn, and a mission to save the world.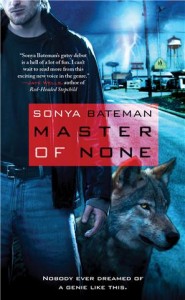 ONE UNLUCKY THIEF. ONE UNLIKELY GENIE. ONE VERY ODD COUPLE.

Gavyn Donatti is the world's unluckiest thief. Just ask all the partners he's lost over the years. And when he misplaces an irreplaceable item he was hired to steal for his ruthless employer, Trevor—well, his latest bungle just might be his last. But then his luck finally turns: right when Trevor's thugs have him cornered, a djinn, otherwise known as a genie, appears to save him.

Unfortunately, this genie—who goes by the very non-magical name of "Ian"—is more Hellboy than dream girl. An overgrown and extremely surly man who seems to hate Donatti on the spot, he may call Donatti master, but he isn't interested in granting three wishes. He informs Donatti that he is bound to help the thief fulfill his life's purpose, and then he will be free. The problem is that neither Donatti nor Ian has any idea what exactly that purpose is.

At first Donatti's too concerned with his own survival to look a gift genie in the mouth, but when his ex-girlfriend Jazz and her young son get drawn into the crossfire, the stakes skyrocket. And when Ian reveals that he has an agenda of his own—with both Donatti and the murderous Trevor at the center of it—Donatti will have to become the man he never knew he could be, or the entire world could pay the price. . . .

Check out our review of Master of None HERE. In honor of her debut release, we Smugglers are having the lovely Sonya Bateman over for an interactive Q&A and a chance to win her books! We have TEN copies of Master of None up for grabs. Entry is easy and simple, per usual – just leave a comment here asking Sonya a question (about her series, her writing process, Tim Burton obsessions, etc). The contest is open to residents of the US and Canada only, and will run until Saturday, April 24th at 11:59PM (PST). Good luck!
Please and give a warm welcome to Sonya Bateman!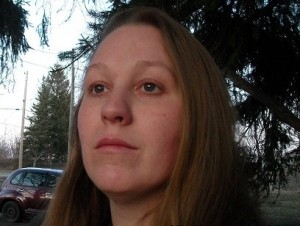 Hello there! Thea and Ana, thanks so much for having me over. I'm excited to be talking with y'all! (No, I'm not Southern, but I do have a lot of cousins down that way…) Even though I'm a new kid on the mainstream urban fantasy block, I've been at this writing thing for a long time – and I'm open to questions about anything, writing-related or otherwise. Maybe you want to know why I wrote MASTER OF NONE in first person from a male character's POV, or how I came to write about djinn, or the scintillating story of my bleeding to death the day I got "The Call" from my agent. Or maybe you're interested in my drawn-out attempt to learn Japanese, or my rubber skull collection (some of them glow in the dark!), or how I spend my free time (drinking coffee, mostly). So, bring on the questions – as Johnny Depp said in CORPSE BRIDE: "I have a… dwarf… and I'm not afraid to use it!"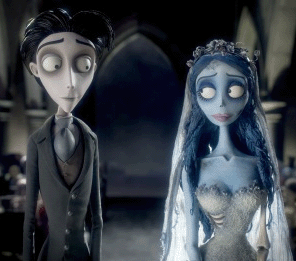 Sonya Bateman lives in upstate New York, where there are two seasons: winter, and construction. Her home is shared with a husband, a son, three very strange cats, and a gerbil with half a tail. She enjoys reading and swimming, and wishes there were some feasible way to combine the two.
In addition to spending a lot of time writing, she is attempting to learn how to speak Japanese. So far, she can say hello, thank you, and why don't we go to your place for a drink? She does not plan to speak to any native Japanese speakers with her limited vocabulary at this time, as the conversation may lead in the wrong direction.
You can contact her at sonya@sonyabateman.com
You can read more about Sonya online at her website.