Author: Susan Beth Pfeffer
Genre: Post-Apocalypse, Dystopia, Young Adult
Publisher: Harcourt
Publication Date: April 2010
Hardcover: 256 pages
It's been a year since a meteor collided with the moon, catastrophically altering the earth's climate. For Miranda Evans, life as she knew it no longer exists. Her friends and neighbors are dead, the landscape is frozen, and food is increasingly scarce.

The struggle to survive intensifies when Miranda's father and stepmother arrive with a baby and three strangers in tow. One of the newcomers is Alex Morales, and as Miranda's complicated feelings for him turn to love, his plans for his future thwart their relationship. Then a devastating tornado hits the town of Howell, and Miranda makes a decision that will change their lives forever.
Stand alone or series: Book 3 in the "Last Survivors" (formerly referred to as the "Moon Crush") trilogy
How did I get this book: Bought
Why did I read this book: This is one of my all-time favorite series' period. Life As We Knew It is one of my favorite novels, and was far and away the best book I had read in 2008. Its companion novel, the dead and the gone was a close second. Needless to say, I anxiously awaited this third and final volume in the series with bated breath. I. Love. This. Series.
Review:
It has been a full year since the moon was struck by an asteroid, pushing its orbit closer to the Earth and unleashing a string of natural disasters. The increased gravitational pull meant tidal waves, extreme weather, and volcanic eruptions on Earth, leading to a global atmosphere of ash that prevents any sunlight from penetrating. In turn, this caused temperatures plummet, crops to fail, and famine and outbreaks of disease became commonplace. In the months following the moon impact, Miranda and her family have undergone a dramatic change in lifestyle in their desperate struggle to survive in the Pennsylvania countryside, as detailed in Life As We Knew It. In the dead and the gone, these same catastrophic events are observed through the eyes of a young man named Alex, and his struggle to protect his younger sisters, search for his missing parents, and stay alive in a drowning New York City.
This World We Live In shifts the timeline of the trilogy forward as it completes the story of both prior protagonists. Miranda narrates the tale once again, relating day to day events through her diary. The one year mark brings dramatic changes to life at home as their family grows in members – both older, familiar faces and some new ones are thrown into the mix. As Miranda and her family try to adjust to the increase in people, they also must worry about their future together as a unit – especially when food begins to run low, and weekly distributions from the town may dry up.
This World We Live In is a terrifying return to a dying world, ravaged by starvation, choked in a blanket of relentless gray. And part of the reason why it, and its predecessors, works so well as a novel is because of the strength and unexpected beauty of Ms. Pfeffer's writing style, and her flawed, tested, painfully genuine characters. What I loved a whole bunch about the first two books in this series was observing the catastrophic disaster of the moon through narrator Miranda and Alex's eyes – in Life as we Knew It, the consequences of the impact piled up unexpectedly, hypnotically, whereas in the dead and the gone, we got to see those same events occur in a much more devastating setting (New York City). Ms. Pfeffer's characters are the standouts in this book, as the shock and novelty of her apocalypse takes a backseat. I do have to say that I missed the initial fear and chaos, the novelty of the disaster that played such a large role in both prior books and was (understandably) not present in this third book. That said, the continued explication of characters is what sets this book apart and makes it work.
Miranda, in her return to narration, has grown and changed in many ways since she was the basically carefree girl of sixteen in Life as We Knew it. Her narrative voice, as read through her journal entries, is searing, soul-searching stuff. She's brutally honest about her emotions (because if you can't be in a journal, where can you be?). It's interesting too because the journal also means everything's a little skewed, slanted and filtered through Miranda's perspective. Her struggles in this third book are significant and poignant – especially in her interactions and strained interactions with her mother.
After reading Alex's story, however, I should mention that it becomes painfully clear just how good Miranda has it, even though her life is by no means ideal – and as such, her conflicts and problems seem more trivial and immature in comparison. Which, I suppose, was Ms. Pfeffer's point as we readers of the series know, things for Miranda and her family could be much, much horrendous. This is in part what makes Miranda such a realistic character – because isn't it human nature to think of one's own situation before anyone else's? Even after meeting Alex and Julie as they are brought to the home thanks to Miranda's father and stepmother, no one in the Evans family truly knows the horror of what Alex has been through.
One other thing I loved so far as characters are concerned was how the relationships in this third book evolved and reflect a gritty sense of realism with regard to the setting. Tensions within the Evans household are understandably high, almost all the time. And I love that even though there is "romance" in this book, it's not the type of teen romance so often read about in YA novels (especially of the teen vampire/paranormal variety). Like everything else in this post-apocalyptic world, "love" has evolved and developed a new definition. Matt and Syl, and Miranda and Alex take what they can get, while they can get it – as Miranda remarks at one point in the book, this may be her only chance at happiness, and she's not going to waste it. I really, really liked that. No love triangles, no pointless fluffy angst or silliness. Just brutal honesty.
While I did love each of the characters and was moved by Miranda's narration, This World We Live In was not of the caliber of its predecessors. The introduction to new characters all a bit to nice and well-tempered and easy. There's little animosity towards these newcomers, which strikes me as false, especially considering the dire food situation. Also, there's the lack of description or explanation as to how the troupe of Miranda's Dad, Lisa, baby Gabriel, Charlie, Alex, and Julie have traveled HUNDREDS of miles on foot and in amazingly good time across a barren, unforgiven, foodless, presumably bandit-laden landscape. It reads a little off – at the very least, I would've liked to have read more about it.
Another major issue I had with this novel was how quickly all the big things occur. The second half (actually, the last third) of the book feels incredibly rushed. For example, in the (completely misleading) blurb, the tornado mentioned does not appear until the last few pages of the book! The meat and potatoes of the plot – the big decisions each character makes are barely discussed and simply accepted as givens on the next page. The aftermath of the tornado in particular was hard to swallow because it felt so rushed, and thereby rang as exploitative and unnecessary. But that's just my personal opinion.
Most importantly, however, I was sorely disappointed that we didn't get Alex's perspective at any point in this third novel. As a fellow diligent journal keeper, it would have been awesome to have his narrative juxtaposed with Miranda's – and since we didn't get his voice, I felt like Alex was a different, remote character in this book. I'll say it again: NO ONE knows what he and Julie have been through. I also felt there was a tiny bit of a lapse in continuity – while Miranda talks about Mrs. Nesbitt at length, she never mentions or even thinks about her friend Megan from the first novel. Similarly, because we are deprived of Alex's narrative, we never hear about poor Brianna (Alex's sister, who passed away in book 2). Alex has some deep, resounding darkness because of everything he's been through and his desire to get Julie to safety is all the more understandable because of the family's past – and I wish we could have seen that.
Notable Quotes/Parts:
After a while you get used to being cold, and hungry, and living in the dark.

But you can't get used to losing people. Or if you can, I don't want to. So many people in the past year, people I've loved, have vanished from my life. Some have died; others have moved on. It almost doesn't matter. Gone is gone.
You can read more about This World We Live In at Susan Beth Pfeffer's blog for the book, and on the book's official Harcourt page.
Additional Thoughts: On one final note, this has something that's been bugging me in the blurb for the book and in reviews I've seen. There's an important difference between an asteroid, a meteoroid and a meteor – the object that hits the moon in these books is either an asteroid or a meteoroid. Meteors are small particles from an asteroid or comet orbiting the sun that are observed as they burn up in the Earth's atmosphere (i.e. a shooting star). Hence, the astral body impacting the moon – by definition – cannot be a meteor. It is either an asteroid (that is, a relatively small, inactive body, composed of rock, carbon or metal, which is orbiting the Sun) or a meteoroid (that is, a small particle from a comet or asteroid orbiting the Sun).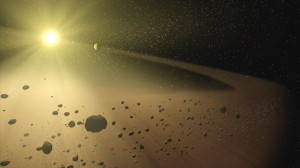 Just a point of clarification from an astro-nerd! (If you want to read more about the difference between asteroids, meteors, meteoroids, meteorites, and comets, check out the handy FAQ NASA has online)
Verdict: Overall, This World We Live In is another potent, harrowing, and very dark story that makes for a fitting, dramatic end to the trilogy. There's room for more and future narratives (I, for one, would love to read baby Gabriel's story set much later in a future book), but if it all ends here, that's ok with me too. While This World We Live In might not be as resonating as the first book, nor as haunting as the second, it's still an awesome read that I wholeheartedly recommend to all.
Rating: 8 – Excellent
Reading Next: Silver Borne by Patricia Briggs