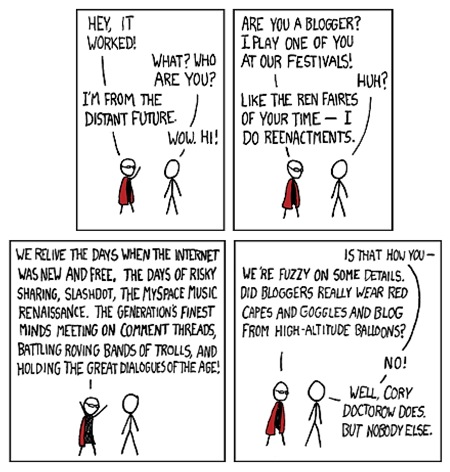 A few weeks back, we had an official Reader Survey, in which we asked for your input for content here on The Book Smugglers. One comment we received got the wheels a-grinding, and since we love these specials like this over at A Dribble of Ink and Harry Markov's Reviewer Time, we've decided to hold our very own "On The Smugglers' Blogroll" feature.
Every month, we will showcase two blogs – one old favorite from our blogroll, and one newly discovered blog. These will usually be book-centric blogs (since, hey, that's what we do!), which we will be drawing your attention to because they are that damn good.
For our inaugural On The Smugglers' Blogroll post, we've got old favorite Fantasy Cafe and newly discovered Jawas Read, Too!.

FANTASY CAFE

Fantasy Cafe is run by the truly awesome Kristen, a fellow female book nerd, dedicated to in-depth reviews of novels of the fantasy persuasion (though she also reviews some Science Fiction, Urban Fantasy, and Young Adult, amongst other genres).
You might notice that we reference Kristen and her reviews a whole bunch here on The Book Smugglers. It's for good reason – Kristen writes some of the most informative, concise, and entertaining reviews out there. We've had Kristen over for Smugglivus twice, we've guest blogged over at her site, and we've had her over here for guest reviews.
It's no secret that we are huge fans. If you haven't checked out Fantasy Cafe yet, you really should get over there and dig in. Kristen, quite frankly, rocks.
Favorite Reviews:
The list goes on…
JAWAS READ, TOO!

Jawas Read, Too! is a blog we've only just discovered – and have quickly bookmarked and fallen in love with. Erika, the Jawa-phile behind the blog, has an eclectic taste in books that matches our own, with a focus on Science Fiction & Fantasy. Her recent reviews include Still Alice by Lisa Genova, Perchance to Dream (Theatre Illuminata book 2) by Lisa Mantchev and Extras by Scott Westerfeld.
Erika's reviews are thorough, include plenty of examples from the text under scrutiny (which is always helpful), and she also offers commentary on publishing news, literary awards, etc. Seriously cool stuff.
Plus…how awesome is the title of her blog? Who doesn't love Jawas? We *love* her answer to the question "Do Jawas Really Read?":
Yes, frequently. They've got an eclectic taste–as I'm sure you do, too! Found within the junk heaps of the Jundland Wastes of Tatooine are the hidden gems they never expected to be quite so shiny. And then the excitement begins: much chittering, squeaking, and hand waving.

Have you ever felt the same way browsing in a bookstore? I have. If this sounds familiar, settle down, get comfy, and share my excitement (or unexpected let downs)!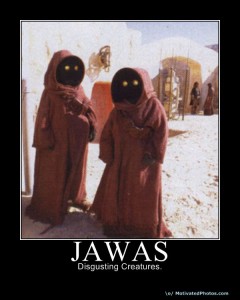 Jawas: A grossly misunderstood species
We likey.

And that concludes our first ever "On The Smugglers' Blogroll" showcase! Now we ask the question to you, dear readers! What blogs do you read? Have you discovered any new, noteworthy sites? Let us know if you have or know of a blog that you'd like to see featured on next month's edition of On The Smugglers' Blogroll…