Title: Never Let Me Go
Author: Kazuo Ishiguro
Genre: Speculative Fiction, Literary Fiction
Publisher: Faber and Faber (UK) / Vintage (US)
Publication Date: March 2005 (UK) / March 2006 (US)
Paperback: 304 pages
Stand alone or series: Stand alone novel.
How did I get this book: Bought.
Why did I read this book: I've read Mr. Ishiguro's The Remains of the Day and loved it, but since have not returned to his literary pasture. I picked up Never Let Me Go on a whim in the bookstore, craving a meaty, substantive, speculative fiction read, and I hoped that this book would deliver. Plus, I'm shallow in that I saw the cover and the catchy title, and was instantly intrigued.
Summary: (from amazon.com)
From the Booker Prize-winning author of The Remains of the Day comes a devastating new novel of innocence, knowledge, and loss. As children Kathy, Ruth, and Tommy were students at Hailsham, an exclusive boarding school secluded in the English countryside. It was a place of mercurial cliques and mysterious rules where teachers were constantly reminding their charges of how special they were.
Now, years later, Kathy is a young woman. Ruth and Tommy have reentered her life. And for the first time she is beginning to look back at their shared past and understand just what it is that makes them special–and how that gift will shape the rest of their time together.
Review:
Kathy H. is a thirty-year old carer and a graduate from a secluded, elite academy called Hailsham. In an alternate 1990s England, Kathy prepares herself for the next stage of her life as a donor and reminisces about her past as a student and her childhood friends Ruth and Tommy. Written in a deceptively direct and uncomplicated narrative, Mr. Ishiguro writes a haunting, elegiac tale about the meaning and mystery of life. The subject matter of the novel and plot is straightforward, as bluntly simply as Kathy's narration: three young friends grow up in an idyllic school in the English countryside, where they are encouraged to create works of art while they learn about the world and their place in it. The book is split into three different parts, each representing a stage in Kathy's life. Part one begins with her time as a student at Hailsham, where she befriends Ruth and Tommy, and part two follows these three friends as they graduate and move to The Cottages to live with other alumni from similar academies across the country. In part three, Kathy has become a carer, and she, Ruth and Tommy cross paths once more. All this reminiscing leads up to an ultimate, haunting fourth act (Kathy's transition from a carer to a donor), but it is one that we do not read on the page. As Kathy's memories and the truth about her childhood coalesce into a larger, sharper picture, Never Let Me Go becomes a heartbreaking fictional memoir that asks resounding questions about the nature of humanity, and the depths of the human soul.
The only other book I have read by Mr. Ishiguro is his Booker Prize winning novel The Remains of the Day, in which a butler named Stevens blindly and proudly absorbs himself in his profession, to the extent that he alienates the woman he loves, his father, and is blind even to the tendencies of his Nazi sympathizing employer. In Mr. Ishiguro's sixth novel, Never Let Me Go, he explores similar territory with his characters that are so consumed by the subtext and minutia of their cliques and daily lives that they never notice the larger picture – but the readers do. And what an ominous picture it is.
Never Let Me Go is a book about characters, but it also treads into the realm of dystopian speculative/science fiction. I won't spoil exactly HOW this novel falls under the SFF umbrella (even though it becomes suspect from even a few chapters in); suffice to say that it does, and Never Let Me Go does it in the tradition of Margaret Atwood, Cormac McCarthy – but sans any literary pretentiousness. And, like the best works of the dystopian cannon, the strength of the novel lies not just in some catchy premise or flashy plot techniques, but rather in the strength of its characters. This isn't M. Night Shyamalan, where the impact of the story relies on one huge twist; rather, the beauty of Mr. Ishiguro's work is in quiet revelation and thought-provoking subtext.
As such, Never Let Me Go is a character driven novel. Built entirely on the first person narrated memories of Kathy, this is a book that is breathtaking in its subtlety. Each of the three friends are gorgeously drawn in Kathy's memories and Mr. Ishiguro's direct prose. Ruth, the forceful, outgoing ringleader of the girls at Hailsham becomes Kathy's best friend, and their relationship is stretched and tested as they grow up. Tommy is an outsider at the academy with his fiery temper and unpredictable tantrums, but he too becomes Kathy's good friend and confidante, as she reaches out to him. Kathy herself is revealed to be the quiet member of the group, not as strangely angry as Tommy nor a leader like Ruth, but keenly observant. Kathy's entire narrative is constantly preoccupied with the small subtleties of her friendship with the domineering Ruth, her social standing at Hailsham, and her initial worry for Tommy. At first, it seems that this novel is much ado about nothing, taking place entirely in Kathy's mind with her myriad perceptions of the nuanced power politics of female cliques. But as Kathy's narrative progresses and the characters gain more color and the backdrop of Kathy's world comes into focus, significant, impossible to ignore questions about the nature of the human soul are raised. Are Kathy, Ruth, and Tommy's interactions "normal"? Why wouldn't anyone in their situation simply try to run away – or is it simply human nature to accept what limitations and rules you are taught from birth? There are many interpretations possible with this novel, which is part of its beauty. Add to this the sparse, forthright and unconsciously gorgeous writing of Kazuo Ishiguro, and it's easy to see why this novel was shortlisted for the Booker Prize.
Never Let Me Go is easily one of the finest novels I've read this year, of any genre. Even better, in my opinion, than The Remains of the Day. This is what reading is all about.
Notable Quotes/Parts: From Chapter 1:
My name is Kathy H. I'm thirty-one years old, and I've been a carer now for over eleven years. That sounds long enough, I know, but actually they want me to go on for another eight months, until the end of this year. That'll make it almost exactly twelve years. Now I know my being a carer so long isn't necessarily because they think I'm fantastic at what I do. There are some really good carers who've been told to stop after just two or three years. And I can think of one carer at least who went on for all of fourteen years despite being a complete waste of space. So I'm not trying to boast. But then I do know for a fact they've been pleased with my work, and by and large, I have too. My donors have always tended to do much better than expected. Their recovery times have been impressive, and hardly any of them have been classified as "agitated," even before fourth donation. Okay, maybe I am boasting now. But it means a lot to me, being able to do my work well, especially that bit about my donors staying "calm." I've developed a kind of instinct around donors. I know when to hang around and comfort them, when to leave them to themselves; when to listen to everything they have to say, and when just to shrug and tell them to snap out of it.

Anyway, I'm not making any big claims for myself. I know carers, working now, who are just as good and don't get half the credit. If you're one of them, I can understand how you might get resentful—about my bedsit, my car, above all, the way I get to pick and choose who I look after. And I'm a Hailsham student—which is enough by itself sometimes to get people's backs up. Kathy H., they say, she gets to pick and choose, and she always chooses her own kind: people from Hailsham, or one of the other privileged estates. No wonder she has a great record. I've heard it said enough, so I'm sure you've heard it plenty more, and maybe there's something in it. But I'm not the first to be allowed to pick and choose, and I doubt if I'll be the last. And anyway, I've done my share of looking after donors brought up in every kind of place. By the time I finish, remember, I'll have done twelve years of this, and it's only for the last six they've let me choose.
You can read the full excerpt online HERE.
Additional Thoughts: Never Let Me Go is currently being adapted to film. And, since it's a bigger UK movie, it's predictably starring Keira Knightly as Ruth *gags* In the protagonist role of Kathy is Carey Mulligan, from Public Enemies, and Tommy is portrayed by Andrew Garfield, from Lions From Lambs. Alex Garland, whose resume includes The Beach, 28 Days Later, Sunshine and the upcoming movie adaptation of Halo, pens the screenplay. And, at the helm as director is Mark Romaneck, whose work mostly comprises music videos and the sole movie One Hour Photo…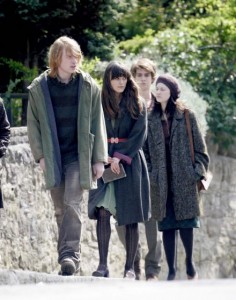 From L to R: Andrew Garfield, Keira Knightly, and Carey Mulligan
The movie has already begun filming, with a release date of 2010. I'm more than a little iffy about the whole thing. Alex Garland's screenplays – while good, action-packed fun – lack the subtlety and emotional gravitas that makes Never Let Me Go such a beautiful book, and while One Hour Photo was a decent film, it doesn't quite convince me of Mark Romaneck's directorial skills.
I strongly urge everyone to read the book, PLEASE, before seeing the movie.
Verdict: I loved Never Let Me Go. It's a book that resonates long after you finish it, and makes you remember why you fell in love with reading in the first place. Absolutely recommended.
Rating: 10 – Perfection
Reading Next: On the Edge by Ilona Andrews