Yesterday the shortlists for the Book Blogger Appreciation Week Awards were released and we made the final ballot for three categories!! (Woohoo! Yay! Oba!) They are (if you click on each of them you will be able to see examples of posts for each category) :
Best Graphic Novel Review Blog
Best Collaborative Blog
Most Humorous/Funniest
How cool is that? We love the categories we have been shortlisted for and it is a great honor to be nominated amongst these blogs. You can check all of the other categories here – and then show your appreciation for your favourites! Voting closes Saturday September 12 at 11:59 PM EST.
So, we are here to celebrate our inclusion on the final ballot, but mostly we would like to give our own two cents about the Awards and about BBAW and why we are 100% behind the whole thing.
On The Awards
We are sure a lot of people are wondering about the awards, especially about the fairness of the nominations and the final shortlists (especially given the numerous online brouhahas). We can certainly understand some of the misgivings – there should have been more information about the process available on the official website (for example, what are the criteria for nominations and exactly how the blogs are being judged to the public). There were also some concern about the way some of the nominees were contacted as though it was assumed that the entire Internets knew what the BBAW were – which is an unreasonable assumption of course, given how the Internets is like, IMMENSE.
But you know what? BBAW is in its infancy and as such it's still going through a trial period and a lot of things need to be tweaked. We believe that to completely dismiss it as "only another one of those meaningless awards" is to use an inaccurate description – because it's not. This is not a Premio Dardos award or a Kreativ Blog award – these awards are really nice and everything, but are memes based mostly on an individual's choice (and usually along the lines of, "Well, [so and so blogger] has not gotten this meme/award yet, so I'll give it to him/her"). BBAW Awards, on the other hand, are honest to goodness awards with open nominations and a judging panel of impartial volunteers who go through an extensive process to rank each nominee.
We Book Smugglers are in no way connected with the official organization of the BBAW Awards, but we were involved with the shortlisting process. Both Thea and Ana were invited to be judging panelists (and no, we were not judging categories that we were nominated for!) – Ana was on the panel for Best Mystery Blog and Thea was on the panel for Best Cultural Review Blog. When we accepted we had no idea at how much work was involved. Seriously, people, you have NO IDEA how strenuous the process is. We know there were other 4 judges on the panel with us (it's 5 per category), but we have NO IDEA who they were. Rest assured, we did not trade secret emails, currying favorites amongst the nominees.
We each received an Excel spreadsheet with all the blogs nominated – and this means EVERY. SINGLE. NOMINEE. Many of which were inappropriate for the category, we might add! – and the 5 links they submitted for evaluation. Ana's spreadsheet had more than 40 blogs and Thea's more than 50. Then each blog had to be evaluated according to 16 different criteria ranging from 'spelling/grammar,' 'original content' and 'fresh perspective' to 'ease of navigation' and 'audience engagement.' It was a lot of work, and we think it was a pretty fair process given the anonymity of the panelists, not to mention the fact we were judging book blogs that are outside of our normal range of reads (so we were not tempted to play favorites with bloggers we already knew). We'd assign each blog a numerical score for each criterion, and the sum totals of all the judges' scorecards determined the who made the shortlist nominations.
We are sure someone somewhere is thinking: "But who makes these decisions? Who chose the judging criteria?" Which is fair enough, and these questions should be asked if we aim for an honest award that means something. The judging criteria were compiled by Amy and the wonderful crew of tireless BBAW runners, and ultimately the shortlists are a numbers game – the blogs with the highest scores make it on to the final ballot. Is this a completely fail-proof process? NO. Are there flaws? YES.
But, the thing is, the Awards? They are only a part, a SMALL part, of what Book Blogger Appreciation Week is all about. And to concentrate on them is really to lose sight of what really matters here.
Book Blogger Appreciation Week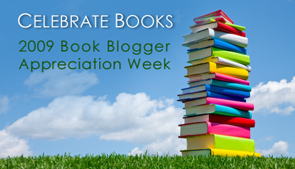 The title says it all. Book Blogger Appreciation Week is a week-long event to celebrate books, reading, and most of all blogging. Simple as that. It started last year in 2008 and it was run by the [wonderful!stupendous!herculean!] Amy from the blog My Friend Amy, and it has expanded in such a way that this year (the mere second year of its existence, BBAW v2.0) has over 1000 blogs taking part. That's a lot of blogs. Did we mention that those participating are all volunteers, doing this out of a genuine love for reading, writing and blogging? That's a lot of work!
Over the course of the week, the aim is to celebrate what we book bloggers are all about. There are suggested daily blogging topics that EVERYONE can participate in by way of adding your post links at the BBAW official website every day.
For example, on Monday, you can talk about your favorite blogs that did not make the final award ballots. On Tuesday, there will be blogger interview swaps, and so on and so forth. For the entire list of suggestions, check out the official list HERE.
We will be posting every day following the daily topics and we encourage all of you to participate! You do not have to vote for the awards, or be nominated for an award, or have anything to do with the awards to be a part of BBAW! In fact, you can pretty much ignore the awards and make it all about connecting with other like-minded people, if you want. The awards are the icing on the cake, the last leg of BBAW – as with, say, the RWA Nationals each year, the awards are part of the closing ceremony at the end of the convention. They're a great way to celebrate, but the real fun is in the convention itself.
The spirit of Book Blogger Appreciation Week is to connect, make new blogging buddies, and discover new, wonderful blogs in this vast ocean that is the Internets. It is about celebrating our community and communicating with people you wouldn't otherwise know, and sharing our experiences and ideas – it is an extrapolation or rather, a concentration of everything NICE and AWESOME that blogging is supposed to be in ONE SINGLE WEEK.
In short, it is about having FUN. Isn't that why we are all here anyways?
(Now, please go vote for us! Pretty Please?)