Welcome to stop #12 on Kristin Cashore's "Getting to know the characters of Fire" Blog Tour!
If you haven't heard of young adult sensation author Kristin Cashore, you must have been living under a rock for the past year. Her debut novel, Graceling took the fantasy world by storm (both adult and young adult alike), shortlisted and winner of many prestigious awards. We loved Graceling and its prequel/companion novel Fire was one of our most highly anticipated books of 2009.
About the Book:
She is the last of her kind…

It is not a peaceful time in the Dells. In King City, the young King Nash is clinging to the throne, while rebel lords in the north and south build armies to unseat him. War is coming. And the mountains and forest are filled with spies and thieves. This is where Fire lives, a girl whose beauty is impossibly irresistible and who can control the minds of everyone around her.

Exquisitely romantic, this companion to the highly praised Graceling has an entirely new cast of characters, save for one person who plays a pivotal role in both books. You don't need to have read Graceling to love Fire. But if you haven't, you'll be dying to read it next.
Not only did Fire manage to live up to the hype surrounding its release – it managed to surpass it, earning five starred reviews, as well as a 9/10 rating here on The Book Smugglers.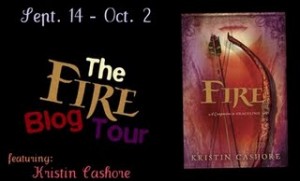 When we were invited to host a day of the Fire book tour, naturally we were ecstatic. Today, we are proud to introduce you to THREE fantastic new characters (some of our favorites from the book, in fact):
Musa, Mila, and Neel are just three of Fire's extensive guard; they spend their days stopping people from killing her. Musa, calm and reliable, is in charge of the others. Mila is… well, she's reliable, too, but perhaps a bit distracted these days… and Neel is a steady, comforting presence who can always be called upon to produce handkerchiefs in an emergency.
You're intrigued, aren't you? Well, it gets better. You can check out a full, 40 page excerpt from Fire below.
The Excerpt:
The Countdown Widget:
And, of course…
THE GIVEAWAY:
We are offering ONE autographed copy of Fire to a lucky winner! The contest is open to residents of the US and Canada only. In order to enter, simply leave a comment here telling us who your favorite young adult novel heroine is.
Also, we'll be awarding EXTRA ENTRIES for the following:
+1 for twittering a link to this contest and including the hashtag #firetour (please tell us you did so in an extra comment for it to count)
+1 for embedding the FIRE eBook sampler on your blog with a link to this contest (please tell us you did so in an extra comment for it to count)
+1 for embedding the countdown widget on your blog with a link to this contest (please tell us you did so in an extra comment for it to count)
FOR EXAMPLE: If you have entered the contest, twittered the topic, embedded the eBook sampler and the countdown widget on your blog (including links to this post), you should have left us FOUR COMMENTS here (one per action). Voila, you have been entered four times into the contest.
Other multiple entries that do not follow the rules specified above will be disqualified. If you have done all the embedding and linking and tweeting, but have only left us with one comment, you will only be entered one time into the giveaway – so don't shortchange yourself!
The contest will run until October 3rd at 11:59 PM. We will randomly select and announce our winner on October 4th. Good Luck!