This is a Powerpuff Girls review: Ana, AKA Bubbles, reviews the book here. Her friend Katie, AKA Blossom reviews at her place. Meanwhile Thea, AKA Buttercup is still AWOL.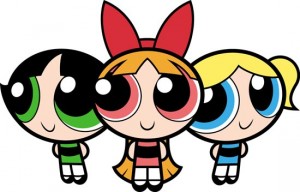 Title: Surrender of a Siren
Author: Tessa Dare
Genre: Romance (Historical)
On the cover: Tessa Dare scored with the Cover Gods for this entire series. I love it.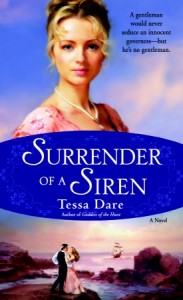 Publisher: Ballantine Books
Publishing Date: August 25, 2009
Paperback: 400 Pages
Stand Alone or series: book 2 in a planned trilogy but I had no problem reading this without having read the first book. Book one Goddess of the Hunt was released last month and book three, A Lady of Persuasion will be released in September. (I plan to read book one ASAP now.)
Summary: Desperate to escape a loveless marriage and society's constraints, pampered heiress Sophia Hathaway jilts her groom, packs up her paints and sketchbook, and assumes a new identity, posing as a governess to secure passage on the Aphrodite. She wants a life of her own: unsheltered, unconventional, uninhibited. But it's one thing to sketch her most wanton fantasies, and quite another to face the dangerously handsome libertine who would steal both her virtue and her gold.
To any well-bred lady, Benedict "Gray" Grayson is trouble in snug-fitting boots. A conscienceless scoundrel who sails the seas for pleasure and profit, Gray lives for conquest–until Sophia's perception and artistry stir his heart. Suddenly he'll brave sharks, fire, storm, and sea just to keep her at his side. She's beautiful, refined, and ripe for seduction. Could this counterfeit governess be a rogue's redemption? Or will the runaway heiress's secrets destroy their only chance at love?
Review:
Ah. It is with a most satisfied heart that I start this review. Surrender of a Siren was the first romance book I read after a whole month reading nothing but YA and it was, I am glad to report, a most lovely read, perfect to ease me back into reading Romance.
"In fleeing the society wedding of the year, Sophia Hathaway knew she would be embracing infamy."
And lo and behold: Infamy goes by the name of Mr Grayson, or Gray. The owner of the ship Aphrodite where Sophia embarks as a paying passenger under the guise of a governess in route to Central America. She hides behind a new name, Miss Turner, concealing her past, her history, all in search of a new future. She runs from nothing extraordinarily dark but the prospect of a comfortable life and a passionless marriage which for Sophia were but a beautiful cage. Sophia dreams of passion, of love, of adventure and being an heiress provides her with enough courage to ruin her own reputation in exchange for all that.
And Gray would be the perfect man to give what she needs except for the small fact that Gray has a past of his own. A former Privateer (NOT a pirate!) with a most dreadful reputation as a man without word and without roots, Gray is trying to be respectful and not for himself, but for his family. Promises have been made to his half brother and sister, promises that he CAN NOT break. It is very important to him to correct the course of his life, to right the wrongs he did as the legitimate first son who made bad choices that soured his relationship with his siblings. He cannot, should not do anything to jeopardise his shipping line right now, and he cannot, should not surrender to the call of the siren that is his only paying passenger.
Oh, the amount of FUN to be had when one watches his struggle – be still my heart. Nothing melts my heart faster than a man who can't think when around a woman or who thinks only protective thoughts without even realising what he is thinking and feeling. Sophia is a true siren in which everything that she is calls to him: the way she talks, the way she thinks, the way she reacts to his presence. But it all goes so above and beyond the physical aspect: because Gray and Sophia are stuck inside a ship for weeks, they talk a lot, they exchange opinions, they listen to each other. Sophia is a painter and she starts drawing the sailors one after the other and the way Gray reacts to what he sees and to her skills is nothing but great because he SEES her effort and her talent but also he reads her paintings. I like this passage:
"he saw her charcoal sketch of young Davy Linnet. The perception in it, the attention to detail. And suddenly, Gray formed a vision of himself through those all seeing, artist's eyes. He saw an unshaven brigand, inches away from plundering an innocent governess who was far from home and full in her cups. A man poised to break his word to his only brother, again— as though it were an easy habit. A fraud in foppish boots, trying to buy his way into the graces of his sister and society because he lacked the merit to earn their respect. In that fraction of a second, Gray glimpsed his own portrait, and he did not like what he saw. He might never be the picture of respectability, but he'd be damned if the world would remember him like this."
And so he takes a step back because he really does want to change. But there is no stopping true love and even though there is nothing really unique in the premise above, Tessa Dare has such a lovely prose and such a humorous tone and ideas (the Goat Boat? Genius) which coupled with a marvellous execution of the storyline – both the romance and the secondary adventures on board- turned this into a very pleasant read indeed.
My one grippe is that the Conflict, when it came, felt very contrived. Things were developing so organically, so beautifully between the two of them, they were truly sharing their true selves and then there comes the wrench (the first one at least) and it didn't feel RIGHT. It was like an act of treason against the characters – but thinking back, maybe it meant that although Gray had already arrived to a place that Sophia wasn't yet ready to reach. Sort of inverted positions in which the man reforms first and the woman needs time to create courage to open up – because she might THINK that she is ready to embrace life at its fullest but maybe, just maybe she isn't. Having said that, once past this point, their relationship felt back in track and I even liked the over- the- top-yet-delicious ending.
Everybody knows that a HEA is a given when it comes to romance novels, but those of us in the know understand that the end is not really what matters. It's how you get there. To me, it is very important to see, to understand how and why a couple falls in love. By the end of Surrender of a Siren I knew with a certainty that they loved each other and why they did so; that Gray had found the redemption he sought, that Sophia found the freedom she wanted and that both found the acceptance they needed. I couldn't ask for much more than that.
Notable Quote/ Parts: I love GOOD, romantic first kisses scenes:
He was
"Not learning how to kiss, but learning why to kiss. Not in persuasion, not as a prelude to further liberties. Simply to discover the taste of her, delicate and fresh and exquisitely sweet. To tell her things he didn't dare express in words. To tell her things he had no words to express. He kissed her for no greater pleasure than to kiss, because at that moment, kissing her felt like the greatest pleasure imaginable."
Awwww.
Additional Thoughts: Don't forget to check KB's Review
And you can read an excerpt at the author's website: here
Verdict: I have one word for this book: Lovely. From the prose to the characters, Tessa Dare presented me with a lovely book.
Rating: 7 – Very Good
Reading next: The Hollow by Jessica Verday