Title: Pride and Prejudice and Zombies
Author: Jane Austen and Seth Grahame-Smith
Genre: Regency Romance, now with Ultra Zombie Mayhem!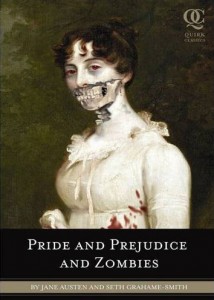 Publisher: Quirk Books
Publication Date: April 2009
Paperback: 320 pages
Stand alone or series: Stand alone novel, derived from Jane Austen's classic Pride and Prejudice.
Why did we read this book: It's like the best of both worlds, isn't it? We have a classic regency romance for Ana, plus the blood and guts and brain munching undead for Thea. It's like…this book was made for us. The mothership has called us home…
Summary: (from Amazon.com)
"It is a truth universally acknowledged that a zombie in possession of brains must be in want of more brains." So begins Pride and Prejudice and Zombies, an expanded edition of the beloved Jane Austen novel featuring all-new scenes of bone-crunching zombie mayhem. As our story opens, a mysterious plague has fallen upon the quiet English village of Meryton—and the dead are returning to life! Feisty heroine Elizabeth Bennet is determined to wipe out the zombie menace, but she's soon distracted by the arrival of the haughty and arrogant Mr. Darcy. What ensues is a delightful comedy of manners with plenty of civilized sparring between the two young lovers—and even more violent sparring on the blood-soaked battlefield as Elizabeth wages war against hordes of flesh-eating undead. Can she vanquish the spawn of Satan? And overcome the social prejudices of the class-conscious landed gentry? Complete with romance, heartbreak, swordfights, cannibalism, and thousands of rotting corpses, Pride and Prejudice and Zombies transforms a masterpiece of world literature into something you'd actually want to read.
REVIEW
First Impressions:
Thea: This book is exactly what I was expecting. As the title and ordering of authors on the cover suggest, this is Pride and Prejudice…with zombies. Mr. Grahame-Smith plays it safe by taking Jane Austen's classic romance verbatim, intruding only occasionally to mention "unmentionables" (zombies) and strategically inserting fight scenes. Oh and with some kickass illustrations too. It is, in short, utterly ridiculous…in a fantastic, hilarious way. Exactly what I was looking for.
Ana:Given my new-found appreciation for zombies, the moment I saw this book on sale, I thought I HAVE to have it. It sounded…ludicrous! Ridiculous! And just the thing I needed. I was hoping this was going to be so ridiculous, it would be hilarious and a good way to spend some hours. This book? It was a MAJOR disappointment.
On the Plot:
Thea: If you've read Pride and Prejudice, you will know this story. It is, verbatim, Pride and Prejudice.
When the Bennets hear that Netherfield has been let at last, and by an unmarried gentleman of substantial fortune, Mrs. Bennet is eager to procure a match for one of her six daughters. At the first ball of the season, Mr. Bingley takes a liking to the eldest Bennet, the lovely and warm-hearted Jane. Though his companion, the handsome yet standoffish and incredibly wealthy Mr. Darcy takes occasion to snub the second eldest daughter: our intrepid heroine, Elizabeth Bennet. An impossible attraction begins, with Mr. Darcy falling head over heels for the prejudiced, willful Lizzie, despite his haughty pride. Will she accept him? Will the Bennets find happiness at last?
But most of all, will the unfortunate nation of England be able to fend off the zombie hordes?
Many reviews I've seen of P&P&Z criticize the book for sticking too closely to the source material – which isn't a bad thing, in my opinion. You can't beat Austen for witty repartee, and the few times that Mr. Grahame-Smith does try to mimic Austen's dialogues and makes jokes (some ill-advised "balls" double entendres), he fails miserably. As such, I think he played it smart by sticking with the original material and tacking on a few key kung fu/ninja scenes here and there and some spicy zombie attacks to a few unfortunate characters.
Mr. Grahame-Smith's greatest offense is in the early portion of the novel, where initially he tries too hard to fit everything in, from puke jokes to eating still beating hearts. The blend of Regency sensibilities and the zombie plague isn't carried out very smoothly, and early in the novel the contrast is jarring. However, by the middle of the book, Grahame-Smith reigns in some of his over-exuberance and the brilliance of this cross-genre blending is fully realized. The only other nitpick I have concerning the writing was the confusion as to styles of fighting (why, for example, would a family trained in China have a "dojo" as their practice facility? A dojo is a Japanese practice facility. Shaolin Monks train in Shaolin Temple) — but that's just me being picky.
Yes, the Bennet sisters being versed Kung Fu masters that have trained in the Orient with the Shaolin Monks are ludicrous. Yes, Lizzie prancing around a room walking on her fingers in a handstand show of strength is laughable. But that's exactly the point.
Overall, this isn't a book to be taken seriously; it's a lighthearted, silly, delightfully gory romp.
**On a sidenote: I've heard that some claim this book to be boring. While I can understand this position from the perspective of a reader that has not read (or does not care for) Pride and Prejudice, I I am surprised to see any fans of the original making this claim! It is the exact same book, word for word — except certain phrases, such as "governess" are replaced with "unmentionables" or "ninjas". All of Austen's original story and dialogue is there, more or less unchanged.
Ana:I find the premise of this book is fantastic , I think the author (the one who is not dead) was very , very clever indeed to add zombies to the P&P world and I have no problems whatsoever with him using Pride and Prejudice verbatim . My problem is when he does it SO smartly as to make it serious. I explain myself: Grahame-Smith doesn't just add random zombie attacks to Pride and Prejudice. Oh noes, he actually goes through the trouble of making Regency England a time where people have grown used to zombies. It is part of their history already – in this book, the "plague" has started some 55 years in the past so every single character in the book was born into this reality. It is part of who they are.
So you have Mrs and Mr Bennet fighting because Mr Bennet wants his daughters to be Married to the Blade whereas Mrs Bennet just wants them to be married period. The fact that Mr Darcy has attended the highly acclaimed Japanese school of Martial Arts whereas the Bennets follow the Shaolin one, is another source of Pride and Prejudice against them. So, you have the same characters, with the same motivations BUT these motivations stem from a new perspective created by Grahame-Smith.
Do you see my problem here? He wrote the zombies into the story so cleverly that they are part of the background and not something new – which means that the characters can go about their business as usual with only a few, far and between mention of zombies. And the last part of the book (the last 90 pages or so) have so few zombies or zombie-related problems that it was PURE Pride and Prejudice.
Count me in as one of the people utterly bored with this book: because as much as I love Pride and Prejudice, I did not sign up to read it for the 100th time. I signed up to howl with laughter and even though there were a few very funny moments, I still think Pride and Prejudice and Zombies was more P&P than P&P&Z.
Having said that, I think this book would translate very well into a Graphic Novel or a movie. I think these are the best media for this story: the imagery of zombies in Regency England, or more "show" than "tell" would work wonders for this, as evidenced by the very cool illustrations in this novel.
On the Characters:
Thea: There isn't much to be said for the characters – as the book is the same Pride and Prejudice I've known and loved since first reading it in middle school. Except, possibly, Elizabeth Bennet is even cooler than before because she can throw knives, fight in a number of styles, and generally kick all kinds of ass. Her love of walking through the countryside, now overrun by unmentionables, takes on a new dangerous edge. Elizabeth is indeed a heroine with a warrior's heart, and I loved this new Kung Fu Master invocation of Lizzie. Darcy too is the same stiff hero, his appeal magnified by his own prowess at dispatching the undead. And of course, for his admiration of Lizzie's fine eyes and unmatched martial arts skill.
Perhaps the best surprises for me, however, were the modifications made to Lady Catherine and the unfortunately stricken Charlotte. Grahame-Smith's version of Lady Catherine as a formidable, legendary karate master is hilarious and wonderful, and it adds a whole new dimension to the haughty, wealthy old woman (see notable quotes below). I loved the final confrontation between her ladyship and Elizabeth; it is the stuff of legend. Further, I found giving Charlotte the zombie plague before she acquiesces to marry Mr. Collins was ingenious, and probably my favorite "changed" aspect of the book.
Ana:There isn't much to add to what Thea says, really. I too, found that Elizabeth Bennet being a kick-ass heroine was super cool and more than that: it actually fits with what we know of the character. I loved how she would follow a Warrior's Code and fought about beheading Mr Darcy once or twice.
I would say that Lizzie's thoughts and these characters'changes were what made this book more palatable. Just.
Final Thoughts, Observations, and Rating:
Thea: Certainly this isn't a groundbreaking literary achievement, but Pride and Prejudice and Zombies hit exactly the right spot with me. I wanted regency romance with characters I already know and love, and with only a few missteps, Mr. Grahame-Smith delivers. This novel is brilliant idea come to fruition with an engaging, delightfully silly final product.
And brains.
Ana:For me, this book did not deliver what I was hoping for. When I think how much I love the premise and everything that it COULD have been, it makes me want to cry with frustration.
I never thought I would be saying that, but there you have it: I wanted more zombies with my Pride and Prejudice and you know what would have been grand? If Darcy or Elizabeth had been turned and ended up eating each other's brains.
Notable Quotes/Parts:
Thea: In addition to the awesome cover art, Pride and Prejudice and Zombies features some sweet illustrations. For example: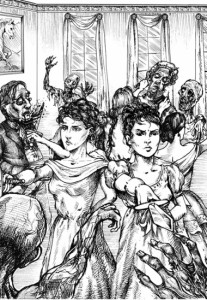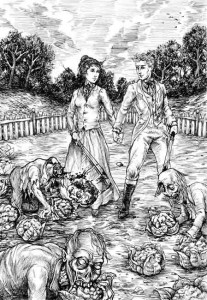 And here's a wonderful modified conversation between Elizabeth and Lady Catherine – fans of the original work can only giggle at the witty reworking:
"Mr. Collins tells me that you are schooled in the deadly arts, Miss Bennet."

"I am, though not to half the level of proficiency your Ladyship has attained."

"Oh! Then — some time or other I shall be happy to see you spar with one of my ninjas. Are you sisters likewise trained?"

"They are."

"I assume you were schooled in Japan?"

"No, your ladyship. In China."

"China? Are those monks still selling their clumsy kung fu to the English? I take it you mean Shaolin?"

"Yes, your ladyship; under Master Liu."

"Well, I suppose you had no opportunity. Had your father more means, he should have taken you to Kyoto."

"My mother would have had no objection, but my father hates Japan."

"Have your ninjas left you?"

"We never had any ninjas."

"No ninjas! How was that possible? Five daughters brought up at home without any ninjas! I never heard of such a thing. Your mother must have been quite a slave to your safety."

Elizabeth could hardly stop smiling as she assured her that had not been the case.
Ana:This is completely wrong in so many ways, because it is crass and it is so UNLIKELY that Darcy would ever do this, but I loved his double meaning jokes with regards to balls and….balls.
Like for instance this sequence between Lizzie and Darcy:
"She remembered the lead ammunition in her pocket and offered it to him.
"Your balls, Mr Darcy"?
He reached out and closed her hand around them an doffered:
"They belong to you Miss Bennet"
Upon this, their colour changed , and they were forced to look away from one another, lest they laugh"
I was giggling like an idiot at this.
Rating:
Thea: 7 Very Good
Ana: 5 meh. I would give it a lower grade but how can I if this is almost verbatim Pride and Prejudice?