Title: The Trouble With Demons
Author: Lisa Shearin
Genre: Fantasy, Urban Fantasy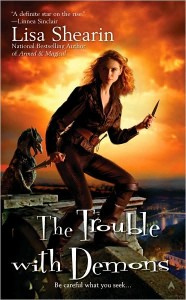 Publisher: Ace Books
Publication Date: April 2009
Mass Market Paperback: 384 pages
Stand Alone or Series: Book 3 in the ongoing Raine Benares series.
Why did I read this book: I've read and loved the first two Raine Benares books, and have nothing but love for fantastic author Lisa Shearin (see our Interview with Lisa, or Lisa's Smugglivus post). Needless to say, The Trouble With Demons was one of my most highly anticipated books of 2009, and I was eager as hell to read more about Raine and that dratted Saghred.
Summary:
My name is Raine Benares. I'm a seeker. People hire me when they need something found. I'm not usually the one being sought. But that all changed when I found the Saghred, a soul-stealing stone of unlimited power — and the bane of my existence. Now mages and madmen have me in their sights, not to mention demons…
An opened Hellgate leads to a demon infestation on the Isle of Mid, and while there's never an ideal time to face down demon hordes, it's hard to imagine a worse one. Already fighting the influence of the Saghred, Raine discovers she is also magically bonded to a dark mage and a white knight, two dangerous and powerful men on opposing sides — and Raine's stuck in the middle.
But with demons pouring through the Hellgate, Raine can't afford to be distracted. Turns out, the demons want the key to unlock the Saghred. As a seeker, Raine should be able to find it first. As the axis of light and dark powers, she's a magical cataclysm waiting to happen…
Review:
Raine, mid-powered (but damned good at her job) Seeker, member of the notorious thief Benares family, and most recent bond servant to the most powerful, soul-sucking stone in existence, has a lot on her plate. For weeks she has tried to rid herself of the Saghred, to no avail. After nearly destroying the Isle of Mid with her Saghred-fueled powers, narrowly escaping deranged Goblins and Elven assassins, Raine now has a little breathing room…or so she thinks. Raine, her roguish cousin Phaelan, and her Guardian bodyguard Vegard are catching a brief respite from the constant threat of death/imprisonment/or worse, when they stumble across a group of bright blue demons. Turns out, some one has opened a Hellgate, and demons are spewing forth with one mission: to control and unlock the Saghred. Unfortunately for Raine, this means her imminent destruction, unless she can find the key to the Saghred before the demons and whoever they are working with do. Throw into the mix endangered minors Piaras & Talon, a newly powerful Carnades Silvanus on a mission to get Raine out of the picture permanently, a confusing (to say the least) love life with the seductive former black mage Tam and Elven Paladin Mychael vying for Raine's affections, and the Saghred trying to trick her at every turn…and Raine, needless to say, is one very busy woman.
Lisa Shearin writes books jam-packed with action, magic and danger, and The Trouble With Demons is no exception. There is not a dull moment in this novel as Raine takes on demons, goblins, high and mighty elves and even romantic developments in stride. Ms. Shearin excels in her tight, fast plotting – I could not put this book down, and found myself holding my breath with each chapter (while this sounds like a recipe for hyperventilation, I can assure you it was indeed an exhilarating read). I love all of the physical action in these books, as Raine uses her daggers, her magic and even a scene involving hair-pulling girl wrestling to escape death time and time again.
In terms of characters, Raine remains a fabulous heroine: smart-talking, street-savvy, and feisty. Her quippy first person narration, in the style of an Urban Fantasy heroine, is a wonderful contrast to the more traditional sword and sorcery fantasy setting. I never get tired of Raine's wry humor and her very essence as a Benares, who takes pride in her lineage of thieves and pirates. Other familiar faces are aplenty in The Trouble With Demons – another thing I love about this series is that the cast of characters remains focused, with only a few important additions per book. Phaelan, Raine's pirate cousin, is charmingly devious in this book as in any other, and he and the stoic Vegard make a wonderful team with Raine. Again we see Piaras and Talon, dangerously powerful adolescent spellsingers, who are coming into their own talents. Raine's family also plays a huge part in this book, with both the introduction of a new character in Raine's Uncle, notorious pirate and fiercely protective of his niece, and Raine's unfortunate father, trapped in the Saghred with other souls. Speaking of, Sarad Nukpana is back with a vengeance in this book, and I loved the creepy interactions between Nukpana, Raine and her father.
Then, of course, there are the boys: Tam, goblin royalty and dark mage; and Mychael, Paladin and white to Tam's dark. There is a very interesting development in this book for the love triangle which complicates their relationships tenfold. I have to again say that I am firmly on Team Tam, even though I do like Mychael. Tam goes through a lot in this book, grappling with his attraction and emotions for Raine and the dark magic stirring within him that longs for the Saghred's power. Will he succumb to the darkness? I certainly hope not – but I love that Raine and Mychael are there to help him.
Finally, there are the demons in this book and one more familiar, demented foe from the past…all are worthy villains. The demons in particular are well imagined, with a vicious queen, different colored and shaped creatures, and more. On the "good" side, I love that Ms. Shearin is exploring the fears of Carnades Silvanus (the weasle!) and his hate for Raine simply because she is dangerous. It's very Harry Potter, think Cornelius Fudge & Dolores Umbridge in book 5.
Overall, I highly enjoyed The Trouble With Demons. My only concern with the book, however, is in terms of plot continuity, especially since all three Raine books take place over the course of a few short weeks. While I love an action fueled book or series for that matter, I can't help but feel that poor Raine – and those close to her – needs a longer break. It's kind of like taking all the seasons of 24 and putting them on consecutive days. At this rate, I'm not sure how much more Raine can take, or how much more is plausible to fit into the lives of these stressed out characters without someone going down for the count.
Still, The Trouble With Demons is a fantastic read, and I cannot wait for more Raine!
Notable Quotes/Parts: I absolutely love this scene, and am quoting it again:
Knowledge about demons came in three varieties: legend, rumor, and fact.

Demonologists knew the facts; the rest of us floundered with legends and rumors; none of them were pleasant, and each of them was more gruesome than the one before. The rumor that would probably be making the rounds on campus within the hour—if it wasn't already—would have nothing to do with fact, and everything to do with horny college students looking for an excuse. Whether demons liking virgins was fact or fiction didn't matter. I'd be willing to bet that the number of virgins among Mid's student population was suddenly going to skyrocket. And every last one of those kids would be desperate to lose their apparently forgotten virginity as quickly as possible to ensure protection against the demons. I wondered what new pickup lines they'd be using. Help me; I'm a virgin.

With the impending increase in fake virgins, I was really glad I'd already secured the help of the real thing.

I think.

Piaras still wasn't happy about his role in our little expedition. And I didn't think his opinion was going to change anytime soon. Especially since Talon had already heard the one about demons and virgins.

Talon's grin was full of fang. "Well, I'm safe," he was telling Piaras. "I'm probably one of the safest people on this island. Hell, I'm probably demon repellant." His grin broadened. "Are you safe?"

It was obvious that Piaras didn't want to answer that question. "Not exactly," he finally said.

"Piaras, either you're safe or you're not. There's no gray area here. Which is it?"

I'd listened long enough. "Everyone is safe. Regardless. The island is crawling with armed Guardians. Everyone will be safe."

Talon's grin never wavered. "But are you sure of that?"

"Yes."

"Absolutely positive?"

I glared at him.

"When there's a danger, shouldn't you take every precaution?" he asked innocently, his aqua eyes wide.

I added a growl to go with the glare.

"I'll be helping Raine," Piaras said between clenched teeth.

"Helping?"

"Because I'm . . ." Piaras really didn't want to say the word.
"Not safe?" Talon said helpfully, grinning from ear to pointed ear.

"No, I'm not safe!" Piaras snapped. He turned on me. "Now everyone's going to know!"

Talon snorted. "Everyone already does."

Piaras actually snarled at me.

Talon clapped him on the back. "Not a problem. I know some ladies who can get you safe real quick. Though if you're looking for a freebie, you and Katelyn could help each other out. She's definitely not safe."

Piaras blushed scarlet. I smacked Talon in the back of the head.

Topic closed.
Additional Thoughts: A map, a map, my kingdom for a map! The Trouble With Demons features a beautiful shiny new map at the beginning, much to my delight! I love maps, cannot get enough of them, especially in my fantasy novels. I'm so very glad that Lisa Shearin was able to update her map and get it in the book!
Verdict: Raine Benares strikes again! Filled with dazzling magic, dangerous demons, and a full dose of white-knuckle action, The Trouble With Demons is a compulsive, wonderful read. I cannot wait for more from Raine, and from the fabulous Lisa Shearin.
Rating: 7 Very Good
Reading Next: Silent In the Sanctuary by Deanna Raybourn