Welcome to another Chat with an Author. Our guest this time is Jo Beverley, prolific writer with more than 30 novels published, winner of 5 Rita Awards and a member of the RWA Honor Roll, and the RWA Hall of Fame. The Secret Wedding (reviewed here) is a brand new novel in the world of the Malloren family.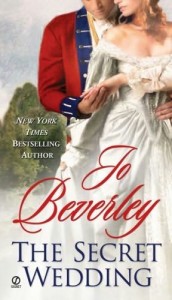 Ana is a huge fan of her novels – specially the Malloren ones – for all the wonderful historically accurate details, humour and warmth. When we started this series of Chats, she vowed that one day she would interview Jo Beverley and did not rest until the time came to fulfil her dream. It is our honour and privilege to welcome Jo Beverley to the blog.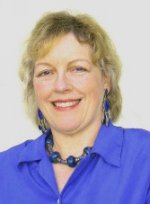 Please take a seat and enjoy yourselves.
The Book Smugglers: First and foremost, thanks so much for taking the time to chat with us!
Jo Beverley: You're welcome. Thanks for inviting me.
The Book Smugglers: You have a new book coming outthis month: The Secret Wedding . Can you tell us a bit more about it and what is the connection with the famous Malloren series?
Jo Beverley: It's set in the same period for a start — the 1760s — but I've also built in direct connections to the Mallorens. In the first book in this trilogy, A Lady's Secret, the connection was to the Marquess of Rothgar. In The Secret Wedding, it's to his wife, the Countess of Arradale and Marchioness of Rothgar. She's from Yorkshire, where her estate of Arradale lies, and so is the heroine, Caro. Yorkshire is also where the "secret wedding" occurs.
The Book Smugglers: You have written more than 30 novels, most of them in either the Malloren series set in Georgian time or the Company of Rogues series, set in the Regency period – do you have a favourite series or a favourite period to write?
Jo Beverley: No, definitely not. They're so different. The Regency is a magical period, which is why it's so popular. It's the beginning of the modern age, still with historical elegance and graces, but also accessible to the modern reader. The Georgian, on the other hand, is way back then. It's wild and amoral and bawdy and socially and politically complex. I love it, but I usually feel I have to do a bit extra to make it work for most modern readers.
The Book Smugglers: One of the things I love about your books is the special attention you give to the historical background – What's your research process for creating these vivid time periods and locations? You have a degree in History – does that help?
Jo Beverley: It does because I have a solid base in the sweep of modern English history — say, since 1066, which helps put spot research in contest, and also to spot nonsense. There's quite a bit of that around. I also know how to do research.
My research process depends on the situation. As I write in only three periods — medieval around 1100, Georgian in the 1760s, and Regency — I've had a long time to build my foundation knowledge in these periods, especially about how people lived. With each book I add more, usually on location and any special incidents. For example, in The Secret Wedding, I did research on Doncaster and Sheffield, and the steel industry in Sheffield, as that's Caro's background. For Devilish, however (Rothgar and Diana's book) I researched the Yorkshire Dales. Locations in England are usually very specific.
Where possible I use primary sources such as letters, diaries, and newspapers, and also period maps and illustrations. I love to have the feel of a place as it was, and a resonance with the way the people of the time thought about everyday matters.
The Book Smugglers: Some of your books are also quite humorous and quirky –A Lady's Secret, for example features a secondary character, the dog Coquette which added some funny moments. Similarly in My Lady Notorious there was the cross dressing and all the amazing innuendos around food – do you consider yourself a funny person? Do you think comedy is an important component of your books?
Jo Beverley: I'm not a laugh a minute person, but I do enjoy word play, which often comes into my books. If I could, I'd write funny books all the time, but it comes or not, depending on the characters and situations. I think there's a funny scene in The Secret Wedding, a lot of which is word play.
I do think it's important for characters to have a sense of humor, and especially for them to be able to laugh at themselves, so that tends to come in.
The Book Smugglers: What's a typical day of writing like for you? Do you get distracted by other activities such as blogging with the Wenches or Twitting?
Jo Beverley:I don't Twit — or is it Tweet? I just can't get my mind around that. I enjoy blogging with the Wenches, and I have a couple of other blogs I post to as the whim takes me. Jo Talk is just for anything, but Minepast is specifically to share odd bits of history I come across as I'm researching. I often stumble across something that's no use to my current book but is just wonderful.
The Book Smugglers: You are a very prolific romance writer and an outspoken champion of the genre , so we ask you: why do you write romance?
Jo Beverley: Because I couldn't spend so much time and energy on something I didn't enjoy, and which didn't interest me. I find what I call the human mating dance completely fascinating. When people come together in that special bond, they do the craziest things. Every sense is heightened and every sensitivity is raw. It's such a rich part of life. Romance stories are also supremely triumphant, leading to the promise of wonderful lives. There's enough dismal stuff in the world as it is. I don't want to add to it.
The Book Smugglers: Who are your major writing influences? Which authors do you love?
Jo Beverley: Georgette Heyer and Dorothy Dunnett were both influences. I enjoy Terry Pratchett's humor.
The Book Smugglers: What are you working on next?
Jo Beverley: I'm polishing a medieval fantasy novella about the Holy Grail for a collection that will be out next year called A Chalice of Roses. It will also have stories by Mary Jo Putney, Barbara Samuel, and Karen Harbaugh. We've previous done Faery Magic and Dragon Lovers.
I'm also working on the third book of the current Georgian trilogy, which is the Duke of Ithorne's story. Lots more fun with hidden identities!
The Book Smugglers: We Book Smugglers are faced with constant threats and criticisms from our dear significant others concerning the sheer volume of books we purchase and read—hence, we have resorted to 'smuggling books' home to escape scrutinizing eyes. Have you ever had to smuggle books?
Jo Beverley: No, I don't think so, which is my great good fortune. Mind you, my mother disapproved of my early reading tastes with the usual "you should be reading better" but only for contemporary romance. Historicals were approved of. I think there was an assumption that I was learning useful history, which was rarely the case. However, I've always used libraries a lot — it's a British habit. A paperback book is cheap in comparison to so many other things. It would be less than a couple of lattes, or a cinema ticket. Let's think of other purchases that cost the same or less and don't give nearly as much pleasure.
Best wishes,
Jo
___
Jo Beverley is one the few authors writing English-set historical romance who is English. She was born and raised in England, and has a degree in English history from Keele University in Staffordshire. She and her husband emigrated to Canada, where they now live. They have two sons.
Though Jo started to write as a young child, it was only in the eighties that she began to think that it was something ordinary people could do, and after a talk at a local library, she settled to seriously writing her first historical romance.
A big thank you to Jo Beverley!